Posted on
Sun, Aug 21, 2011 : 5:59 a.m.
Startup site's mission: Connect tailgaters to available U-M football parking
By Sven Gustafson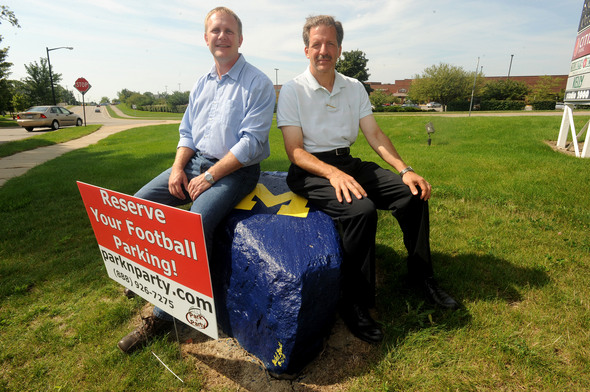 Angela Cesere | AnnArbor.com
What sites like
Hotels.com
did for booking trips and
StubHub
for buying tickets, a new Internet startup wants to do for that most revered of fall traditions in
Ann Arbor:
finding a place to park and tailgate on football Saturdays.
Park n Party is the brainchild of local entrepreneur Taylor Bond and cofounder Jason Kapica, who recognized Ann Arbor's thriving game-day economy on during the fall but noticed there were few easy ways to find a place to park. And party.
"There's an opportunity to create a marketplace," Bond said. "The marketplace is the fans on one side and the lot owners on the other. And when you bring those parties together on Park n Party, you create benefits for both sides."
The startup has created a straightforward business model.
Fans heading to a Michigan game who need a place to park search the Park n Party database for available parking spaces. They can filter their search by distance from the stadium, price and amenities like the availability of bathrooms or auxiliary power. They then reserve a spot online using a credit card.
Lot owners—the site is open to both commercial businesses and private residences—can advertise their spaces at no charge. They then receive a report before game time that they can use to check against the receipts users are told to display atop their dashboards when they arrive.
Park n Party processes the transactions and siphons parking fees to the lot owners. The company retains a processing fee that averages $5 or $6. Users who make a reservation but are denied a space get a full refund.
The startup claims to have 27,000 parking spots available for reservation for the upcoming season, which starts Sept. 3 against Western Michigan. The duo expect to focus the launch of their service on Ann Arbor before broadening it to other Big Ten cities.
"We're trying to figure out what we don't know," said Kapica, 35. "We're really creating a market by itself. Nobody's done this before."
Bond, 49, is no stranger to launching businesses. He's the founder of Children's Orchard, a national children's resale and retail franchise that shares the same office building as Park n Party. The University of Michigan graduate previously owned a Computer Renaissance franchise in Ann Arbor.
Kapica, 35, grew up in Menominee in the Upper Peninsula, attended Western Michigan University and ran his own Web development firm in Kalamazoo after graduation.
The two friends say they had always wanted to launch a business together and got their idea a year ago when Bond was helping park cars during a game. Bond said he noticed that fans spent a lot of time on their cell phones trying to track down their friends and wondered aloud about a way to make it easier for people to park and party before the game.
"It was one of those moments that was too good to be true, and then you start thinking, what's the catch? Why isn't somebody doing this?" Kapica said.
It took about eight months to build out the site, with the two enlisting the help of Saline-based DesignHub Inc.
Bond and Kapica say they have financed the venture entirely through their own funds, with the bulk of their six-figure investment spent on marketing and developing the information technology to handle the database and payment transactions.
While the market for Park n Party's services would seem limited to a few months each fall, the owners say the site could be useful for events like the art fair, rock concerts, NASCAR races or any event where people like to tailgate and parking spaces are at a premium.
A mobile app version of the site and eventually offering franchising opportunities are also part of the future plans.
"We're starting in Ann Arbor because if you can do it in Ann Arbor you can do it anywhere," Bond said. "The overall objective is to expand into the rest of the Big Ten market and large college markets where this will make sense."
• Contact Sven Gustafson at sventg123(at)gmail(dot)com, or follow him on Twitter.