Posted on
Wed, Sep 26, 2012 : 5:57 a.m.
Startup-sponsored 'Hacker Tour' comes to Michigan Engineering career fair
By Ben Freed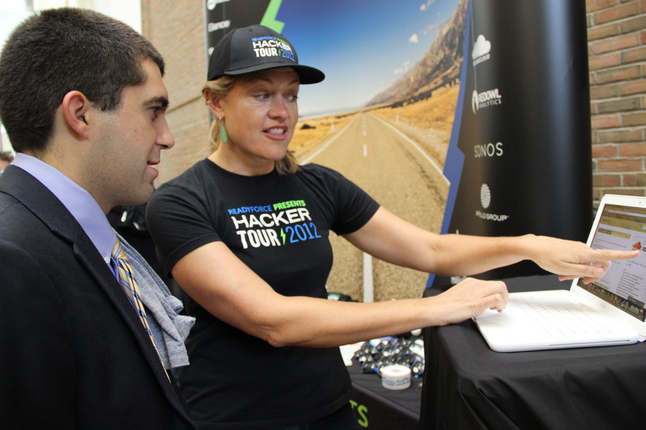 Ben Freed | AnnArbor.com
While local startups are competing for the attention of the best and brightest
University of Michigan
engineering students, companies on the West Coast, in the South and even outside the country are taking note of the talent graduating every year in
Ann Arbor
.
One startup, ReadyForce, is taking its "Hacker Tour" van and trying to help others recruit across the country even if it might not have the manpower or the funds to do it itself.
At the College of Engineering career fair Tuesday, the van was parked outside emblazoned with the logos of the 26 companies sponsoring the eight-week swing through 27 campuses across the country. The website is a cross between LinkedIn, Match.com and Monster.com that connects college students with companies interested in hiring them.
"We have all kinds of companies on board," vice president of client services Anna Binder said.
Ben Freed | AnnArbor.com
"We have companies who their next hire will be one of their co-founders, medium-sized companies like Square, and major players like StubHub which is a part of eBay."
Companies with limited resources often are unable to mount recruiting campaigns outside their immediate area. Binder said ReadyForce's initial aim was to help West Coast startups branch out of the "Silicon Valley bubble" but has quickly grown to include companies in Pittsburgh, Baltimore, Brooklyn and Austin as well as Bulgaria and Germany.
When Twitter and Square co-founder Jack Dorsey was in Ann Arbor a couple of weeks ago, he said the Midwest is a particularly attractive region for companies looking to hire.
"The really interesting people are in the middle of the country," he said.
"We find a significant amount of our designers from the Midwest. It's an odd thing but we do and they're amazing and they're really young."
Mechanical engineering student David Sebulsky wants to be involved with design, but is undecided as to whether he will pursue more of a startup or an established company.
"I really like what ReadyForce has going on here, and I'm a fan of startups," he said. "But I'm also looking at companies like Caterpillar and BP."
Binder said many of the students don't understand how many opportunities are out there with companies that need to hire talented people but are having trouble finding them.
"The most amazing thing to me is that students don't realize how in-demand they are," she said. "They actually seem pleasantly surprised that people want to hire them."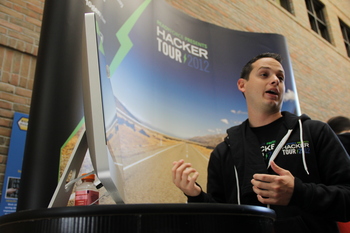 Ben Freed | AnnArbor.com
Tony Lucchesi
, a computer-engineering student, said he was excited to see what opportunities the new platform could bring him.
"I'm a developer, and 'hacker' is a buzzword right now in our industry. I'm on LinkedIn, but this is the first site I've seen that's similar and does the matching," he said.
"I'm anxious to upload my resume, click around, see what I can find, and hopefully see how many jobs come out of it."
Binder and Chris Barquin said that they've been on the road for about two weeks and helped about 1,000 students create profiles in the system. They said Michigan students were impressive not just for their engineering abilities but also for their inquisitiveness.
"They were very well educated in that they asked really good questions of us," Barquin said.
"We've gotten really good probing questions here, people ask us 'how are you better than competitor x?' or any other service out there. It's great to then be able to have that conversation."
The Hacker Tour has already been to Cornell, Penn State and Ohio State, among other schools. The van will travel to Notre Dame next followed by swings through the southeast and West Coast.
Ben Freed covers business for AnnArbor.com. Reach him at 734-623-2528 or email him at benfreed@annarbor.com. Follow him on twitter @BFreedinA2