Posted on
Wed, Jan 18, 2012 : 10:01 p.m.
Michigan's declining unemployment rate provides backdrop for Rick Snyder's State of the State address
By Nathan Bomey
Gov. Rick Snyder, delivering his second State of the State address Wednesday night, sought to positively define his accomplishments before his opponents succeed in negatively defining them, declaring that Michigan's business climate and job market has shifted for the better.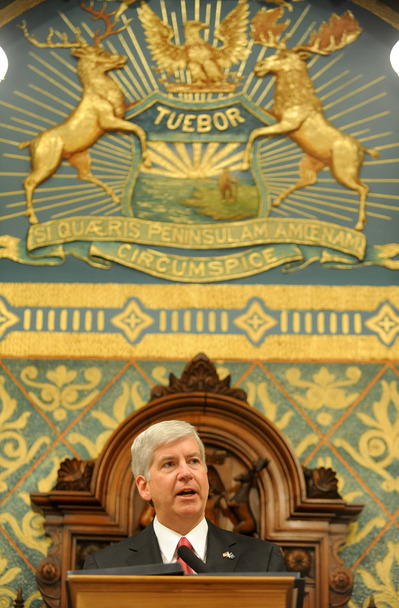 Angela J. Cesere | AnnArbor.com
It's an uphill battle for the first-term Republican governor, a former
Ann Arbor
venture capitalist, whose approval ratings plummeted in 2011 after a budget battle and a number of other fights.
But the governor stood at the podium on the floor of the House of Representatives with one ace in his pocket, so to speak: the state's declining unemployment rate.
Michigan's unemployment rate dipped to 9.3 percent in December, according to statistics released just hours before the governor's speech. It marks the lowest the rate has been in 28 months — and it's only 0.8 percentage points higher than the U.S. rate of 8.5 percent.
If the jobless rate continues to fall — and, to be sure, that measurement is the most important factor determining political success or failure — Snyder's approval ratings will benefit.
"We are being bold in reinventing Michigan but it requires setting high expectations," Snyder said. "You can only build a brighter future by setting a higher standard."
That standard — sustained and accelerated job growth — depends on any number of factors that can't all be listed here.
But one of the key drivers of growth is talent and technology generated by Michigan's public universities, whose tuition bills are driving heated debate in Lansing.
The performance of Michigan's universities, their role in driving the state's turnaround and the cost of their tuition is bubbling up as a key issue in 2012.
The auto industry's comeback deserves much of the credit for the state's declining unemployment rate. But if Michigan's economic recovery is to accelerate, Michigan's public universities will have to play a central role.
Snyder offered nary a word about the cost of tuition at Michigan's public universities. Instead, he outlined his desire for the state's universities to do a better job of producing graduates with the skills that Michigan companies need.
And for good reason: a state database at MiTalent.org indicates that Michigan has about 70,000 job openings — and if they were all filled today, the state's unemployment rate would drop by about 2 percentage points, Snyder said.
Why can't they be filled?
The governor and the Michigan Economic Development Corp. say that the job openings are unfilled in part because the state is doing a poor job of connecting companies with talented employees.
Snyder wants Michigan's universities and community colleges to do a better job giving students the skills they need to succeed. That could come in the form of funding incentives in his 2012-13 budget proposal, which will be released in early February.
Angela J. Cesere | AnnArbor.com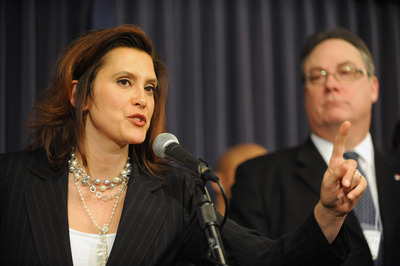 Angela J. Cesere | AnnArbor.com
"Our children are our future and we need to make sure they're not just college ready, but career ready," Snyder said.
The governor's opposition is arguing that many workers can't access the training they need to qualify for those jobs.
Legislative Democrats, including State Sen. Rebekah Warren, D-Ann Arbor, unveiled a plan last week called Michigan 2020, which would cut billions in tax credits to provide free tuition to Michigan universities and community colleges.
"We can do that without raising taxes," State Sen. Gretchen Whitmer, the Democratic minority leader, told AnnArbor.com tonight.
Republicans' "initial response has been, 'Oh, I'm not sure how that works.' That's encouraging that they can't find a substantive negative thing to say about it," Whitmer said.
Cost is the first barrier to access to education at a public university — and tuition at Michigan's public universities is far more expensive than tuition at institutions in other states, according to a report released earlier this month by the nonpartisan Center for Michigan's Bridge magazine.
The report, which garnered a meaningful amount of publicity, found that 12 of the state's 15 public universities have net costs higher than their peers in other states.
Yet if the cost of tuition is on the governor's mind, it didn't show at the State of the State.
Snyder seems to be more interested in improving the state's worker retraining programs by redesigning workforce retraining initiatives and "better aligning where careers are with where they will be."
MEDC CEO Michael Finney said he's focused on offering targeted retraining programs for Michigan workers, reshaping the state's workforce development initiatives and managing a pool of incentive dollars to help kick-start growth.
Finney said the state also needs to do a better job of convincing talented recent graduates to stick around.
"Our universities are doing a great job," he said in an interview. "The challenge is getting the young people to stay here and connecting them with the job opportunities, causing them to understand that the kinds of companies that we have here represent just as cool technology as some other company that they may know about in some other community."
Complicating the issue, however, is that most of the opportunity — at least for now — resides with the auto industry, which is driving Michigan's economic recovery.
The state added about 80,000 private sector jobs over the last year — and Snyder acknowledged the role the auto industry has played in that resurgence.
"The automotive industry has made a major comeback," Snyder said, adding that he is "proud to say that Detroit is still the automotive capital of the world."
But convincing young people to stick around and fill some of the state's 70,000 unfilled job openings means convincing many young people to work for the auto industry — a tall task indeed for an industry whose image has been battered in recent years.
The auto industry's comeback will continue to drive Michigan's unemployment rate lower.
But whether Snyder gets any credit for the impact of the auto industry's recovery on the state's unemployment rate remains an open question.
For his part, state Rep. Jeff Irwin, D-AnnArbor, is skeptical.
"There was a fair amount of taking credit for the sunrise in that speech," he said.
Contact AnnArbor.com's Nathan Bomey at (734) 623-2587 or nathanbomey@annarbor.com. You can also follow him on Twitter or subscribe to AnnArbor.com's newsletters.