Posted on
Sat, Sep 11, 2010 : 6 a.m.
Ann Arbor Tortilla Factory poised to increase production as chips grow in popularity
By Janet Miller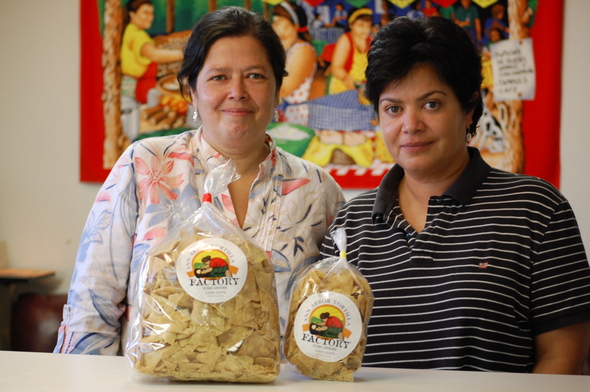 Janet Miller | For AnnArbor.com
While many Michigan businesses are struggling with slumping sales during these economic doldrums, the
Ann Arbor Tortilla Factory
is wrestling with growth.
Owners Guadalupe and Andrea Quetglas opened their south Ann Arbor business in 2007. In the past two years, sales at the Ann Arbor Tortilla Factory have tripled, the number of employees has doubled, the number of outlets where they are sold has expanded and two new flavors have been introduced.
Now, there is no room to grow.
Hemmed in by their small facility, the Quetglas sisters operate at capacity inside their 4,000-square foot office and production facility on Ellsworth Road near Carpenter Road.
In the next two or three months, they want to purchase additional equipment and expand into 1,500 to 2,000 square feet of adjacent space at the Ellsworth Commerce Park, a move that would allow them to double current capacity. The move would allow them to purchase a second industrial size kettle for cooking the corn used to make the tortillas. But even a used kettle costs $40,000, Guadalupe said.
That all takes capital.
With tight credit, they are looking to the Small Business Administration for a loan, Guadalupe said. They are also open to the idea of an investor, although they haven't explored that route.
"Money is really tight," Guadalupe said. "It's like being on a merry-go-round. We need to be creative."
As they look for ways to grow, they will also launch a packaging makeover in a couple of months. They'll keep their cellophane bag, but now the bags will be printed with a larger and more colorful logo and more information about the history of the company.
Until now, they're used blank packaging and affixed two or three round stickers on each bag, a labor-intensive task. They are also in the process of hiring.
The thick and salty tortilla chips - now available in regular, lime, chili lime and garlic - have an almost cult-like following.
A Boston couple headed to Michigan's Upper Peninsula for vacation bought a bag of the chips from the Ann Arbor Whole Foods Market and returned the next year to buy two cases (24 bags) directly from the production facility. Another couple purchased eight cases of their 8-ounce bags decorated with ribbons to give away as wedding favors.
They are carried at about 60 locations around Michigan, from Saugatuck to Livonia and include a number of Ann Arbor restaurants, such as the Jolly Pumpkin, Red Hawk and Ann Arbor Brewing Company. They are sold at all Michigan Whole Foods, all Plum Markets, the People's Food Coop, Arbor Farms Market and other locations.
Distribution has expanded to western Michigan, Lansing and suburban Detroit. Customers come to the factory to buy the chips direct by the case during the holidays, Andrea said, and they are part of the Zingerman's holiday gift baskets.
The expansion into new markets has been through word of mouth. They have no sales staff. One customer from Lansing would take orders for the chips from friends and family and drive to Ann Arbor to pick up a supply. Eventually, Lansing customers convinced the Foods for Living store to stock the chips.
The Quetglas sisters see the potential of doubling current sales if they could expand and add a sales department. They also see expanding their fresh salsa production, which is in limited distribution. Ann Arbor Tortilla Factory chips are in an Ann Arbor Kroger store, and the chance to expand into the entire Kroger chain would be a coup, they said. An expansion would also allow them to move into the Chicago market through Whole Foods and other stores. "Once we have the extra equipment, we can use our time getting more accounts," Guadalupe said.