Posted on
Fri, Jan 4, 2013 : 2:59 p.m.
The Ark purchases current venue, starts making plans to renovate
By Ben Freed
The Ark has established itself over the last half century as one of the Midwest's premier music venues and an Ann Arbor landmark. With its lease due to expire in 2016, the venue's managers decided it was time to secure a permanent location.
"For the first time in the Ark's 48-year history, we own our home," executive director Marianne James said in an email to the music venue's friends and supporters Friday.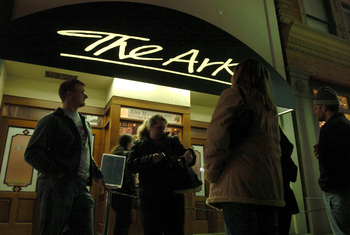 Lon Horwedel | The Ann Arbor News
The Ark
purchased the space it has inhabited since 1996 at
316 S. Main St.
as a "condominium" parcel from building owner
Dr. Reza Rahmani
.
Rahmani initiated the process of creating separate properties by developing the property as a condominium project in November of 2012. Because Rahmani created the separate parcels within the building that share key infrastructure such as the shell and roof, The Ark was able to purchase its venue without buying the whole property.
City documents show that Rahmani bought the property, which includes The Ark, Melange restaurant, and Rush Street in 2011 for $3.85 million.
James said The Ark paid $2.05 million to purchase the second floor, the staircase leading up to it, and the box office from Rahmani.
"Our venue is such a key piece of who we are and our identity," she said. "And we've never owned it before. We couldn't be in a better location."
James' said that Rahmani worked with the Ark and that Ann Arbor State Bank provided favorable terms on a loan to help facilitate the process.
The Ark is launching a capital campaign to help pay off the loan, a process James hopes will take five to seven years.
The campaign will be operating in a "quiet phase" during 2013 and 2014. James hopes raise the bulk of the $2.5 million goal by focusing on larger donations during that time.
The campaign will open up to the public in 2015 as the venue celebrates its 50th anniversary.
"That will free up key resources and enable us to focus on appropriate growth and innovation and lay the groundwork for the Ark's next 50 years," she said in a statement.
In addition to paying off the loan, James said the capital campaign will help finance renovations that have been necessary for a number of years.
"The wish list keeps growing, and I'm sure it will continue as the campaign continues," she said.
"Top of the list is we want to upgrade the concession area and we'll be working on renovations to the box office as well. After that it will be mostly smaller cosmetic things throughout the club."
Before its current location, the Ark was housed at 637 1/2 S. Main St. and before that in a Victorian home on Hill Street, where it was founded in 1965.
Ben Freed covers business for AnnArbor.com. You can sign up here to receive Business Review updates every week. Reach out to Ben at 734-623-2528 or email him at benfreed@annarbor.com. Follow him on twitter @BFreedinA2