Posted on
Tue, Feb 14, 2012 : 5:59 a.m.
Why bankruptcy is worse for Michigan cities than emergency managers
By Nathan Bomey
Bankruptcy judges make emergency managers look downright palatable — yet we continue to pretend that our cities aren't headed toward financial calamity.
Missing from the fierce debate over the increased power of emergency managers to avert financial disasters at distressed Michigan cities is a genuine recognition of the upheaval posed by municipal bankruptcy.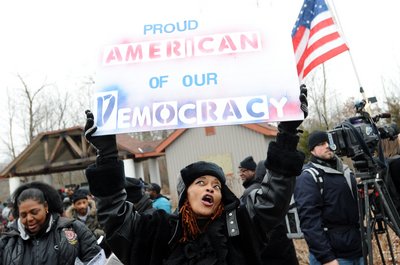 Melanie Maxwell I AnnArbor.com
When a city files for Chapter 9 bankruptcy — which is entirely possible for the city of Detroit and other essentially insolvent municipalities — "everything is thrown into uncertainty," said John Pottow, a bankruptcy law professor at the University of Michigan.
"If you go into bankruptcy court, you lose an incredible amount of control," Pottow said. "It's true that you're going to be granted some deference on the part of a judge, but you still have to convince the judge to allow you to do everything you want to do."
Indeed, bankruptcy should be frightening for cities — but many seem to be so focused on opposing the installation of an emergency manager that they're losing perspective. A bankruptcy judge could be much worse.
Republican Gov. Rick Snyder has championed Michigan's strengthened emergency manager law as a way to prevent cities from slipping into financial disasters, including bankruptcy.
Signed into law in March, the legislation, Public Act No. 4, gave emergency managers controversial powers such as the right to slash union contracts, replace elected officials and sell off assets in an effort to return governmental entities to financial sustainability.
Democrats have slammed the law, saying it undermines the democratic process.
Whether emergency managers should be allowed to strip elected officials of their powers is certainly a legitimate debate. That debate should continue.
But let's not make the mistake of forgetting that they might lose most of their powers anyway.
To be sure, Chapter 9 bankruptcy does not allow judges to unilaterally axe collective bargaining agreements or approve a "cram-down" option of forcing creditors to reduce debt, Pottow said. Chapter 9 bankruptcy was designed to force parties to negotiate sustainable solutions to the cities' financial emergencies.
But you can safely assume a federal bankruptcy judge won't allow cities to sign new union contracts that maintain the status quo — or anything close to it.
Within Chapter 9 bankruptcy, "burdensome labor contracts can be rejected for cause," unfunded pension liabilities could be eliminated and there's "no priority for wages, vacation, pension or healthcare," according to a November 2010 presentation by New York law firm Chapman and Cutler LLP. City contractors don't fare well under Chapter 9 bankruptcy, either.
Grand Rapids-based law firm Varnum said that to reject union contracts under Chapter 9 bankruptcy court, municipalities have to prove the contracts are substantially detrimental to their financial viability and prove they've made a reasonable attempt to renegotiate deals, among a few other obligations.
"These are not very onerous standards for a public entity to meet if it truly is in a financial crisis," Varnum says on its website.
Bankruptcy judges are generally not swayed by emotional pleas and political rhetoric. After all, they're appointed — not elected. They don't answer to the ballot box, so it's much easier for them to sign off on unpopular decisions.
A bankruptcy judge, seeking simply to balance a city's budget, will readily condone recommendations to sell off treasured community assets, Pottow said.
Howard Ryan, director of legislative affairs for the Michigan Department of Treasury, said bankruptcy must be avoided at all costs. Ryan, who helped author the emergency manager legislation, said an emergency manager is a "kinder, gentler" way of helping governmental entities address their problems.
"That bankruptcy process is completely eviscerating in terms of the democratic process," Ryan said last week at a panel in Ann Arbor. "You have a federal judge who may or may not care about anything about your community, and it's just a drastic, drastic process."
Bankruptcy is a mess for cities and it would be a mess for the state, too. Economists fear that if the city of Detroit files for bankruptcy, Michigan's credit ratings will fall, boosting interest rates on state debt — which would lead to higher taxes or reduced spending.
And, of course, if the city of Detroit files for bankruptcy, it would be a public relations disaster.
"Imported from Detroit" is a nice message we can all believe in — unless Detroit goes bankrupt.
Nonetheless, there's a temptation to wonder whether bankruptcy may not be so bad. It worked for General Motors and Chrysler, right?
Wrong. That was Chapter 11 bankruptcy, which gives the court greater authority to help companies reduce debt and return to profitability. Also, GM and Chrysler entered bankruptcy with $50 billion in financing from the U.S. government.
Chapter 9 bankruptcy is "not like the corporate world, where it's happened often enough and there's a whole litany of legal precedent, professional precedent," Snyder told AnnArbor.com in January. "You've got a lot more uncertainty" in Chapter 9.
Nonetheless, bankruptcy may be the ultimate destination for Michigan's distressed cities — particularly Detroit, which is expected to run out of cash this spring, according to an external audit by Ernst & Young.
Looming over the debate about Michigan's emergency manager law is a petition drive organized by a Detroit-based nonprofit called Michigan Forward, which has said it's close to delivering enough petitions to immediately suspend the law and place it on the ballot for voters to decide in November.
Without an emergency manager to implement austerity measures or a consent decree between financially strapped cities and the state, we're left to simply hope that cities, unions, bondholders and creditors decide to work together to shore up cities' finances. We've been hoping for years — with little luck.
Brandon Jessup, a 2005 Eastern Michigan University graduate who founded Michigan Forward, said cities can fix their own problems.
"There's nothing to be afraid of in democracy. We believe in democracy. We believe in the process, so we don't foresee crises," Jessup told AnnArbor.com in December.
Actually, there is something to be afraid of in democracy: bankruptcy.
Contact AnnArbor.com's Nathan Bomey at (734) 623-2587 or nathanbomey@annarbor.com. You can also follow him on Twitter or subscribe to AnnArbor.com's newsletters.