Posted on
Thu, Jul 25, 2013 : 5:57 a.m.
Three Ann Arbor companies land $250,000 investments from Michigan Pre-Seed Capital Fund
By Ben Freed
Three Ann Arbor companies recently received $250,000 investments from the Michigan Pre-Seed Capital Fund. The fund, managed by Ann Arbor SPARK, invested a total of $1.5 million in six companies across Michigan.
All three Ann Arbor companies that received funding, AlertWatch, IROA Technologies and Patient Provider Communications, are all developing software solutions related to health care issues.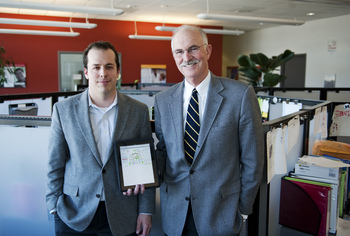 Daniel Brenner | AnnArbor.com
The pre-seed fund makes investments of up to $250,000 in companies that must be matched dollar for dollar with investments from established venture capital firms or angel investors. In return for the cash, the state of Michigan receives equity at the same rate as other investors.
"Across the state, companies are seeking capital to support product commercialization, which is an exciting sign that our entrepreneurial culture is both thriving and maturing," said Joe Licavoli, manager of capital programs at Ann Arbor SPARK.
"The Michigan Pre-Seed Capital Fund helps these emerging companies attract and secure the additional investment capital that they need to continue to grow here in the state."
Two of the Ann Arbor companies that the fund invested in, AlertWatch and Patient Provider Communications, are developing web-based dashboards to help surgeons and nurses better monitor the patients they are caring for.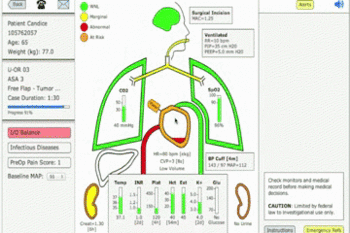 Courtesy AlertWatch Website
AlertWatch, which was spun off from technology developed by University of Michigan physician Dr. Kevin Tremper, announced in April that it had
secured $1 million in venture capital funding
.
The company is testing its program, which color codes each of a patient's body systems in a display used by surgeons, at hospitals in the University of Michigan Hospital System. The technology is also working "in the background" and gathering data at the University of Tennessee and the University of Vermont. The data is a key component to the software being approved by the Food and Drug Administration.
Patient Provider Communications is also developing a color-coded system, but is focusing its attention on hospitals' nurse call system. The company has multiple patents on its technology, called Eloquence, which consists of a touch screen device at a patient's bedside, a handheld device for nurses and a dashboard for staff monitoring purposes.
Courtesy Felice De Jong
While the other two companies are focused on patient monitoring, IROA Technologies is developing software and cell cultures to help scientists identify metabolites in molecules that could help doctors' diagnostic abilities.
"Once we figure out what the 'normal' level is for each of these metabolites, we can try to figure out what abnormal levels could mean," CEO Felice De Jong previously told AnnArbor.com.
"They tell you exactly what's happening in your body right now. It could be more important that your medical history."
IROA (pronounced eye-ROW-ah) announced that it closed a funding round of more than $1 million in late April.
The money for the Michigan Pre-Seed Fund comes from the 21st Century Jobs Fund, a fund created with money from the state's tobacco settlements to accelerate the growth and diversification of Michigan's economy. The Michigan Economic Development Corporation provides administrative support for the fund, which has multiple investment and commercial lending assistance programs.
Ben Freed covers business for AnnArbor.com. You can sign up here to receive Business Review updates every week. Get in touch with Ben at 734-623-2528 or email him at benfreed@annarbor.com. Follow him on twitter @BFreedinA2