Posted on
Wed, Mar 21, 2012 : 4:53 p.m.
Tim Hortons no longer opening at 'lab' coffeehouse space in downtown Ann Arbor
By Nathan Bomey
Canadian coffee chain Tim Hortons' deal to move into the downtown Ann Arbor space currently occupied by the lab coffee shop has unraveled, sources told AnnArbor.com.
Tim Hortons is no longer set to open a franchise at the 1,200-square-foot retail space at 505 E. Liberty St., Suite 300, in the McKinley Towne Centre, said Thomas Gritter, vice president and managing director of commercial real estate for Ann Arbor-based McKinley Inc.
"Yes, at this time Lab is staying in the space," Gritter said in an email. "As for Hortons, right now it is tbd."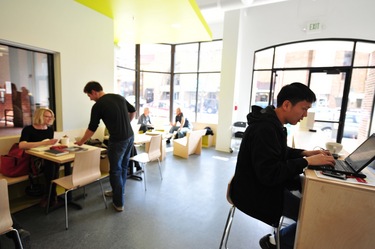 Ryan Stanton | AnnArbor.com
A Tim Hortons spokeswoman had previously confirmed that the chain would open a shop in the lab space, telling The Ann magazine that the shop would be open by May or June.
Tobias Wacker, a co-owner of lab, said in an email that the shop is "very happy at our current location!"
"Beyond serving the highest quality products, we always envisioned Lab as a positive space in the community. It's about real human connections, not just selling products. The fact that many of our customers have become personal friends is a great testimony to our approach," Wacker wrote. "But this approach doesn't stop there. Our food is all made locally by small-scale bakers & chefs and our coffee comes from the most respected roasters, which source their beans directly from the farmers to increase the positive economic impact in the farming regions."
He added: "The last two years have been great and we are beyond excited to expand our offerings on all ends and continue to be a positive force in Ann Arbor."
It's unclear why the Tim Hortons deal unraveled or whether the company plans to continue to pursue a downtown shop. Brynn Burton, a spokeswoman for Tim Hortons, declined to comment.
Tim Hortons had gone as far as requesting a building permit to start renovations on the space. That permit, requesting permission to make "interior alterations to existing tenant space," was approved Feb. 12 by the city, records show.
Lab, which opened in March 2010, appeals especially to young professionals and college students, offering coffee, espresso drinks, yogurt and baked goods.
Tim Hortons, which has been seeking a downtown Ann Arbor presence for several months, plans to open coffee shops at the location of the former Enzo's bar on the corner of South State and Ellsworth and at the former Golden Chef restaurant on North Maple. The company has been seeking a franchisee to own and operate the shops.
Contact AnnArbor.com's Nathan Bomey at (734) 623-2587 or nathanbomey@annarbor.com. You can also follow him on Twitter or subscribe to AnnArbor.com's newsletters.