Posted on
Fri, Aug 19, 2011 : 5:55 a.m.
Tim Hortons signs deals to open 2 stores on long-vacant sites in Ann Arbor
By Paula Gardner
Tim Hortons plans to expand its coffeeshops into Ann Arbor, signing recent deals to build stores on two long-vacant sites in the city.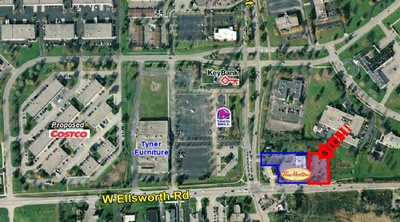 From Landmark Commercial Real Estate
The first will be on the site of the
former Enzo's
at the northeast corner of State and Ellsworth Roads.
The second will be in Maple Village on the site of the former Golden Chef Restaurant, which was destroyed by fire in 2006.
"We're excited about the opportunities that we have in Ann Arbor, " said Eric Ramsey, real estate manager for the Oakville, Ontario-based chain.
"Michigan is one of our hotter markets (for expansion)."
The locations the chain chose in Ann Arbor signify redevelopment for both properties.
At the former Enzo's, owned by First Martin Corp., the deal means the company will steer away from approved plans to convert the former restaurant into a small retail center, said Mike Martin.
Instead, it will present site plans to the city to build a 1,700-square-foot store with a drive-through, leaving First Martin space on the property — after it demolishes the existing structure — to build a second retail building.
The plans will have both buildings fronting Ellsworth, where land for another planned retail center and a remodeled Speedway sit on the south side.
"I'm pretty confident we'll find another similar user," Martin said.
First Martin's plans for the property changed as the economy slowed along with potential leasing, Martin said. Eventually, the chance to locate a national or regional restaurant on the property, using a ground lease, made more sense than developing it on spec.
Tim Hortons had considered the property for some time, Martin added, even before Costco announced plans to build about a half mile west.
"It's a very nice plus," Martin said, noting that it will increase traffic and visibility at the intersection. "… Traffic counts are important to retailers."
The second location in the former Golden Chef at 175 N. Maple is near English Gardens in Maple Village. The center also is home to Plum Market, one of its newer tenants, as well as established stores like Kmart. It's managed by Centro Properties in New York.
In both proposals, Tim Hortons will submit site plans to the city to build the new stores.
The company also is winnowing applicants from franchisees seeking to operate the stores, which Ramsey said will employ about 20 each.
Tim Hortons had 3,811 stores as of July 3, according to its corporate information. Of those, 622 were in the U.S., where it's expanding in select regional markets.
The brand is familiar to Washtenaw County: There's a store in Ypsilanti Township at Michigan Avenue and Hewitt, and one operated jointly with Wendy's on Boardwalk for several years when the two brands shared a corporate structure.
Today, Tim Hortons has a marketing deal with the University of Michigan, preserving its exposure in the Ann Arbor market.
"We have the exclusive coffee rights for football, basketball and hockey (games) at U-M," Ramsey said.
Meanwhile, Tim Hortons is still seeking locations for at least one new store in the Ann Arbor area, possibly downtown.
"We haven't set a specific number," Ramsey said. "We are looking at different areas."