Posted on
Wed, Feb 16, 2011 : 7:47 a.m.
Timeline: From the founding of Borders in Ann Arbor to Chapter 11 bankruptcy
By Nathan Bomey
Borders Group Inc. filed for Chapter 11 bankruptcy protection this morning. This timeline provides a historical perspective of the rise and fall of Ann Arbor-based Borders Group Inc. It is based on AnnArbor.com research, interviews, Securities and Exchange Commission documents, archived news reports and information from Borders.
1971: Brothers Tom and Louis Borders open an 800-square-foot used bookstore called Borders Book Shop at 211 S. South State St. in Ann Arbor.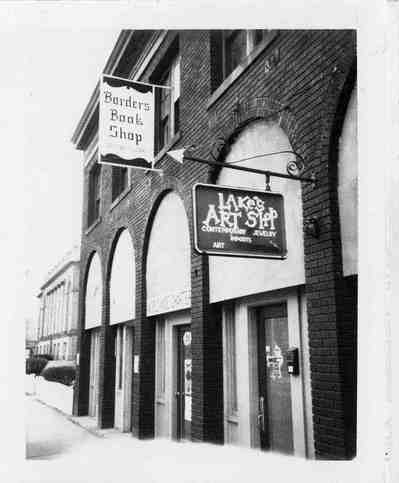 Ann Arbor District Library
1970s
: Louis Borders develops a software system that allows the store to manage inventory and accurately project sales, giving Borders a competitive advantage that lasted at least two decades.
1988: In an effort to import business leadership, Borders recruits Robert DiRomualdo to lead the company's expansion. DiRomualdo is later credited with leading the company's rise to national prominence in the 1990s.
1991: Borders starts integrating music and movies into some of its stores.
1992: Kmart Corp., which bought Waldenbooks in 1984, acquires Borders and creates the Borders-Walden Group. At the time, Borders had 21 large stores and had valued itself at about $190 million, the New York Times reported at the time.
1994: Borders' flagship store moves from 303 S. State to the ex-Jacobson's department store on East Liberty. The bookseller is the largest retailer in downtown Ann Arbor.
1995: The book store chain, renamed Borders Group Inc., spins off from Kmart and goes public on the New York Stock Exchange (Ticker: BGP) under CEO Robert DiRomualdo. At the time, Borders' innovative inventory management system was considered "the envy of the industry," as one publisher put it, and was a catalyst in the forthcoming boom in the company's superstore footprint.
1995: The company's Waldenbooks division moves to Ann Arbor after receiving a $7.7 million tax credit from the Michigan Economic Development Corp.'s Michigan Economic Growth Authority board.
1995: Borders headquarters moves to a renovated, abandoned downtown retail destination on Washington Street called Tally Hall. A few years later, the company moves to its current headquarters on Phoenix Drive on the city's south side.
Feb. 4, 1997: Shares close at an all-time high of $44.88.
March 11, 1997: Borders executes a 2-for-1 split on its stock.
January 1998 to January 1999: Borders expands its store footprint by 25.5 percent, adding 52 superstores in the biggest one-year expansion in its history. By January 1999, the company has 256 superstores averaging $256 in sales per square foot.
May 1998: Borders launches an online retail presence for the first time at Borders.com.
Nov. 12, 1998: Philip Pfeffer is hired to replace DiRomualdo.
April 21, 1999: Pfeffer resigns and is replaced on a temporary basis by DiRomualdo.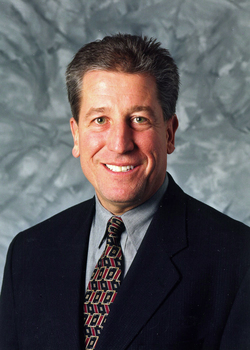 Photo courtesy of Borders
November 1999: Greg Josefowicz becomes Borders permanent CEO. August 2001: Borders contracts with online retailer Amazon to sell products online -- a relationship later blamed for making Borders late to the emerging web retail segment.
July 2004: Borders buys United Kingdom-based Paperchase Products Ltd. The company also starts branding some Waldenbooks stores as Borders Express.
August 2004: Borders signs deal with Starbucks Corp. to run Seattle's Best Coffee cafe operations in its stores.
2005: Borders posts its most recent annual profit: $101.0 million.
February 2006: The company launches a loyalty program called Borders Rewards.
July 2006: George Jones replaces Josefowicz, who had led Borders since November 1999. At the time, Borders had nearly 36,000 employees worldwide and more than 1,200 in Ann Arbor.
September 2007: Borders sells its U.K. and Ireland subsidiaries.
September 2007: Stock hits then-six-year-low $12.28 a share.
Lon Horwedel | AnnArbor.com
February 2008
: Borders opens its first of 14 concept stores on Lohr Road in Pittsfield Township.
March 28, 2008: Stock closes down 28.5 percent to $5.07 after Borders says it lost $157.4 million in 2007.
March 2008: Borders puts itself up for sale and accepts $42.5 million loan from New York hedge fund Pershing Square Capital Management to boost financial position.
May 2008: Severing ties with Amazon, the company launches a new Borders.com.
June 3, 2008: Borders' shrinking Ann Arbor personnel count hits 1,000 after 156 job cuts are announced as part of a $120 million cost-cutting plan. At this point, the company still has 30,000 employees overall.
June 10, 2008: Borders sells off its business based in Australia, New Zealand and Singapore.
August 2008: Barnes & Noble rules out bid to acquire Borders.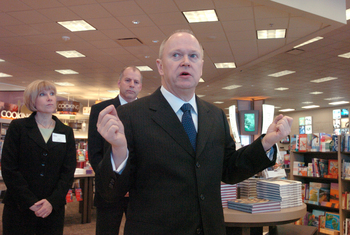 File photo | AnnArbor.com
Jan. 5, 2009: CEO George Jones is fired and replaced with Ron Marshall as global financial crisis raises questions about Borders' viability.
March 2009: Borders cuts costs, conserves cash in effort to avoid bankruptcy in the aftermath of the financial crisis.
March 30, 2009: Borders, despite posting a $187 million loss in 2008, gets some breathing room after receiving a one-year extension on a loan from Pershing Square Capital Management.
Nov. 5, 2009: Borders announces plans to close 200 of its small stores and cut 1,500 jobs. By February 2011, the number of small-format stores is about 170, down from more than 1,100 in 1995.
November 2009: Investors criticize Borders' sluggish approach to the emerging electronic books market.
2009 fiscal year: Average sales per square foot at Borders superstores sinks to $173, down from $203 in 2008 and an all-time high of $261 in 1997.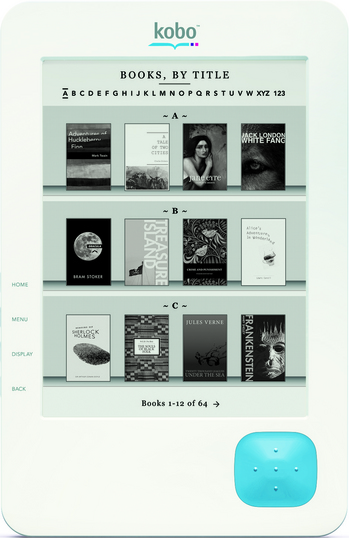 Photo courtesy of Borders
Jan. 18, 2010: Executives say they're "disappointed" with 13.7 percent decline in holiday sales.
Jan. 26, 2010: CEO Ron Marshall resigns to become CEO of the Great Atlantic & Pacific Tea Co., which files for bankruptcy later in the year after Marshall's departure. Borders executive Mike Edwards is named interim CEO of Borders Group.
Jan. 28, 2010: Layoffs hit 10 percent of the Ann Arbor corporate staff.
Feb. 3, 2010: Hedge fund investor and Borders shareholder Bill Ackman says bankruptcy is unlikely.
March 31, 2010: Borders pays off $42.5 million loan to Ackman, renegotiates credit agreement with lenders.
April 1, 2010: Executives describe strategy of "transforming the Borders brand."
May 21, 2010: Tobacco executive and activist investor Bennett LeBow invests $25 million and is named chairman.
June 3, 2010: LeBow becomes CEO of Borders Group. Mike Edwards is named CEO of subsidiary Borders Inc.
July 2010: Borders launches e-book store, starts selling e-readers, sets strategy to get 17 percent market share in e-books within a year.
July 31, 2010: Borders sells Paperchase unit for $31 million.
Aug. 11, 2010: Borders lays off more Ann Arbor workers. About 600 workers left.
Sept. 1, 2010: Borders posts $46.7 million loss in second quarter, eyes "non-book products" like games and toys.
Nov. 15, 2010: Borders launches redesigned website.
Dec. 6, 2010: Ackman says he'd be willing to finance a Borders bid to acquire Barnes & Noble and merge the retailers.
Dec. 9, 2010: Borders posts $74.4 million loss for third quarter, acknowledges possible cash crunch in early 2011.
Dec. 30, 2010: Borders confirms that it's delaying payments to some publishers in hopes of reworking vendor financing arrangements.
Dec. 31, 2010: Stock plunges 22 percent to $0.90 a share.
Early January 2011: Publishers weigh whether to agree to short-term debt in exchange for giving up immediate cash payments for book shipments.
Jan. 6, 2011: University of Michigan expert says Borders likely headed toward bankruptcy or merger.
Jan. 12, 2011: Borders announces plans to cut 300-person Tennessee distribution center.
Jan. 17, 2011: Borders lays off another 40 employees at its corporate headquarters, leaving about 550 workers there.
Jan. 24, 2011: Company sells off Day By Day Calendar unit in bid to raise cash.
Jan. 27, 2011: Borders announces tentative financing deal with GE Capital but acknowledges possibility of "in-court restructuring."
Jan. 30, 2011: Borders announces decision to delay payments to more partners, including some landlords.
Feb. 1, 2011: Reports indicate bankruptcy filing may come with weeks.
Feb. 3, 2011: New York Stock Exchange warns Borders that its stock could face delisting if it doesn't rise above an average monthly price of $1 within six months.
Feb. 11, 2011: Ackman acknowledges $125 million loss on Borders investment.
Feb. 16, 2011: Borders files for Chapter 11 bankruptcy protection with plans to close 30 percent of its stores.
Contact AnnArbor.com's Nathan Bomey at (734) 623-2587 or nathanbomey@annarbor.com. You can also follow him on Twitter or subscribe to AnnArbor.com's newsletters.