Posted on
Thu, Feb 18, 2010 : 6 a.m.
Tomukun Noodle Bar opening this spring at McKinley Towne Centre in downtown Ann Arbor
By Paula Gardner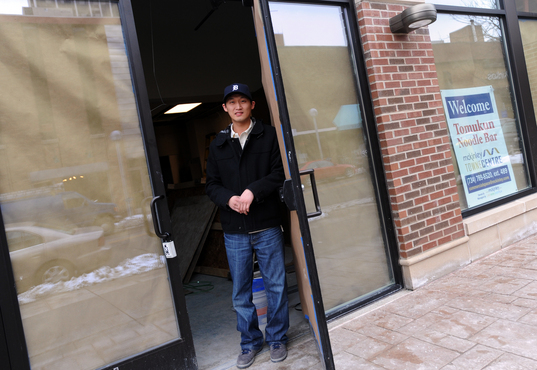 Melanie Maxwell | AnnArbor.com
Construction is moving ahead quickly in the space on East Liberty where a "welcome" sign at McKinley Towne Centre promises that Tomukun Noodle Bar will open.
Co-owner Thomas Yon said the flooring will be added this week and the interior wood trim will be done next week.
Then by early March, Yon plans to start hiring wait staff and cooks to work under co-owner and chef Noerung Hang as the team heads toward a spring opening date.
"We're pretty much set," Yon said. "We feel very prepared and ready for the spring."
Tomukun is the first restaurant venture for Yon, an Ann Arbor resident who has spent the last three years managing Yotsuba Japanese Restaurants in Ann Arbor and West Bloomfield.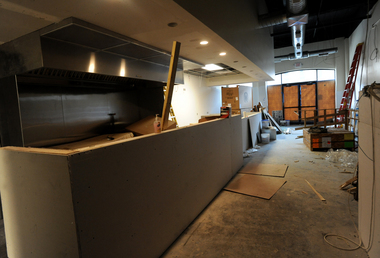 Melanie Maxwell | AnnArbor.com
The goal with Tomukun, he said, is to bring an affordable, trendy and uniquely Asian concept to the city.
"It's something different that Ann Arbor doesn't have right now," said Yon.
Yon, who is Asian-American, said he hopes to replicate the experience found in many larger cities, where customers seeking Asian cuisine can relax with a drink over shared appetizers in a sophisticated setting.
The interior design, he said, will be "very fresh, very contemporary."
He's applied for a liquor license, and envisions a menu that includes Japanese beer, Korean rice wines and sake.
His food menu will include small-plate offerings and the restaurant's namesake noodle dishes, priced form $8-10.
"If you spend something like that now, you're going for a lower-end dining experience," Yon said. "We believe with our (menu prices) and our atmosphere that we can create a good experience."
The restaurant, which will seat up to 55 patrons, is located in the eastern part of McKinley Towne Centre, the 240,000-square-foot mixed-use center comprising two buildings separated by an alley. It's owned and managed by McKinley Inc.
Tomukun will be among three retail tenants in the east building, formerly a National City bank branch. One space is available, while Kinko's/FedEx will be moving from its long-time location at the southwest corner of Liberty and Maynard.
The location, Yon said, positions the restaurant close to campus but also close to the downtown business district, reflecting his target audience of both students and professionals.
"I think Liberty will eventually become where everyone hangs out," Yon said. "With a couple of more bars and cool places to go, it can be a really exciting place for Ann Arbor."
Paula Gardner is Business Director at AnnArbor.com. Contact her by email or follow her on Twitter.