Posted on
Sat, Mar 10, 2012 : 5:56 a.m.
Where do Ann Arbor's bars fit among the Top 50 in Michigan?
By Paula Gardner
Four strip clubs, two major sports venues, one country club and one Big Old Building with many concepts under one roof — along with two Ann Arbor establishments — can be found on Michigan's Top 20 list of bars, based on liquor purchases in 2011.
Extend the list to the Top 50 in Michigan, and two more Ann Arbor bars join the crowd.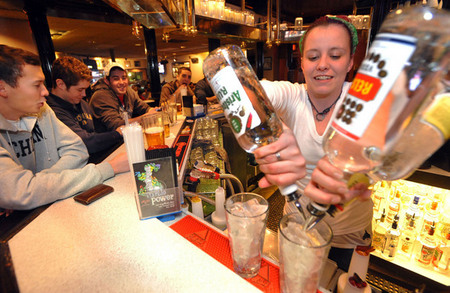 This peek at Michigan's Top 50 follows an article in AnnArbor.com from mid-February that listed the Top 15 in Washtenaw County.
In that article, officials said statewide wholesale liquor sales went up 3.66 percent in 2011, along with a 1.64 percent increase in price per case.
Gross sales were $270 million, generating revenue of $61.5 million, up $4.3 million. The total sales included $43.4 million from establishments with on-premise licenses, a $1.5 million increase over 2010.
Ann Arbor was part of that growth, with liquor sales in the county growing 7 percent.
But where does that leave our establishments in a statewide profile?
One bar from Ann Arbor, Good Time Charleys, made the top 10. Necto came in at No. 15. A bit further down the list is Knight's Bar and Restaurant at 36, then Blue Leprechaun at No. 38.
Good Time Charleys bought $285,908 in wholesale liquor from the state, later selling it to customers "by the pour."
While a record showing in Washtenaw County, it's still a ways behind the No. 1 entry: The B.O.B. in Grand Rapids, which spent $596,538.
Just like with the Washtenaw County list, this one doesn't show the retail sales totals - and it doesn't include beer or wine. But it's also a gauge of one major element of this sector's business.
Here's the full Top 20 from Michigan for 2011:
The B.O.B., Grand Rapids ($596,538)
The Penthouse Club, Detroit ($440,386)
Harper's, East Lansing ($383,173)
Black Finn, Royal Oak ($336,591)
Flood's, Detroit ($334,492)
Comerica Park ($329,628)
South, Birmingham ($296,567)
The Coliseum, Detroit ($294,849)
Uptown Grille, Walled Lake ($287,405)
Good Time Charleys ($285,908)
The Flight Club, Inkster ($284,334)
Fifth Avenue Billiards, Royal Oak ($279,377)
TGI Fridays, Southfield ($271,634)
Nikki's Pizza, Detroit ($269,097)
Necto ($265,526)
29 Park, Novi ($265,025)
Shenandoah Golf & Country Club, West Bloomfield ($259,569)
Hamilton Room & Quattro, Birmingham ($254,572)
Rosie O'Grady's, Ferndale ($254,222)
Joe Louis Arena ($249,702)
Curious about the full list? You can read it here.