Posted on
Thu, Feb 2, 2012 : 5:30 p.m.
Green under construction: Tour to show off environmentally friendly Ann Arbor home
By Janet Miller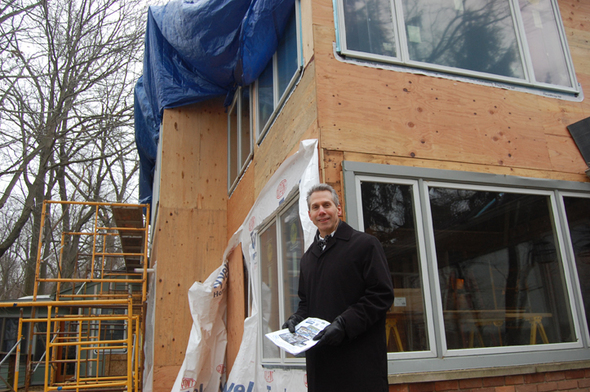 Janet Miller | For AnnArbor.com
When it comes to environmentally friendly home construction, there is more than one shade of green.
There are deep green houses, with the highest standards for energy conservation, building methods and construction materials. The United States Green Building Council in 2000 created a LEED (Leadership in Energy and Environmental Design) rating system for commercial and residential green building.
But that's the gold standard, said Ann Arbor architect Michael Klement, principal of Architectural Resource, who has designed a number of home remodeling projects that have won LEED certification.
There are lighter shades of green, Klement said, where the strict LEED standards aren't met, but there's still a push for energy conservation and eco-friendly construction.
Klement and Ann Arbor builders Old School Construction Inc. are on track to make what Klement named the Riverview House southeast Michigan's first National Association of Home Builders "Emerald" certified house, the highest level of this newer rating system developed just for residential construction.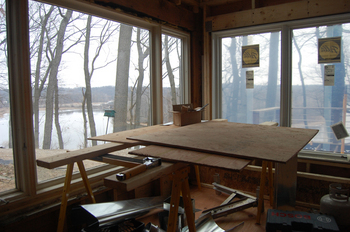 Janet Miller | AnnArbor.com
"For a LEED house, you pretty much have to gut everything and take it back down to where it's like building a new house. It can mean a $500,000 project on a $300,000 house," said
Ben Lutzeier
, owner of Old School. "With (NAHB), it's more accessible, people can afford it, but it still makes a big difference."
Riverview House, a three bedroom mid-Century Ann Arbor brick ranch sitting on a hill overlooking Huron River Drive and a bend in the Huron River, will be open to the public for an under-construction Visible Green House tour Feb. 4 and 5. Advanced registration is required.
While the project won't be completed until April or May, Klement said he wants the public to see green construction unfolding in real time. "It helps people understand that green begins in the design phase," he said. Past under-construction tours of house remodel projects have attracted up to 400 people, Klement said.
To win the Emerald certification, water and energy consumption will be reduced by at least 50 percent, while at the same time adding 1,055 square feet to the 2,500-square-foot house. Klement said he expects energy consumption on Riverview House to drop by 65 percent.
A new south-facing roofline is being added that will hold 40, 230-watt solar panels that will generate enough electricity to power the house, including the hot water heater. There will be auxiliary solar panels on the existing roof.
"The original roof is orientated east-west," Klement said. "The new north-south roof is optimal for energy harvesting."
The remodel also includes a passive cooling system that takes advantage of a near-constant breeze that comes off the bluff to create a wind tunnel aided by a giant fan with eight-foot blades mounted 18-feet above on the cathedral ceiling. "They won't need any air conditioning," Klement said.
A high efficiency gas furnace and low-flow fixtures and toilets also will be installed. And foam insulation will be in the exterior walls of all of the new construction. Finally, the new exterior walls use 30 percent less lumber replaced instead by more insulation, another green feature, and the new roof is constructed of a single panel rather than sheets that are fastened together to eliminate energy loss.
The project adds family gathering space on the main floor that takes advantage of one of the best views in Ann Arbor — a peninsula of land that juts out on the bend in the Huron River and a perch that's a reminder that Ann Arbor is nestled in the Huron Valley. "It capitalizes on the stunning siting and the beautiful view to the east," Klement said. "Before, the hallway and the mechanical room were given the best views."
It also adds a second story to part of the house that will be used as a game room and will include an energy-efficient fireplace.
While the NAHB rating system isn't as rigorous as LEED certification, it is easier to win, Klement said. "The NASB program is more user-friendly, and a little more accessible. I call it green for the rest of us. Any shade of green is good."
The tour will be held on the hour from 9 a.m. to 5 p.m. Feb. 4 and 5. While the tour is free, registration is necessary. Go to www.visiblegreenhome.com for more information.