Posted on
Thu, Jul 7, 2011 : 11:12 a.m.
U-M, St. Joe's join new initiative to help Washtenaw brace for federal health care reform, fill coverage gaps
By Nathan Bomey
(This story has been updated.)
The largest players in Washtenaw County's health care industry announced this morning that they would collaborate to study ways to handle the sudden influx of patients expected as a result of federal health care reform.
The groups also said they would work together to find ways to broaden health care opportunities for the 50,000 uninsured county residents and bolster a stressed Medicaid enrollment system.
The voluntary collaboration, called the Washtenaw County Health Initiative, includes leaders from the University of Michigan Health System, St. Joseph Mercy Health System and the Center for Healthcare Research & Transformation, a nonprofit supported by U-M and Blue Cross Blue Shield of Michigan.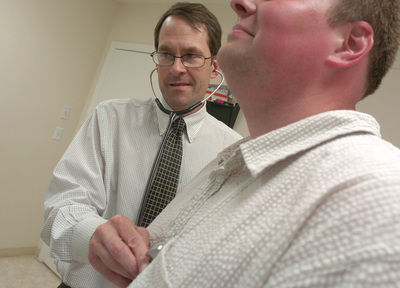 File photo | AnnArbor.com
UMHS and SJMHS alone collectively employ more than 25,000 workers in Washtenaw County.
The broad new coalition also includes many different local entities, including the Washtenaw County Public Health Department, various U-M departments, St. Joe's local hospitals and nonprofits such as the United Way of Washtenaw, Hope Clinic and Packard Health Clinic.
Marianne Udow-Phillips, director of the Center for Healthcare Research & Transformation, said the collaboration was important "because of the critical need there is today and because we know we can improve health care to the locally uninsured."
She described the efforts as particularly crucial because of the effect of federal health care reform, which is expected to add about 25,000 Washtenaw County residents to the Medicaid rolls and to allow another 25,000 to buy coverage through new health insurance exchanges.
Udow-Phillips said health care agencies need to prepare to handle the influx in patients to avoid what happened when Massachusetts extended health care coverage to most everyone in that state a few years ago under former Gov. Mitt Romney. The federal health care law takes full effect in 2014, although legal challenges and political opponents could derail the law.
"We knew what was coming in 2014," Udow-Phillips said. "When Massachusetts did health care reform, the health care system was overwhelmed with new people coming into the system without real good access to primary care. We really believe all communities across the country should be doing this today in preparation for 2014. It's really not that far away."
Former Washtenaw County administrator Bob Guenzel, former St. Joseph Mercy Health System CEO Robert Laverty and former U-M treasurer Norman Herbert led the creation of the group.
They set up a steering committee with several key players — including Rob Casalou, CEO of the St. Joseph Mercy hospitals in Superior Township, Saline and Livingston County, and U-M Hospitals and Health Centers CEO Doug Strong — and a planning group representing a wide range of groups from throughout the county.
Their early goals include improving the Medicaid enrollment system and expanding access to primary care doctors, dentistry and substance abuse programs — which would reduce expensive emergency room visits by uninsured patients.
For the first six months of the collaboration, the 50 individual members of the group have studied Washtenaw County's health care system to identify coverage gaps and inefficiencies.
"They're all aligned and they all have a common goal, which is to identify where the gaps are and to work at the county level to fill those gaps," Udow-Phillips said.
Among their findings after six months of work:
— The state employs only 59 workers to handle 55,000 Washtenaw-based Medicaid and Medicare cases, reflecting a caseload of 850 per worker.
— Only five dental practices in Washtenaw County are accepting new patients with Medicaid insurance. But dental-related visits to hospital emergency rooms cost $534,000 in 2008, leading experts to believe that costs could be reduced by providing better access to regular dental care.
—More than 33,000 uninsured Washtenaw residents do not have a primary care physician. But if they end up getting doctors after federal health care reform takes effect, they would take 54,000 annual visits to primary care physicians, leading to even more demand for primary care doctors in a system that already needs more. The county currently has 983 primary care doctors.
Guenzel said the county's existing health care providers "do an excellent job of serving" the population.
"But we think and we know that we can do better," he said. "We can do better as a community if we can come together as a community to align our assets and strategically deliver those assets. The time is right, we have the leadership, we're developing the strategy, we have the commitment and we care about this community. I think we're going to make a tremendous difference."
Laverty said the effort is important regardless of the final outcome of federal health care reform.
"People agreed this should be a nonpolitical kind of effort," he said. "There continues to be a lot of debate about how health care reform will ultimately be implemented. Folks said regardless of the outcome of those debates, it's worth us engaging in an effort of this type."
Herbert said the initiative is currently powered by the volunteer efforts and goodwill of the participants but that eventually the group would pursue funding to develop its recommendations.
Contact AnnArbor.com's Nathan Bomey at (734) 623-2587 or nathanbomey@annarbor.com. You can also follow him on Twitter or subscribe to AnnArbor.com's newsletters.