Posted on
Tue, Aug 24, 2010 : 11:28 a.m.
University of Michigan prof's WSJ 'case against corporate social responsibility' is 'incomprehensible,' executive says
By Nathan Bomey
A University of Michigan business professor is enduring criticism for an opinion piece in Monday's Wall Street Journal in which he spelled out the "case against corporate social responsibility."
The professor, Aneel Karnani, argued that "the idea that companies have a responsibility to act in the public interest and will profit from doing so is fundamentally flawed."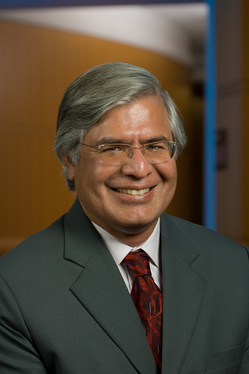 Photo courtesy of University of Michigan
"Very simply, in cases where private profits and public interests are aligned, the idea of corporate social responsibility is irrelevant: Companies that simply do everything they can to boost profits will end up increasing social welfare," Karnani wrote.
"In circumstances in which profits and social welfare are in direct opposition, an appeal to corporate social responsibility will almost always be ineffective, because executives are unlikely to act voluntarily in the public interest and against shareholder interests."
But Karnani's arguments drew the ire of global business consultant Aron Cramer, who wrote an opinion piece posted last night in the Huffington Post calling Karnani's assertions fundamentally flawed and based on old assumptions.
"The businesses that embrace corporate social responsibility are best positioned to grasp the market opportunities in our fast-changing world," Cramer said. "Karnani does business a disservice by rejecting an idea that has great power and potential."
Cramer said he would be speaking at the U-M Ross School of Business' Net Impact conference in October, where leaders and students will discuss how businesses can make the world better.
"I suspect that the 1,500 business students who attend the conference each year will have something to say about Professor Karnani's 'case' against CSR," he said, referring to corporate social responsibility. "I wonder if the good professor will try to convince these ambitious business students that they should forsake their interest in CSR. Maybe he'll be out of town instead."
For his part, Karnani pointed out that it wasn't until environmentally friendly vehicles and healthy foods were considered profitable that auto companies and food makers started producing them.
"These companies are benefiting society while acting in their own interests; social activists urging them to change their ways had little impact. It is the relentless maximization of profits, not a commitment to social responsibility, that has proved to be a boon to the public in these cases," Karnani said.
To promote corporate social responsibility among companies, Karnani said "the ultimate solution is government regulation."
"Its greatest appeal is that it is binding. Government has the power to enforce regulation. No need to rely on anyone's best intentions," he said.
Karnani acknowledged that corruption and inefficiency can reduce the effectiveness of governmental regulation but said that "with all their faults, governments are a far more effective protector of the public good than any campaign for corporate social responsibility.
Cramer said that companies such as General Electric, Ford and Nike have benefited from a focus on social responsibility.
"It is incomprehensible to me that anyone would still argue that companies considering the economic, social, and environmental impacts of their operations are making a mistake," he said. "Not surprisingly, Karnani could not provide a single example of when corporate responsibility has inflicted harm. The weak support for his arguments may be because there is such considerable evidence to the contrary. Most companies have discovered -- to their benefit and ours -- that considerable opportunity awaits companies that leverage their resources to tackle the world's biggest challenges."
Contact AnnArbor.com's Nathan Bomey at (734) 623-2587 or nathanbomey@annarbor.com. You can also follow him on Twitter or subscribe to AnnArbor.com's newsletters.