Posted on
Wed, Apr 21, 2010 : 12:21 p.m.
Upland Green apartment leasing signals final stage of long-term Plymouth Road project
By Laura Blodgett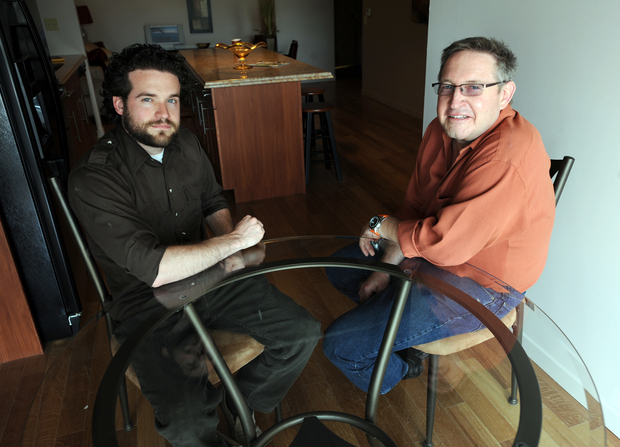 Lon Horwedel | AnnArbor.com
The Upland Green development, plagued the last few years with delays due to financing, crossed its final milestone: Occupancy of the residential component.
Thirteen of 20 apartments were leased this spring as the interior construction was completed.
"We are absolutely thrilled that, even in this economy, these higher-end apartments are going so fast," says architect Damian Farrell, principal of Damian Farrell Design group, who is leading the  effort.
Located on Plymouth Road across from the University of Michigan's North Campus, the mixed-use building  features commercial space filled by Panera, Qdoba and Great Plains Burger on the main level topped with two floors of residential apartments.
Original plans called for the units to be condos - but those plans stalled as financing issues overcame the project. But BSG Management Co. of New Jersey, which acquired the building in late 2009, renewed efforts to complete the building.
Designed as a "soft loft," the units have an old warehouse feel, said Farrell.
"Although what we have here is a new building, there is something a little raw about it with the exposed ceilings and visible brick," he said. "One of the reasons I pushed for that look was that the original builders had built a nice high ceiling, and I felt if we introduced dropped ceilings we would lose that feel. 
"In addition, they had a high quality wood floor, the concrete was neat and tidy, the lighting very simple, so I said 'Let's try to keep all that.'"
The contemporary, minimalist look is carried throughout the units with simple cherry cabinetry in the kitchens, bathroom fixtures with clean lines, and commercial storefront style windows.
"It's really warm and very inviting because the wood floors and tall ceilings give a feeling of space, and natural light penetrates each unit all the way to the front door," says Farrell.
All units have private balconies, a walk-in bathroom and walk- in or walk through closets. Some have open space suited to use as an office or den. Granite countertops, marble tile and stone enhance the space.
Farrell says the apartments appeal to those who like the urban lifestyle of living in a loft with the ability to go down to the coffeeshop and grab a cup of coffee in the morning.
Gordie Graham, project manager at Damian Farrell Design Group, has been onsite for almost a year now to get the project back on its feet—a key component to its success, according to the design team.
"Once the project was revived, the new owners put us on a tight schedule to get this building completed," said Graham. "The only way to get it done on time was to be here every day to really stay on task. 
"When the project was abandoned, no one left any documents explaining where they left off, so we had to research all that and make a plan on how we were going to finish. There was so much coordination we needed to do with contractors and city officials, talking to utility companies and just trying to get a grasp of what had been built previously."
Graham says most of the renters are couples as well as a few graduate students mainly from the engineering and medical school.
"We've had really good feedback from everyone," says Graham.
Angie Rasmussen of the Charles Reinhart Co., handling the leasing for the building, says these units appeal to a large market.
"People coming from New York or Philadelphia or Seattle are used to downtown living. This apartment style appeals to professional people or post docs who come to town for a two- or three-year assignment and want something upscale. There isn't much available downtown unless you are in the right place at the right time. 
"These are moving because they have the right amenities with the marble and granite, and hardwood floors are hard to find. Most apartment complexes on the north side of town are a little older and still have carpet and laminates."
Rasmussen adds that, in years past, people on an assignment here would buy a house instead of rent because historically they made money so it made more sense to buy.
"Now, with the home market more questionable, people are less eager to buy something and not be able to sell it for what they paid when the time comes."
Another circumstance that may be helping to fill the Upland Green is the resident match taking place now. 
"The rental market here gets really crazy in spring when the business school graduate students and the medical residents get matched which happens within a week of each other," she explains. "Those people don't necessarily want to live on campus in undergrad housing."
Besides the few loft apartments located downtown, Plymouth Green Crossing, also designed by Farrell, is comparable nearby competition for the loft style. Located to the east at Plymouth and Green roads, it's fully leased.
Rentals at Upland Green range from $900 for the 439-square-foot one bedroom to $2,200 for the 1,522-square-foot three bedroom/three bath unit. The seven units remaining are two or three bedrooms ranging in price from $1,800-$2,200. 
In addition, there is one commercial space available, the 700-900 square foot space that backs up to Great Plains Burgers. There has been steady interest to date, including a pizza outfit and a tanning franchise.