Posted on
Sat, Feb 11, 2012 : 12:53 p.m.
Urban Ashes hopes to expand distribution from Michigan to U.S. this year
By Paula Gardner
Ann Arbor's Paul M. Hickman is growing his vision for using Michigan's dead ash trees in all-natural home furnishing and decor. By the end of this year, he's hoping to sell his Urban Ashes products outside of Michigan, he told MyFoxDetroit.com for a recent report.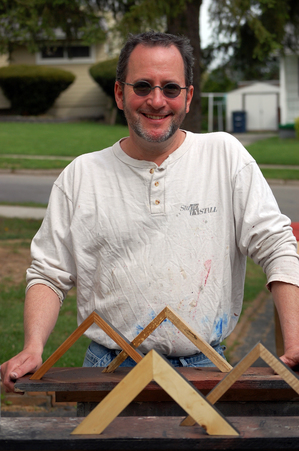 Janet Miller | For AnnArbor.com
Since 2009, Hickman has been using felled trees to make furniture and picture frames.
Now, he's using employees from the Work Skills Corp. to make his products in Brighton, he told MyFoxDetroit.com. This year, he aims to expand distribution to at least 100 retailers, branching outside of Michigan.
That was part of his vision for the company when he talked to AnnArbor.com in 2010. From that article:
It's not only about urban trees. Urban Ashes is an early-stage venture that seeks to repurpose features of Michigan's urban blight, Hickman said. Within a year, he wants to tap into displaced, transitional labor, such as from the state's prison system, and house a commercial operation in a vacant warehouse.

"Urban Ashes transforms these unclaimed resources to produce what could be considered a commodity of interior design, the basic wooden picture frame. A for-profit startup with a decidedly economic development bent, Urban Ashes seeks to do good by doing well," he said. "Especially for the frames, there is a high potential in the commercial world."