Posted on
Sat, Mar 31, 2012 : 5:59 a.m.
Washtenaw County construction industry still struggling to recover from recession
By Lizzy Alfs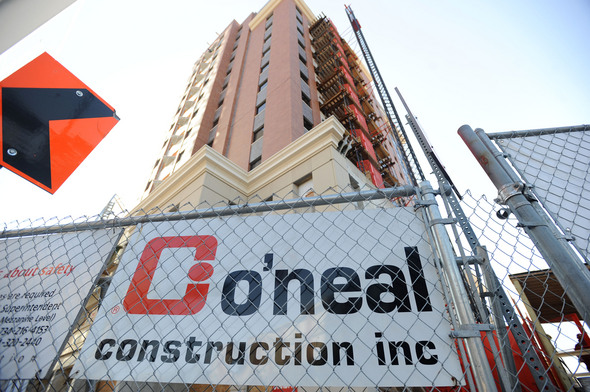 Angela Cesere | AnnArbor.com
Exclusive economic forecast: Ann Arbor area to add 11,000 jobs over 3-year stretch
Related story: Ann Arbor area in 2014: Labor shortages possible
Related story: Washtenaw County economy in robust recovery: But are they good jobs?
Despite an ongoing construction boom at the University of Michigan and several high-rise student apartment projects being built in downtown Ann Arbor, the number of Washtenaw County construction jobs has not rebounded.
From 2005 to 2011, jobs in the Washtenaw County construction industry were cut almost in half, according to an economic forecast conducted by the University of Michigan for AnnArbor.com. The industry continued to decline even as job growth started in the fourth quarter of 2009. The number of local construction jobs fell from 3,434 in 2009 to an estimated 3,143 in 2011.
To be sure, this data only includes jobs from contractors that are based in Washtenaw County and excludes those who are self-employed.
"You might be getting handymen or small construction projects of people doing it on their own — and that would not show up in our numbers," said economist Donald Grimes, who conducted the forecast with economist George Fulton.
Although the forecast predicts some construction job growth from 2012 to 2014 due to an improving local economy and some residential building pickup, the gains are minimal.
The forecast predicts a total of 3,189 construction jobs in 2012, 3,306 in 2013 and 3,496 in 2014 -- which just exceeds the 2009 levels and is still 44 percent below 2005 levels. In the overall economy, the Ann Arbor area is expected to have more jobs by 2014 than it had at its previous peak in summer 2002.
Bill Kinley of Phoenix Contractors Inc. -- an Ypsilanti-based commercial construction company -- said his company's staffing levels have remained stable throughout the past few years, but he has no plans to hire more employees.
He said certain areas of the construction industry are experiencing increased activity, such as education and automotive related work.
"We're seeing many of the existing automotive facilities are now being prepped for upgrade," he said. "It's very important to Michigan, and there is certainly more activity in the dealership realm than we've seen in many years."
The forecasted job gains through 2014, although slight, could also stem from the demand for new construction as existing office and industrial properties reach leasing capacity, Kinley said.
"When all the existing spaces are leased up, there will be a strong push and demand for building new, similar facilities," he said.
He added: "I think the conditions are being set for that. Will we see demand this year in new building? I don't believe so. But we could see it in 2013 and certainly are going to see it in 2014."
On the residential building side, new construction came to a near halt during the recession and the housing market has only just begun to spring back to life.
Jim Haeussler, owner of Saline-based Peters Building Co., said that he's just now starting to see a demand for new home construction in Washtenaw County.
"We've definitely been busier than we have been in the last three or four years," he said. "It's still a long way from where we need to be, but we're at least heading in the right direction."
He said as the Washtenaw County housing stock "wears out" with people coming onto the buying market, there will be a steady improvement on the building side -- which could account for some job growth down the road.
Another factor that's affected the construction industry's job decline in Washtenaw County is the competition from outside contractors in recent years, Kinley said.
Because Washtenaw County has more building activity than most other areas in Michigan, he said companies from the Metro Detroit area are coming here to find work.
"There is still a lot more activity in Washtenaw County with the University of Michigan and other institutions, and certainly that is appealing to [outside] contractors when their work load goes down in other areas," he said.
He added: "We've expanded our horizon somewhat and are more active in the Greater Detroit area. With part of the private work drying up here, we just have to expand geographically a little more."
Lizzy Alfs is a business reporter for AnnArbor.com. Reach her at 734-623-2584 or email her at lizzyalfs@annarbor.com. Follow her on Twitter at http://twitter.com/lizzyalfs.