Posted on
Wed, Mar 13, 2013 : 2:59 p.m.
'We Love Ann Arbor' website features new video touting city's virtues
By Ben Freed
It might seem like a big gamble for a real estate agent to spend an entire year's advertising budget on a project that does not mention his company, especially with the real estate market as tight as it is. Even so, to Robert Ewing the We Love Ann Arbor project made perfect sense.
"It's not one of those things I could put on a spreadsheet and it would look really good, I wouldn't want to sell it to investors," he said of the project, which consists of a 10-minute online video and a blog, where fans of Ann Arbor can share their stories.
"But I think it's great in terms of what it will do for the community, and I like being associated with it whether it brings me lots of money or not."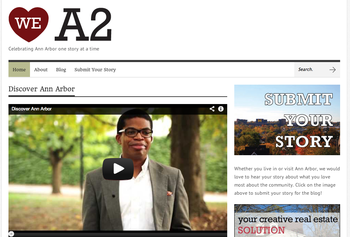 Screenshot from website
Ewing, the primary Realtor for
Ewing Professionals
, said a 10-minute video his son Steve produced was designed to showcase the look and feel of the town more than specific statistics.
Initially, he planned to simply add the video onto the end of his "home-tour" videos that showcase properties he lists.
"But I've worked with enough people in real estate that I know people are curious about the town, and it's almost more important to them how people who live here feel about it," he said.
"… A house is a house, and a cool house is a cool house. We all do what we can to show our houses off as well as we can, but we think it's a great thing to have this video and we find people love being able to hear about the community, especially people who haven't been around it. That was the real intent."
The video features prominent Ann Arbor community members, including mayor John Hieftje, school board President Deb Mexicotte, AAPS Superintendent Patricia Green, and University Musical Society president Ken Fischer.
Once the-four month shooting and editing process was finished, demand for the video quickly began to outpace the response Ewing expected.
"When we first made the video and people wanted to see it, I'd say give me your business card and I'll email you the link," he said.
"So after sending the YouTube link to several people, we said it needed to be housed somewhere and that's when we went ahead and bought the domain name WeLoveAnnArbor.com. We didn't expect this to occur, it's just kind of taken on a life of its own."
Ewing Professionals' community manager Brittany Campbell was tasked with putting together the website. While the video was the impetus for creating the website, Campbell felt that more was needed.
"What else was the reason for visiting the site? How could we give [visitors] a better experience and interact with them?" she said.
"So we came up with the blog idea where people would share their stories. They echo what they hear in the video and become part of the storytelling as it happens."
The blog currently has one entry, and visitors to the website are encouraged to submit their own stories for consideration.
Ben Freed covers business for AnnArbor.com. You can sign up here to receive Business Review updates every week. Reach out to Ben at 734-623-2528 or email him at benfreed@annarbor.com. Follow him on twitter @BFreedinA2