Posted on
Fri, Mar 16, 2012 : 6:14 p.m.
Where to stay: Hotels near Dexter offering discounted rates for people displaced by storm
By Lizzy Alfs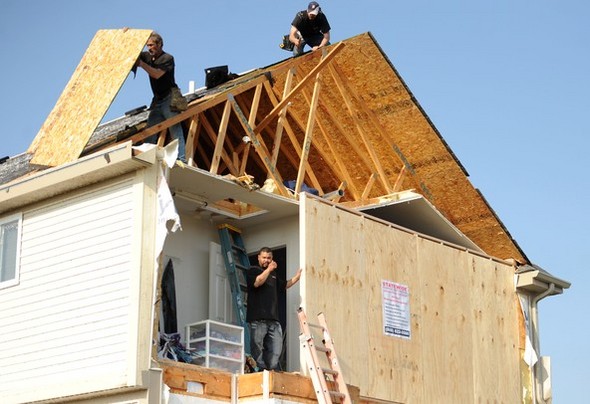 Angela J. Cesere | AnnArbor.com
With more than 200 people displaced by Thursday's storm that ripped through parts of Washtenaw County, local hotels have been swamped with phone calls from people looking for lodging.
Aside from damaged homes and apartment complexes, much of the area between Dexter and Pinckney is without power because a major electricity line between the two townships that needs to be replaced.
Many affected residents have turned to family and friends' houses for lodging, while others stayed overnight in a shelter at 100 Arbana Drive in Ann Arbor -- a shelter organized by the Red Cross and Salvation Army. Another shelter - located at Mill Creek Middle School in Dexter -- also is available for people to stay overnight or just to come get food, beverages and support.
Jenni Hawes, the disaster public affairs coordinator with the Washtenaw-Lenawee County chapter of the Red Cross, said both shelters will remain open for several days as the organization evaluates the community's needs.
Several hotels nearest to Dexter have lowered nightly rates and are running specials in an effort to help displaced residents.
John Staples from Weber's Inn -- which is located about six miles outside of Dexter on Jackson Avenue -- said about 15 rooms were booked last night by people who were affected.
They have an additional 20 people coming tonight, and only have one more room available.
"I wish we had more rooms that we could offer people, but we've picked up a lot of rooms because of the storm. I would imagine, given the circumstances and damage, that probably many guests will be staying with us for some time until they can make other arrangements," he said.
He still encourages people to call to check for availability in case there are cancelations.
The hotel is lowering its rate for storm victims from $185 per night to $109 per night, and offering a buy two nights, get one free special.
The reason, he said: "If we can offer assistance in any way, we are certainly happy to do it. These people have enough to burden them."
The Clarion Hotel on Jackson Avenue has lowered its rate to $49.99 for displaced residents and still has available rooms, said sales manager Valentine Cabaua.
"We sympathize with these people and we are involved in the community," he said.
Another hotel, the Comfort Inn in Chelsea, is discounting its rooms from $114.99 to $65 for storm victims. Front desk manager Veronica Hubler said the hotel has 28 rooms available tonight.
Lizzy Alfs is a business reporter for AnnArbor.com. Reach her at 734-623-2584 or email her at lizzyalfs@annarbor.com. Follow her on Twitter at http://twitter.com/lizzyalfs.