Posted on
Mon, Dec 12, 2011 : 10:26 a.m.
Why does Michigan have 77,000 unfilled job openings?
By Nathan Bomey
It's an increasingly common refrain among Michigan business executives and politicians.
It goes like this: Michigan companies have thousands of job openings, but many times they can't find qualified employees — or qualified employees simply don't exist.
Carrie Houtman, a senior policy analyst for Midland-based Dow Chemical Co., said in Ann Arbor today that it's a national problem. She said nearly 3 million jobs in the U.S. can't be filled due to a lack of talent.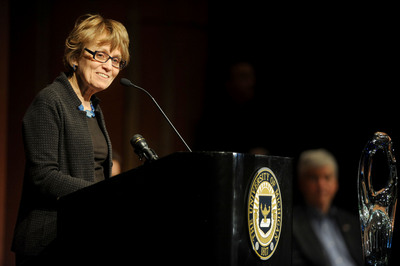 File photo | AnnArbor.com
"We try to hire out of a workforce where more than three-quarters of high school grads are not meeting their benchmarks in one or more of their subjects," Houtman said at the
Advanced Manufacturing Partnership
regional meeting, held by the
President's Council of Advisors on Science and Technology
(
PCAST
) Working Group at the
University of Michigan
.
The meeting — hosted by U-M President Mary Sue Coleman in her role as co-chair of President Barack Obama's National Advisory Council on Innovation and Entrepreneurship — drew about 400 business leaders, political officials and educators to discuss the future of the country's advanced manufacturing base.
Houtman said universities need to design training programs that meet industry needs and public schools need to prioritize "project-based learning." At the elementary level, that means book reports, science projects and field trips, she said.
"The reality is these experiences get fewer and farther between as the student progresses, and this shouldn't be the case," she said.
The conference comes a week and a half after Michigan Gov. Rick Snyder issued a "special message" on enhancing Michigan's workforce development and talent initiatives. Snyder said Michigan has more than 77,000 job openings that aren't being filled because of a lack of talent.
"Enhancing the quantity and quality of our talent is critical. We are not leveraging our resources efficiently to create a talent supply that meets the demands of Michigan's 21st century economy," Snyder said in a 14-page paper delivered to the Legislature. "While the struggle to connect talent with employers is multifaceted, the primary reason employers are struggling to fill jobs is a mismatch between skill attainment and skill demand."
Stephen Forrest, U-M's vice president for research, said building an advanced manufacturing workforce "remains one of the biggest challenges facing America today."
Coleman said Michigan is uniquely situated to capitalize on the economic opportunity, despite the hundreds of thousands of traditional manufacturing jobs Michigan last during the last decade.
"We are losing manufacturing jobs and the talented people who fill them, but we are also better positioned than any other state to be the epicenter of manufacturing innovation and resurgence," Coleman said.
Houtman suggested that government regulations threaten the the growth of the advanced manufacturing sector. She said government regulations cost the U.S. economy $1.75 trillion a year.
"We have truly become a regulation nation over the last seven decades," she said.
She also said that some young people don't consider entering the manufacturing sector because of its poor image.
One of the initiatives the conference plans to discuss is how to launch a marketing initiative to rebrand the manufacturing sector.
"We believe manufacturing doesn't have the appeal it used to," Houtman said. "What is considered a strong underpinning of the middle class is frankly viewed as a has-been, dirty job. And those of us in the industry know that is not the case."
Contact AnnArbor.com's Nathan Bomey at (734) 623-2587 or nathanbomey@annarbor.com. You can also follow him on Twitter or subscribe to AnnArbor.com's newsletters.