Posted on
Sun, Jan 10, 2010 : 6:05 a.m.
Wireless Washtenaw: What happened?
By Nathan Bomey
Wireless Washtenaw, an ambitious initiative conceived six years ago to provide high-speed Internet access to the entire county, is on life support.
Despite $2 million in private investment and another $70,000 in government spending, the project is stalled, attracting only 550 daily users in a county with more than 347,000 residents.
The project's leaders attributed its shortcomings to an inability to attract investor funding.
Lon Horwedel | AnnArbor.com
But independent experts questioned whether it would ever succeed, in part because of the immense cost of extending wireless access to 720 square miles of land - at a cost that could reach tens of millions of dollars.
Now Wireless Washtenaw's future may hinge on a last-ditch $4 million federal stimulus application, which hopes to tap $7.2 billion dedicated to spreading Internet access throughout the country.
Wireless experts, however, said the application is unlikely to land funding because the federal government is favoring broadband Internet projects that extend access to remote places with few ways to access the Internet.
Still, Wireless Washtenaw proponents are holding out hope.
"We're very excited and hopeful and encouraged that we'll receive positive news back from the federal government that we're going to receive money," said James McFarlane, the county's Wireless Washtenaw project manager.
The program's original goal was to install equipment on government structures throughout the Ann Arbor region, creating a wireless cloud that would provide slow access for free and high-speed access for a monthly fee.
The company that landed the deal, Ann Arbor-based 20/20 Communications, spent more than $2 million to build the network.
But that was only enough to establish a network covering 100 square miles - about 1/7th of the county.
The service's 550 users pay rates ranging from $45 per month to $99 per month. The rates are competitive with other Internet service providers but don't generate enough profit for 20/20 to continue building the wireless network.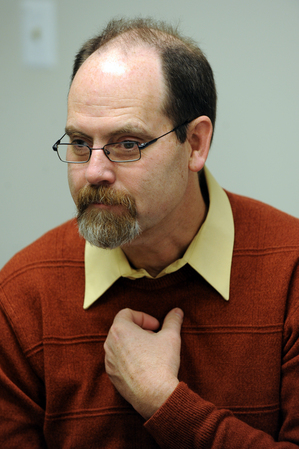 Lon Horwedel | AnnArbor.com
In the original plan, which proponents believe is still possible, county officials, business leaders and residents acknowledged that the project would eventually require outside investment.
But investors never came.
"The economy has hit us hard," said Bob Wolff, co-owner and president of 20/20 Communications.
Meanwhile, the emergence of Wireless Ypsi, an unrelated local company that is promoting a different model for community wireless networks, has caused some observers to question the value of continuing to pursue Wireless Washtenaw.
J. Downs Herold, an Ann Arbor resident and retired University of Michigan administrator, said he's been disappointed by Wireless Washtenaw's lack of success.
"The thought of, 'Boy, I could pick up wireless and not have to deal with Comcast' was what really had me going," Herold said. "But as I started to read more about it, it was kind of like, 'How the hell are they going to put it up in the whole county?'"
With uncertainty clouding the project's future, experts now say the original plan was flawed.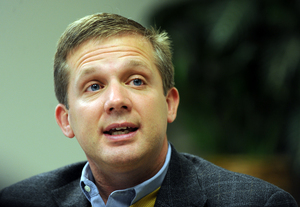 Lon Horwedel | AnnArbor.com
Esme Vos, an attorney and founder of MuniWireless.com, said the project might have been doomed from the beginning because the county didn't offer to pay for the service for its own use.

"In the cases where it works, you need some municipal use for it to justify this gigantic investment," she said. "It's got to be sustainable."
Wireless conception
Wireless Washtenaw was conceived in 2004 as many municipalities throughout the U.S. mobilized to provide community networks to residents and businesses. In Michigan, other counties that pursued wireless networks at some point included Oakland, Macomb, Kent, Genesee and Ottawa.
In Washtenaw, officials assembled a leadership team led by then-county information technology director David Behen, who later became deputy county administrator and is now a vice president of Ann Arbor-based GDI Infotech.
The coalition designed Wireless Washtenaw, and law firm Bodman LLP donated some legal services at the beginning to assist the project.
The county Board of Commissioners in late 2005 officially approved a plan to solicit proposals from private Internet service providers. The county got 4 proposals. Bidders included a joint application from AT&T and IBM; MichTel Communications; and 20/20, which won the deal in summer 2006.
By February 2007, 20/20 had already established a pilot project designed to create small wireless bubbles in downtown Ann Arbor, downtown Saline and parts of Manchester.
Soon after that, however, the project, which was supposed to be finished by late 2007, ran into trouble.
Municipal wireless initiatives throughout the country increasingly lost momentum as investors questioned the business model.
Behen said the county was confident that the project was doable, although he recalls an early meeting where some people expressed skepticism.
"We had people in the room telling us it can't be done, it can't be done," he said.
Critics believe the county should abandon the project.
Steve Pierce, co-founder of Wireless Ypsi, which has created a free wireless Internet cloud throughout downtown Ypsilanti, said Wireless Washtenaw was flawed from the beginning.
His startup company focuses on creating community wireless networks in crowded places like apartment complexes instead of rural areas.
"If the plan was to cover the entire county, there were a heck of a lot of sheep and cows out there that don't need wireless Internet access," said Pierce, who said his service has attracted 40,000 users, including 800 daily in downtown Ypsilanti. About 2,000 people use the service in a given week.
Pierce argued that Wireless Washtenaw's original objective was not plausible.
"The idea to blanket the entire county with wireless access is not cost effective. You put it where people are living and working, not in a corn field," he said.
Funding obstacles
Wireless Washtenaw was designed to place all of the risk on the shoulders of the private sector.
"This had to be a partnership between the private sector and the public sector," Behen said. "The public sector would not be paying for it. This was going to be funded through the private sector, a win-win for everybody."
20/20 Communications has since spent more than $3,600 per active user to establish the network, with minimal revenue to show for it.
The county altogether spent about $70,000 with Bodman and consulting firm Plante & Moran to finalize contractual details and other specifics.
County officials such as Behen, McFarlane and others also spent innumerable hours working on the project.
"It was not correct to say the county was not spending any resources on it," Behen said. Employees "spent a lot of time on it. That is taxpayer dollars. Some could argue that we could have spent our time focused on something else."
To be sure, most experts didn't expect venture capital funding opportunities to dry up - and the financial crisis made matters worse.
Wireless Washtenaw roller coaster

"It would have worked" with funding, Wolff said.
Rural Internet options still few
Most parties agree: The need to improve high-speed Internet penetration throughout Washtenaw County is still significant.
Thousands of users in western Washtenaw County are limited to Web access at dial-up speed.
Exact figures are unclear, which is partly why Michigan recently received a $1.8 million to study broadband Internet penetration. The Michigan Public Service Commission will work with Washington, D.C.-based Connected Nation to conduct the study.
"The need is growing at an exponential rate," Wolff said.
Ray Berg, a Freedom Township resident who served on one of the original leadership teams for Wireless Washtenaw, has been using the network for 2 years at his 17-acre farm. He said the $49-a-month service has helped him conduct his custom homebuilding business more efficiently, since he doesn't have access to DSL or cable Internet.
"It's made a huge difference for me," he said. "To be able to send drawings and large electronic files as part of my business is just critical. It's been a huge boon to my business. And from a personal point of view, it's just a tremendous difference."
Home-based businesses, farmers and rural residents need high-speed Internet access, he said. Without high-speed access at home, students have a hard time completing Web-based research assigned by teachers.
"Certainly out here in the southwest part of the county, there's huge demand for the service," Berg said. "I'm still getting questions and comments from local residents here on when is this going to build out."
Experts say that emerging wireless technologies may soon offer realistic, affordable options to rural residents who have been waiting years for high-speed Internet access.
Major cell phone service providers such as AT&T and Verizon, for example, are constantly expanding their 3G networks, which provide Web access to smart phones. Rural access to 3G networks can be spotty.
But "the technology continues to evolve," said Marvin Sirbu, a professor of engineering and public policy at Carnegie Mellon University who has studied municipal wireless initiatives.
Stimulus hopes
Despite its failures, Wireless Washtenaw isn't dead yet. In fact, this may mark the most hopeful moment in its recent history.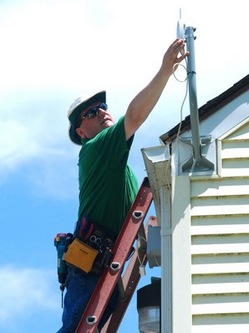 20/20 this summer filed an application seeking $4 million in federal grants and low-cost loans to expand the network. The U.S. is expected to distribute some $7.2 billion in grants and funds for various broadband Internet projects through the $787 billion economic stimulus program approved in early 2009.
Some $183 million has already been distributed, but the bulk of the awards should be announced within weeks.
"Broadband services allow individuals to access new career and educational opportunities," the U.S. National Economic Council said in a December announcement. "They help businesses reach new markets and improve efficiency. They support struggling communities that seek to attract new industries. And they enhance the government's capacity to deliver critical services."
Wolff said he's optimistic that Wireless Washtenaw's application would find favor with the federal government.
"I'm being told by our field rep that we have a very viable application submitted," he said.
Sirbu, however, questioned whether the government would distribute funds to Wireless Washtenaw in its first round of awards.
"The priority seems to be so-called unserved areas," Sirbu said. "Ann Arbor has got lots of (options). There may be corners of the town that aren't covered. But by and large most of the town has an option."
For now, the county and 20/20 are waiting to see whether the government provides funding for Wireless Washtenaw.
"We've got a lot invested in this," Wolff said. "In the event that we did not get stimulus money, I think there would still be a plan to move forward.

"It's hard to define what that would be today."
Contact AnnArbor.com's Nathan Bomey at (734) 623-2587 or nathanbomey@annarbor.com. You can also follow him on Twitter.