Posted on
Thu, Mar 18, 2010 : 5:56 a.m.
Ypsilanti approves first redevelopment liquor license for former T.C.'s Speakeasy downtown
By Tom Perkins
Prospective buyers of the former T.C's Speakeasy in downtown Ypsilanti are seeking a unique liquor license with which they will be able reopen the shuttered bar and grill.
The license, called a redevelopment liquor license, most significantly differs from a standard liquor license in that it requires a potential restaurateur to invest at least $75,000 in rehabilitating the property they are purchasing.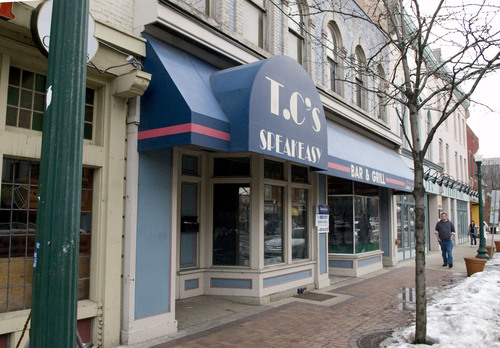 The buyers, Cool Properties LLC, whose owners have no relation to former T.C's owner Ty Cool, declined to comment until the license is approved but have agreed to make the investment in the property.
Teresa Gillotti, Ypsilanti's city planner, said the city is pleased to see someone taking advantage of the opportunity.
"We're really excited about the potential for the spaces that need to be renovated," she said. "To have someone come in, fix the building up and have the license be a part of that is great."
The Michigan Legislature approved the type of license in 2006, and roughly 60 cities and townships statewide have since approved it for local businesses, according to the state's Liquor Control Commission.
Applications for the license and enforcement of its rules are handled by the LCC, and Andrea Miller, a public relations officer with the commission, said its introduction has played a role in redeveloping communities across the state.
"It has been a positive for the cities that have used it because it shows that they are redeveloping," she said. "It's a sign that you're cleaning up your city and making it more available to consumers, and I think that it is beneficial."
The Ypsilanti DDA designated two districts, called "City Redevelopment Areas" in the summer of 2008 in which the licenses can be purchased. The first runs through downtown Ypsilanti on Michigan Avenue and Water Street.
A second district runs from West Cross Street from the water tower east to the train tracks in Depot Town.
One liquor license is made available by the LCC for every $200,000 invested in redeveloping a district. According to city assessor Sharon Doom, the Cross Street and Michigan Avenue districts have seen $2.3 million and $5.6 million in investment since they were formed in May 2008.
Gilotti said there are only four standard liquor licenses currently available in Ypsilanti, and they all are in some form of transfer from one owner to another.
Thus, the redevelopment license is the only option available to those hoping to open a restaurant serving alcohol in Ypsilanti.
Gilotti said the license is also attractive in that it costs $20,000, while standard liquor licenses currently carry a market value of roughly $60,000 to $80,000 in the area.
"This makes additional liquor license available where they otherwise wouldn't be," Gilotti said. "They're hard to get, they can be expensive, and this is a more affordable option."
Unlike standard liquor licenses, the redevelopment liquor licenses are not an asset - they expire when an owner sells their business and cannot be sold. A new buyer must apply for the license and agree to make $75,000 in improvements.
"They are unique - they are basically designed to encourage investment in the community," Gilotti said. "I think it's a great incentive for people to not just start a business, but improve buildings. It has a lot of potential to bring in new businesses, and with our historic building stock, it's only going to improve the districts."
Among other requirements, a business owner must provide seating for at least 50 guests and agree to operate at least 10 hours per day, five days per week.
Before the LCC approves the sale of the license, the Ypsilanti City Council must also approve the project. It approved Cool Properties' application at the council's Feb. 2 meeting.
"The city does get to decide if it's meeting their goal for downtown's development," Gilotti explained. "They decide if it's a business they would want in their community, and they responded positively to this one, which is great."
David Hamilton, chief executive officer of Swisher Commercial, brokered the deal between Cool Properties and the Bank of Ann Arbor, which currently owns the building.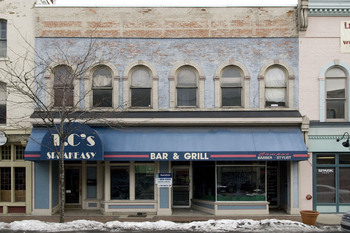 Hamilton concurred with Gilotti that the licenses are good not just for buyers, but the community as a whole.
"It's a very positive thing for redevelopment of downtown," he said. "When you open a restaurant today, you really do need a liquor license and you need every customer you can get."
Tom Perkins is a freelance reporter and photographer.