Posted on
Fri, Aug 20, 2010 : 2 p.m.
Ypsilanti's Elbow Room to reopen tonight, but bar faces Web dilemma
By Nathan Bomey
The Elbow Room bar in Ypsilanti is set to reopen tonight, an attorney for the bar's owner said today.
Jim Jackson, attorney for Elbow Room owner Marion Campbell, said repairs have been made to rectify "extensive damage" at the bar after the previous manager, Andy Garris, left abruptly in June.
But the bar, which will host bands all weekend, now faces a new hurdle.
It appears someone loyal to Savoy, a rival bar to the Elbow Room that was once known as Club Divine and is located one block away, is using the Elbow Room's website and Facebook page to promote Savoy.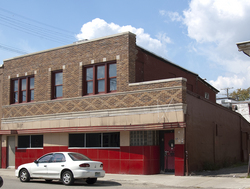 File photo
"Have no fear - your favorite merry makers/libation pouring specialists from The Elbow Room have moved right down the street into our building (The Savoy, 23 North Washington, Ypsilanti, MI - one block north of The Elbow Room)," the website says. "Rest assured, Andy, Dustin, Nina, Hasan, Scarboni, & Doug, as well as the familiar faces of your favorite Elbow Room regulars, will all be here."
Someone with access to the Elbow Room's Facebook page, which has more than 1,400 fans, is using that page to promote Savoy, as well.

In post dated July 23, for example, the page says, "If you are missing the good times... have no fear! One block North of the ER, you will find all your drinking pals and favorite drink slingers! At Savoy (by Andy Garris), 10pm this evening! Come see the new home!"
It's unclear whether Elbow Room's ownership is aware of the situation with its website and Facebook page. Jackson, who spoke to AnnArbor.com this morning, could not be reached for comment after the situation was discovered this afternoon.
The Elbow Room closed temporarily in June to the surprise of owner Campbell, whose attorney has since been sorting through records to assess the bar's financial situation. Washtenaw County records showed unpaid property taxes on the building of $4,853.79 due on June 30.
Jackson said the bar was left in disrepair when Garris, who operated it since 2007, quit in June.
"The mess has been cleaned up and the bar is opening up under new management," Jackson said today. "We're working through the unpaid bills that were left behind by Mr. Garris."
Garris could not be reached for comment this afternoon.

In an interview published last week by the website iSPY, he said: "We had an incredible run at the Elbow Room. With that being said, the opportunity came up to do something many folks said can not be done. If you know me, then you know that I love to take on a challenge. I look at Savoy, and it is such an incredible space. With a capacity of 701, we can create a venue that doesn't exist anywhere in the area. Once a band is too big for the Blind Pig there is nowhere to go locally, and I think we can be that place."
He added: "Building upon the amazing hard work and heart of the community everyone put into making the Elbow Room what it had become over the past few years, this seems like a natural progression for us."
Contact AnnArbor.com's Nathan Bomey at (734) 623-2587 or nathanbomey@annarbor.com. You can also follow him on Twitter or subscribe to AnnArbor.com's newsletters.