Posted on
Wed, May 18, 2011 : 6:31 p.m.
Zingerman's backs Asian food business at Mark's Carts in downtown Ann Arbor
By Janet Miller
Ann Arbor-based Zingerman's Community of Businesses provided the financial backing and expertise to help two employees open an Asian street food cart in the new Mark's Carts food courtyard in downtown Ann Arbor. The new operation, called San Street Cart, opened today.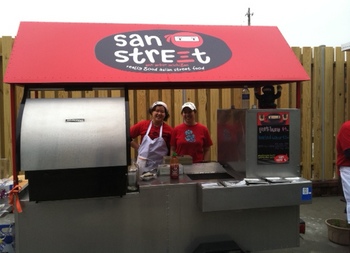 Photo courtesy of Zingerman's
Zingerman's Deli
employees
Ji Hye Kim
and
Kristen Hogue Jackson
said they had a longstanding dream of starting an Asian street food business — and Mark's Carts was the perfect match.
With Zingerman's help, Kim and Hogue Jackson had been working on the concept of an Asian street food restaurant for a year-and-a-half. They decided to scale the project back to something smaller, such as opening a food cart, possibly at the Ann Arbor Farmers Market.
But when Mark Hodesh, owner of Downtown Home and Garden, announced early this year that he would open an outdoor food cart courtyard behind his store, Kim and Hogue Jackson knew the timing was perfect.
While they would someday like to open a restaurant under the Zingerman's family umbrella, the food cart is a good start, Kim said. They may eventually also sell at the Farmers Market. San Street fits into Zingerman's vision to expand by bringing in more partners to start new business ventures. Zingerman's Roadhouse, Zingerman's Bakehouse and Zingerman's Creamery are past examples.
The next new food vendor at Mark's Carts is People's Pierogi, which is expected to open the first week in June. An Indian food cart, Hut-K, which has a new brick-and-mortar location on Packard Road near Platt Road, is expected to open in about two months, Hodesh said. He continues to look for two more carts to fill out the courtyard.
San Street is a result of Kim's dream to open a noodle shop and Hogue Jackson's dream to open a dumpling store. Kim grew up in South Korea while Hogue Jackson visited family in Taiwan every summer. Both loved Asian street food.
"It's really simple food," Kim said. "It's comfort food, dumplings and noodles, usually hand-held. It's not complicated."
San Street will offer about five different items, but only two or three of them will be sold on any given day. They kicked off their opening day with steamed pork buns, a Taiwanese open-faced sandwich on top of a hand-made bun.
San (pronounced sahn) refers to the number 3, a lucky number in the Asian culture. San Street will host a dinner May 24 at Zingerman's Roadhouse that will feature Asian street food. The dinner is sold out. San Street Cart will have more limited hours for the rest of May but will be open for lunch seven days a week and also for dinner on the weekends beginning in June.
Janet Miller is a freelance reporter for AnnArbor.com.