Posted on
Wed, Feb 20, 2013 : 5:19 a.m.
107.1's Martin Bandyke to observe his 30 years on area radio with 2 special shows
By Roger LeLievre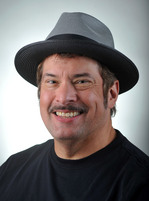 Martin Bandyke
, familiar to radio listeners at the host for 6-10 a.m. "drive time" slot on Ann Arbor radio station
WQKL
(107.1-FM), will mark his 30th year on the air Feb. 21.
The milestone has given Bandyke, 58, an opportunity to reflect.
"What was going on 1983 when I started? … REM released their first album. Talking Heads released 'Speaking In Tongues,' Elvis Costello, The Fall, Echo and the Bunnymen, The Stranglers, New Order, Gang of Four, Cocteau Twins … all released great stuff in '83 or performed live (in the area). It was a really good time for music," he said.
Feb. 21, 1983 was Bandyke's first official radio show, with friend and fellow musician Rob Valdez. They took over a pre-existing program called "Dimension" on Detroit public radio station WDET.
At the time, Bandyke—whose 1976 degree from the University of Michigan is in radio, TV and film—was the import record buyer for Dearborn Music. He was hired full-time at the station in 1990 as assistant music director. A year later, he started hosting a five-day-a-week show. He became music director in 1995 and was mid-day host until December 2005, when the station dropped its music format.
"I was fortunate enough, in January 2006, that I joined Ann Arbor's 107.1. I just feel so fortunate, humbled, honored to still be on the air and that people still listen," said Bandyke, who gets up just after 4 a.m. to drive in from Harper Woods to be on the air by 6 a.m.
If a high point of Bandyke's career was being hired in Ann Arbor in 2006, the low point is surely when he was let go by the station in February 2009 as part of recession-driven cutbacks by parent company Cumulus Media. His termination was brief, however, thanks to an outpouring of local support—and a well-placed phone call to station owners.
"This culminated with (Bank of Ann Arbor President) Tim Marshall talking with one of the key owners at Cumulus and having a conversation about me. After all of 10 days I got the call from the general manager, and I got my job back. It was a big story in my industry because it was so unusual.
"Where else would there be such a level of commitment and caring from people and a city? I was flabbergasted, and it was so humbling. … I am forever thankful to everyone involved in Ann Arbor and at Cumulus who cared enough to get me back on the air," he said.
Bandyke plans to mark his anniversary in two ways. "On Feb. 21 (a Thursday) I will be getting a little nostalgic. Then the 'Fine Tuning' show on Sunday (Feb. 24, 4 p.m.) I'm going to do an all '80s show, maybe all music from 1983. One of the first big interviews I did after I started at WDET was the band New Order; they played a fairly legendary show in the summer of '83 at St. Andrews. I'm interviewing their bassist, Peter Hook. Also we'll have some other guests, fun stuff and other surprises."
Bandyke said he, and the station, take pride in working with local nonprofit groups like Food Gatherers, the Humane Society of Huron Valley, the Michigan Theater, University Musical Society, The Ark, the Ann Arbor Summer Festival. And he said he feels fortunate to be on the radio in a town that attracts a wide range of talent.
"There are very, very few other places that compare to Ann Arbor. It's just not music—it's writers, poets, visual artists. It rivals pretty much any major city in terms of cultural offerings, which makes it a great place to be a morning drive host," he said.
Although he has interviewed plenty of big-name musicians over the years, Bandyke said talking with Elvis Costello was "a dream come true." Lou Reed was the most difficult. "He's known to be prickly … he completely lived up to his reputation." On his wish list: Tom Waits, Paul McCartney and Bob Dylan.
As far as the future goes, Bandyke said he waiting for the day when his job isn't fun any more, but that day has not yet arrived.
"Bob Dylan and Neil Young are still going strong, and they're old guys, they're still doing it. … I'm just getting started," he said.
"I thank my lucky stars I was able get a job in radio at a cool station in Michigan," he added. "I was born and raised (in Michigan), lived here all my life and so much great music has come out of Ann Arbor and Detroit in any genre you can name. … Things worked out so well."