Posted on
Sun, Jan 30, 2011 : 2:02 a.m.
Ann Arbor Folk Festival wraps up with strong performances from Judy Collins, The Swell Season
By Roger LeLievre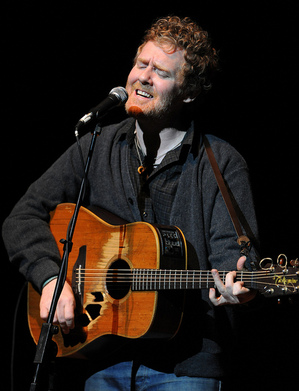 Lon Horwedel | AnnArbor.com
Most of us have probably seen one of those family portraits where several generations line up side by side, grandparents with their children and grandchildren. That's the kind of image I took away from the second night of the Ann Arbor Folk Festival on Saturday, an event that included music icons Judy Collins and Mavis Staples as well as relative youngsters such as The Swell Season, Eilen Jewell and Newfound Road.
The Swell Season's Glen Hansard appeared genuinely humbled to be playing on the same bill as Staples and Collins, and dedicated a gorgeous cover of "Blue Eyes Crying in the Rain" to the latter.
The annual musical buffet, held in Hill Auditorium and sold out both nights, is the main fundraiser for The Ark, Ann Arbor's nonprofit home for acoustic music and more.
The evening opened with a lively set from young Ohio bluegrass band Newfound Road, augmented for the occasion by Mountain Heart fiddler Jim VanCleve. Brothers Jamie and Joe Booher were terrific on mandolin and bass, and their cover of "Ain't No Sunshine" would make composer Bill Withers proud. I also loved Boston-based Eilen Jewell, whose torchy new ballad "Only One" made me realize why people are comparing her to Brenda Lee.
Collins may be 71, but age hasn't diminished the folk music icon's voice or passion. Her instrument may be more delicate than it once was, but it is still capable immense power. She opened with the familiar "Both Sides Now" and continued with the Joan Baez hit "Diamonds and Rust" followed by Ian Tyson's "Someday Soon," observing at one point "I've been doing this for 50 years, how do you like that?" Judging from the applause, the audience liked it just fine.
A version of "The Blizzard (Colorado Song)," with Collins accompanying herself on piano, was mesmerizing, while her interpretation of the Amy Speace anti-war song "Weight Of The World" was as moving as anything she's done in the past. Collins concluded her set by leading the audience in "Over the Rainbow, " definitely something you don't get to hear or participate in every day. It was a shiver-me-timbers moment, for sure.
Staples, one of the most eloquent voices of the civil-rights movement, performed a gospel-flavored set that included the acappella "Wonderful Savior," The Band's "The Weight" and The Staple Singers' 1970s hit "I'll Take You There." I could have done without the over-amplified electric guitars on "Freedom's Highway," but I loved her three backup singers and hearing the undiminished range of Staples' voice (she's also 71), growling low one moment and soaring with angels the next.
Red Horse, the "folk supergroup" of Eliza Gilkyson, John Gorka and Lucy Kaplansky, did a round-robin set of tunes, leading off with Gorka's wonderful "If These Walls Could Talk." Gilkyson's "Walk Away From Love" and Kaplansky's gorgeous, piano-accompanied ballad "Sanctuary" were two of the low-key set's highlights, and it was fun to see these seasoned pros playing off each other. Gorka's rendition of Kaplansky's "Don't Mind Me" was also a standout.
Leave it to the outrageous Doyle and Debbie Show to interject a bit of buffoonery into the evening, with a set that simultaneously satirized and parodied country music. Songs like "Whine Whine Twang Twang" and "Fat Women in Trailers" had the audience cracking up. This is no novelty act — they've got musical chops. Call them corny, and a guilty pleasure.
MC Susan Werner was in fine form Saturday, cracking jokes and even making a dry Wikipedia entry about Ann Arbor funny. She also poked fun at fairy doors, our mayor, and pizza magnate Tom Monaghan, and got topical with her sly musical observation on religious hypocrisy "Our Father (The New Revised Edition)." I found it funny that she performed the tune right before Staples came out to do her set, but maybe some others in the audience didn't.
The Swell Season, the folk-rock duo of Irish musician Glen Hansard and Czech singer / pianist Markéta Irglová (augmented Saturday night by a drummer and guitarist), closed the night with a superb, well-received set that included "When Your Mind's Made Up" and and "Falling Slowly," from the 2006 indie movie "Once," in which the pair starred. A superbly sung cover of Van Morrison's "Into the Mystic," as well as the traditional Irish lament "The Parting Glass," sung by Hansard and often performed at wakes, was dedicated to the late Peace Corps' founder Sargent Shriver.
Hansard and Irglova, one-time romantic partners now split up but still together musically, have great chemistry on stage, and although their styles are different (he's clearly an extrovert and she's just the opposite) their voices harmonize beautifully together. I can see why they were the headline act.
It also fell to The Swell Season to lead the evening's finale, with most of the performers from both nights on stage for a loose, moving rendition of Bob Dylan's "Forever Young." It was the perfect end to the festival, which clearly was an artistic and financial success for The Ark. Two sold-out houses, with around 3,500 people each night, means The Ark is doing something right. And with young talent like The Swell Season and others over the two nights keeping the flame joyously alive, it's clear the future of folk music is in good hands.
Roger LeLievre is a freelance writer who covers music for AnnArbor.com