Posted on
Thu, Jul 18, 2013 : 4:37 p.m.
2013 Ann Arbor Art Fair enjoys a solid opening, despite heat
By Jenn McKee
• The Mega Guide: Full coverage of the 2013 Ann Arbor Art Fair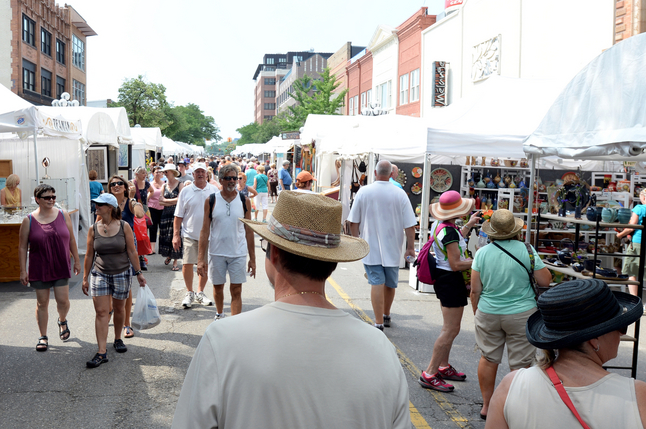 Melanie Maxwell | AnnArbor.com
Artists and fair directors report satisfaction with how the
Ann Arbor Art Fair
is going so far, despite the high temperatures and humidity levels.
"Obviously, it's warm out," said Maureen Riley, Ann Arbor Street Art Fair director. "But people are coming out, and the artists seem very happy."
"It seems to be good," South University Art Fair director Maggie Ladd said Thursday afternoon. " … We know from anecdotal evidence that some big pieces sold yesterday. … Everyone's in good spirits, which is usually a good signs that sales are being made."
And because the Art Fair often falls on some of the year's hottest, stickiest days, the artists often set up fans in their booths, and perennial Art Fair visitors adapt and plan accordingly.
"People who come now know how to prepare for it," said "Max" Clayton, director of the Ann Arbor Summer Art Fair. "They dress for (the heat), they wear sunscreen, they bring bottled water, they plot out their trip, they plan to take the trolley, or plan to go to a restaurant and get a break in the air conditioning. That's the nice thing about having this in Ann Arbor. There are so many good options."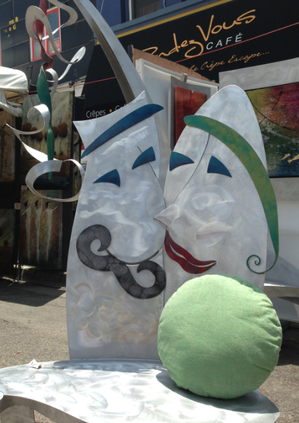 Photo by Jenn McKee | AnnArbor.com
Of course, with 4 fairs making up the
Ann Arbor Art Fair
(the
State Street Area Art Fair
is the fourth), visitors have truckloads of art options, too. But traditionally, Wednesday is one of the biggest days for artists, since serious collectors rush out to get first dibs.
"Everything looks good to me—the artists seem good," said Clayton. " … Wednesday is traditionally when collectors come prepared to buy. … And I'm seeing what we normally get, which is a very busy Wednesday."
That held true for Summer Art Fair artist Victor Edwards, who makes comfy chairs from oak and rope. He's been part of the Art Fair for 37 years, and been in the same Liberty Street location for 20 years.
"I had a good day yesterday," said Edwards. "Not everybody did, but I did. … I get return customers who come with the intention of spending a thousand dollars with me. So yesterday I sold some big pieces, and multiple pieces."
South University Art Fair metal artist Eric Sauvageau—from Harrisburg, Pennsylvania—also had a good start for this year's Art Fair.
"I did very well yesterday," said Sauvageau. "Today (Thursday) is slower, but I earned a good amount of money yesterday."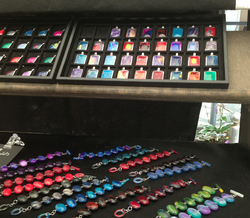 Photo by Jenn McKee | AnnArbor.com
Bowling ball jewelry artist
Matt Cole
, part of the State Street Area Art Fair, offered a slightly different take on the ebb and flow of the Art Fair day.
"I would say that only 10 to 15 percent of my sales yesterday were made after 2 p.m.," said Cole. "So I was having a good day until 2, then I just melted in the heat … Maybe it'd be OK to close the fair at 6 p.m. But then that might not be what the directors want."
No, particularly since, on these hot days, many visitors wait until (the marginally cooler) evening to hit the fair.
But then again, as Ladd pointed out, "If you've lived through 103 degrees, then temperatures in the 90s don't feel so bad."
Jenn McKee is an entertainment reporter for AnnArbor.com. Reach her at jennmckee@annarbor.com or 734-623-2546, and follow her on Twitter @jennmckee.