Posted on
Sun, Mar 11, 2012 : 5:23 a.m.
Concertmaster Aaron Berofsky in the spotlight as Ann Arbor Symphony presents 'Masterworks'
By Susan Isaacs Nisbett
For the Ann Arbor Symphony Orchestra, March is a mad whirl. It brings a family concert, several youth concerts and a Saturday evening subscription concert, all in the space of a week. No complaints from orchestra or conductor, especially when the subscription concert, billed "Masterworks," makes good on its title.
In the A2SO's Masterworks concert Saturday evening at the Michigan Theater, the Saint-Saens Violin Concerto No. 3 and the Tchaikovsky Symphony No. 5 keep company with an excerpt, "Oh, Lois," from a contemporary comic-book inspired classic, Michael Daugherty's "Metropolis Symphony."
PREVIEW
"Masterworks"
Who: Ann Arbor Symphony Orchestra.
What: Music by Daugherty, Saint-Saens and Tchaikovsky.
Where: The Michigan Theater, 603 E. Liberty St.
When: Saturday, 8 p.m., with pre-concert lecture for ticket holders at 7 p.m.
How much: $10-$55, with discounts for students, seniors and groups, A2SO, 734-994-4801, and online at a2so.com.
If the concert features a work by Daugherty, a celebrated University of Michigan composer, it also features another local star: A2SO Concertmaster
Aaron Berofsky
, like Daughtery a distinguished member of the U-M faculty, is the soloist in the Saint-Saens.
"We are so lucky to have Aaron," A2SO Music Director Arie Lipsky said in a recent phone call. "Every time he plays a concerto, it's a great to celebration for us. The Saint-Saens is such an elegant concerto, and it has all the ingredients Aaron is so known for."
Meanwhile, Berofsky, who was the soloist on the A2SO Naxos CD of the Fetler Violin Concerto, feels lucky to play this particular concerto.
"I adore this concerto and feel it is quite special," Berofsky said in an e-mail. "There is a sense of extreme calm, pleasure, intimacy and exquisiteness in parts of each movement. It is subtle music.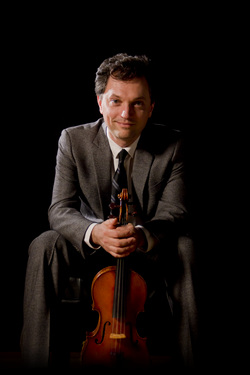 "These are aspects of French Romanticism to me, which Saint-Saens is wonderful at conveying. They differ from German Romanticism, or Russian, and a French concerto for the violin is rare, while Germany or Russia are where many of our romantic concertos come from.
"In addition, it is brilliantly crafted and orchestrated. And fiery and exciting as well, having been dedicated to Pablo de Sarasate, who also did the premiere."
With the Tchaikovsky on the bill, the concert, of course, also presents a major Russian Romantic voice.
Lipsky has conducted the Tchaikovsky fifth a number of times. He says it's a work in which "there is always something new to discover."
"This time, as I'm relearning it and going into more details," he said, "I have been amazed by the transformations of the fate motif, and by the journey that Tchaikovsky is taking us on."
It's a journey that Tchaikovsky, ever doubting his talents, wasn't sure could please the audience.
"Was he ever wrong," Lipsky said.