Posted on
Sun, Apr 15, 2012 : 5:52 a.m.
Ann Arbor Symphony ready to finish its season in style at Hill Auditorium
By Susan Isaacs Nisbett
It's not just the venue change—from the Ann Arbor Symphony Orchestra's usual home, the Michigan Theater, to Hill Auditorium—that tells you that the grand finale of the orchestra's 2011-2012 season is, well, grand.
When you pick a monumental cantata, like Carl Orff's "Carmina Burana," as the centerpiece of a program and then invite pretty much every choir within hailing distance to participate, you need a big stage.
In the spirit of community involvement that is so much a part of the A2SO's ethos, that is pretty much what the Music Director Arie Lipsky—who just signed with the orchestra for another five years—has done for the orchestra's Saturday evening concert.
PREVIEW
Season finale
Who: The Ann Arbor Symphony Orchestra, plus local choirs and special guests.
What: "Carmina Burana," Brahms "Haydn Variations," Kernis "New Era Dance."
Where: Hill Auditorium, 825 N. University Ave.
When: Saturday, April 21, 8 p.m., with pre-concert lecture at 7 p.m.
How much: $10-$55. Tickets available via a2so.com or by phone to the A2SO at 734-994-4801. Discounts available for students, seniors, community orchestra members and groups.
The choirs of Huron High School, Pioneer High School and Skyline High School will be there. So will the men's choir Measure for Measure. And the Ann Arbor Boychoir. And the Ann Arbor Youth Chorale.
If you think just getting all those forces on stage is a headache, think about rehearsing them. Of course, the choirs' directors have been doing that already, but Lipsky's the man to finish the work they've started.
That task, said Lipsky, in a recent phone conversation from his Buffalo, N.Y., home, is actually a pleasure, if a complicated one.
"I'm going to work with each of the choirs independently," he said, starting Monday. "Then on Wednesday, we'll put it all together in the evening, at one rehearsal."
The important thing, he added, is to make sure the choirs "have a unified sound."
This is not the first time the orchestra has done the rhythmically vital, secular cantata "Carmina Burana" with local choral forces here, so Lipsky is prepared. And he knows, from past experience, that combining these singers with the orchestra is a potent experience for listeners and participants alike. The wheel of Fortune, fickle Fortune—one of the cantata's principal themes—is at its high point when performers come to this work.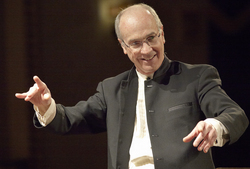 courtesy of the Ann Arbor Symphony Orchestra
"We did it 10 years ago, or something like that," he said, "and every once in a while, I meet a former student who says it was the highlight of their high school years, doing it with the Ann Arbor Symphony."
This time around, the professional soloists for the performance are soprano Mary Wilson, who has already appeared with the orchestra once this season; tenor Timothy Culver; and bass-baritone Paul Grizzell.
The other works on the bill are hardly also-rans. For an eclectic opener, there is Aaron Jay Kernis's "New Era Dance," in which the musicians have to rap and salsa; and for something completely different, Brahms' extraordinary "Haydn" Variations, serene, beautiful, vital and uplifting.
"I was thinking about the program," Lipsky said, "and it occurred to me that only in Ann Arbor could you have a combination like this in one glorious evening."
But there's more …
All season long, the orchestra has been conducting a fund-raiser for its education programs called "Pursuit of the Podium." Now, it's down to a few candidates: David Herzig, Jim Irwin, Dan Long, Linda Marshall and Larry Van Slambrook—who triumphed (thanks to the contributions of admirers) over 19 other hopefuls to be the orchestra's "celebrity conductor" at Saturday's concert.
The winner gets to conduct a short piece to open Saturday's show. Who will it be? And what will they conduct?
That, said Lipsky, depends on who wins. "It depends on how musically sophisticated they are. It has to be something they can do comfortably with the orchestra."
AnnArbor.com and the Ann Arbor Symphony Orchestra have partnered in a sweepstakes for a chance to win free tickets to Saturday's concert. Entries are being accepted through April 15. For more information, see this article.