Posted on
Sat, Mar 31, 2012 : 8:34 a.m.
Added jazz programming at Kerrytown Concert House helping fill gap in local music scene
By Roger LeLievre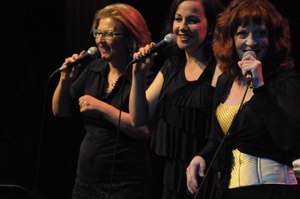 As far as Kerrytown Concert House's expanded jazz offerings are concerned, it's a case of noticing a void in the community, then helping fill it.
"We've really ramped up our jazz series," said Deanna Relyea, KCH's founder and longtime director.
She said the need became apparent after the demise of the Firefly Club in August 2009 and, before that, the Bird of Paradise—jazz clubs that were located downtown and provided a home for local, regional and national acts.
"They really brought in some fantastic and legendary artists, for years. And also it was a home for our own (local) players," Relyea said. "(When the clubs closed) we began to get a lot of calls, and it was clear there needed to be a home for local people and a place for their creative outlets and also a place for national acts to land in Ann Arbor when they are touring."
In recognition of its efforts, KCH was recently named one of the top 150 jazz venues in the world by DownBeat magazine (for the second year in a row), which also named it one of the three best venues for jazz in Michigan (along with the Dirty Dog Jazz Cafe and Baker's Keyboard Lounge in Detroit).
All that jazz
Some upcoming jazz acts at Kerrytown Concert House:
April 4: Jalala Trio (featuring two Manhattan Transfer group members, including Janis Siegel)
April 7: Wendell Harrison's Detroit Swing Ensemble
April 13: Gretchen Parlato (jazz singer offers two shows)
April 15: "All About the Trio" (ongoing jazz series with U-M's Ellen Rowe)
April 20: Ben Rolston (CD release party for bassist, composer and recent graduate from the U-M Jazz Studies program)
April 21: SEMJA Awards Concert (program marking the 25th anniversary of the Southeastern Michigan Jazz Association features the Ron Brooks Trio)
April 28: Rodney Whitaker Sextet (two shows)
May 4: Etienne Charles Quintet (Afro-Caribbean jazz)
April will be a particularly big jazz month for KCH, said Relyea. Among acts coming up are the
Jalala Trio
, featuring two members of
Manhattan Transfer
; acclaimed vocalist
Gretchen Parlato
; East Lansing's
Rodney Whitaker Sextet
; and a concert marking the 25th anniversary of the Southeastern Michigan Jazz Association featuring the
Ron Brooks Trio
. At that concert, a special award will be presented to SEMJA founder Brooks recognizing his contributions as a bassist, bandleader, Bird of Paradise club owner and community member.
One component of the jazz calendar is KCH's Kerrytown Club Series, programmed in conjunction with SEMJA, which comes complete with a cash bar. Parlato's April 13 performance is part of that series. Jazz pianist and University of Michigan faculty member Ellen Rowe's ongoing jazz series also continues in April, celebrating the Ray Brown trios.
"Kerrytown has done a great job of expanding their jazz programming so that the absence of the Firefly and Bird of Paradise aren't quite so painful," Rowe said. "(KCH's) Don Chisholm Friends of Jazz group has been instrumental in helping to support the funding of much of the jazz programming, allowing the players to not have to absorb the rental of the House when they perform there. My 'Introducing the Trio' series has been underwritten by them, and I am extremely grateful. I think Deanna has done a terrific job of mixing the amazing artists that live in the Detroit Ann /Arbor area with the artists that are touring through."
Ann Arbor bassist, bandleader and composer Paul Keller also said he is pleased about the support KCH has shown the jazz community. "Kerrytown Concert House has really stepped up and become an important performance venue for jazz in Southeast Michigan," he said.
Meanwhile, classical music lovers should not worry that KCH is moving away from its more traditional offerings, Relyea said.
"I don't think it's been an issue," she said. "We've had some pretty high-powered classical presentations. … I don't think we're sitting down on that job. We've always been looking around for new niches, trying not to overreach."
Relyea summed things up thusly: "I think that this jazz program is good for the community and good for the artists in the community and that's important, to keep out artists creating and living here. … It's not just those who are connected to the university, in fact it's those who aren't who need the space."
She agreed that part of the goal is to bring different people to the Concert House. "I look at these audiences and it's not just the old regulars. Most people I don't know, which is the aim," Relyea said.
Kerrytown Concert House is located at 415 N. Fourth Ave. in Ann Arbor. For more information or reservations: www.kerrytownconcerthouse.com or 734-769-2999.