Posted on
Tue, Nov 10, 2009 : 6 a.m.
Ann Arbor hosts showing of comedy documentary 'Allah Made Me Funny'
By Frances Kai-Hwa Wang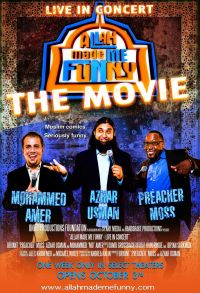 'Allah Made Me Funny,' a documentary/concert film featuring three Muslim-American stand-up comics will be shown Wednesday at Temple Beth Emeth/ St. Clare Episcopal Church in Ann Arbor.
After the terrorist attacks of 9/11, community activists and the ethnic media braced for an avalanche of anti-Muslim, anti-Arab American, anti-South Asian American, anti-immigrant hate crimes, discrimination, stereotyping, racial profiling, fear-mongering, and more. Across the country, anyone with slightly darker hair and skin became suspect, those with beards and turbans were really suspect, neighbors reported neighbors to the FBI, the Bush administration threatened concentration camps for Arab Americans, and "Flying While Arab" became a new crime. It was a grim and frightening time for minorities and civil rights.
One surprising thing that was also born of that time was the coming of age of Muslim-American stand-up comedians.
The documentary/concert film, Allah Made Me Funny, features three Muslim stand-up comics — one Arab American, one Asian American, one African American — who talk about their lives as Muslims and people of color in America in order to break down stereotypes and build bridges with both Muslims and non-Muslims. The film is coming Wednesday to Temple Beth Emeth/St. Clare Episcopal Church, thanks to the Interfaith Council for Peace and Justice.
The comedians put a vibrant and funny face on the Muslim-American experience and try to educate as they go along. Read their very interesting bios; there is a serious purpose under the laugh lines. Check out the trailer, too, it is hysterical.
From the Interfaith Council for Peace and Justice newsletter:
Addressing stereotypes is important work, but does it always have to be serious? Join us for a screening of Allah Made Me Funny to laugh with three Muslim comedians as they use comedy to address community issues.

Overcoming stereotypes and building peace can be fun and funny. That's why on Wednesday, November 11th, 2009, at 7:30 p.m., we will be hosting a showing of the documentary film, "Allah Made Me Funny." "This landmark concert film follows three acclaimed Muslim comedians on stage and off as they lift the veil to reveal the humorous truth of what it's really like to be Muslim in America. Mo Amer, Azhar Usman, and Preacher Moss poke fun at themselves, their communities, government, human nature and the tricky predicament of living in post-9/11 America," (from the film's Web site, www.20000dialogues.org).

Please join us for an evening of laughter at Temple Beth Emeth/St. Clare's Episcopal Church (2309 Packard, Ann Arbor). Light refreshments will be served. A brief discussion will follow the film.
Frances Kai-Hwa Wang is a second-generation Chinese American from California who now divides her time between Ann Arbor and the Big Island of Hawaii. She is editor of IMDiversity.com Asian American Village, lead multicultural contributor for AnnArbor.com, and a contributor for New America Media's Ethnoblog. She is a popular speaker on Asian Pacific American and multicultural issues. Check out her website at franceskaihwawang.com, her blog at franceskaihwawang.blogspot.com, and she can be reached at fkwang888@gmail.com.