Posted on
Mon, Jul 2, 2012 : 11:28 a.m.
What a combination: Andrew WK to speak at My Little Pony conference
By Jenn McKee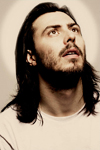 Rocker and Ann Arbor native
Andrew W.K.
, who had a smash hit in 2001 with "Party Hard," will host a panel called "In the Flesh: What Would Pinkie Pie Do?" at a My Little Pony convention (called Canterlot Gardens) in Strongsville Ohio in September, according to
Spin.com
.
The description of the talk on the convention's website reads, "Partying is enriching to everyone's life - that's what Pinkie Pie believes. On this side of the fourth wall, we are excited to announce Andrew W.K., the partiest pony of all! Holding the same ideals as the Ponyville party planner, he will be speaking at the Gardens on Friday, September 28th 2012. On that day we invite you to join us for a look into how to make your job as fun as your party, and your party as important as your job."
MTVhive.com offered an interview with W.K. on the topic, which includes this quote: "I almost feel like, rather than Pinkie Pie being me in pony form, I'm Pinkie Pie in human form. With respect to the legacy and the entire phenomenon, and to other fans of My Little Pony, and the Bronies out there — I would never be so bold to say that I was in front of Pinkie Pie. Pinkie Pie is in front of me. I was born, technically speaking, before Pinkie Pie was born, but I still feel like she has been the originator of this party spirit, and I am just a humble follower."
Jenn McKee is the entertainment digital journalist for AnnArbor.com. Reach her at jennmckee@annarbor.com or 734-623-2546, and follow her on Twitter @jennmckee.