Posted on
Wed, Jan 18, 2012 : 5:51 a.m.
Ann Arbor-based Acoustic Cafe radio show fine-tunes tour with hometown date Tuesday at The Ark
By Roger LeLievre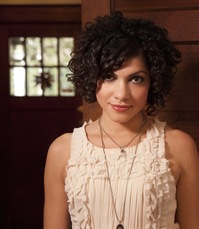 "Acoustic Cafe,"
the weekly, produced-in-Ann Arbor radio show that enjoys a worldwide syndicated audience, will settle in at The Ark Tuesday night for a hometown "Acoustic Cafe" live show featuring three performers familiar to Ann Arbor audiences.
Singer-songwriters Erin McKeown, Kelly Joe Phelps and Carrie Rodriguez will perform the local show as the kick-off date for an Acoustic Cafe Evening tour that will see a total of 14 performances in several Midwest states including Kentucky, Iowa and Minnesota.
"They each do a few of their own songs, then there is an in-the-round component where they are all up on stage together," explained Rob Reinhart, the show's Ann Arbor-based producer and host. "The artists all enjoy themselves and each other and they all play together for an encore at the end of the night," he said.
Reinhart said the idea for an Acoustic Cafe touring show came about in 2010 thanks to a music promoter who was seeking early-season work for some of his artists.
"There's a promoter and manager out of New York named John Porter who I've known for 15 years or more," Reinhart explained. "He called me up—at the time he was managing Carrie Rodriguez—and said he was looking for a way to keep Carrie on the road in January and February, when it is really hard to get performing dates.
"He suggested we partner and create this event, which is 'Acoustic Cafe'-branded, to play in many of the markets where the show has an affiliate radio station. We'd make sure the tour featured artists we'd have on the show anyway," Reinhart said.
PREVIEW
Acoustic Cafe Evening
Who: Erin McKeown, Carrie Rodriguez, and Kelly Joe Phelps.
What: In-the-round performance by three singer-songwriters kicks off an Acoustic Cafe Midwest tour.
Where: The Ark, 316 S. Main St.
When: 8 p.m. Tuesday, Jan. 24.
How much: $20. Tickets available from The Ark box office (with no service charge); Michigan Union Ticket Office, 530 S. State St.; Herb David Guitar Studio, 302 E. Liberty St.; or online from the Michigan Union Ticket Office.
Although the 2012 tour is the third to be offered, it's the first one with an Ann Arbor date. All three performers have appeared on "Acoustic Cafe" a number of times and have also played at The Ark.
"Carrie is a great writer of her own material—her own stuff is a little more moody and rocky, but she certainly has a country edge," Reinhart said by way of description. "Erin I first met back in the '90s when she was in a group called Voices on the Verge … she has a very quirky, interesting style. Every album is completely different. She's also very entertaining and has a lot of energy. Kelly Jo Phelps is a finger-picking blues guy … he's what I call kind of a deep artist. His lyrics are fairly dense and he is an exceptional player. He's one of these artists you want to just go and watch the guitar mastery."
"Acoustic Cafe," a two-hour program that presents a wide variety of big names and up-and-coming talent from the world of acoustic music, reaches around the globe thanks to a network of participating stations (listen locally on WQKL, 107.1-FM, Saturdays and Sundays from 6-8 a.m.; or on WDET, 101.9-FM, Sundays from 9-11 a.m.) and streaming options on the Internet.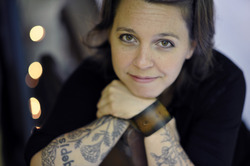 Reinhart said the Acoustic Cafe Evening tour is just one way of bringing the show to new audiences. The program has also become more involved with the annual Ann Arbor Folk Festival, and he said he plans to add live broadcasts from the North American Folk Alliance coming up in February in Memphis and the Americana Music Festival in Nashville in the fall.
"These are new items I am trying to bring to a show I've been doing for 18 years. Now I am trying to throw some things in the mix to get the program a little more exposure, to get to some different musical communities," Reinhart said.