Posted on
Mon, Jun 25, 2012 : 5:38 a.m.
Ann Arbor District Library exhibit presents a compelling look at a 'Carnival'
By John Carlos Cantu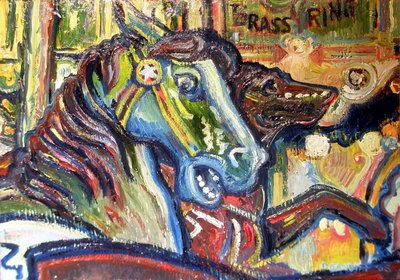 Pat Cardiff
's "Seaside Carnival" at the Ann Arbor District Library touches on the extraordinary masquerading as the ordinary through its absence.
As the AADL's gallery statement tells us, Cardiff has "been going to the Seaside Carnival in the resort town of Ocean City, Maryland, for almost 50 years: "He stopped in one night and found the carnival nearly deserted because of an impending storm. The rides and amusements were ablaze with light, but nothing was moving.
"Without the usual bustle and noise of the crowds, he was able to take in just how bizarre—and eerily beautiful—the deserted carnival really was."
Cardiff adds in his artist's statement: "The place was empty! Mind you, it was early June (2008), as pretty a night as you could imagine, about 70 degrees, salt breeze coming off the water; sky just turned deep blue but with a faint flow left from twilight. The place should have been packed. But for a few people here and there at the games or concessions, it was deserted.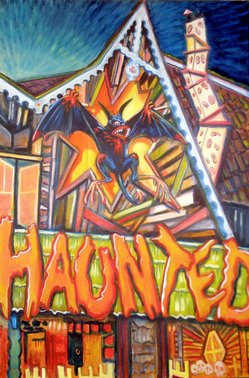 "I'd never seen anything like it. The rides, amusements, and funhouses were all ablaze with light but nothing was moving. Delighted and mystified, I seized the opportunity to take some shots of the place. Without the bustle of a milling throng I was able to take the time to see just how bizarre and beautiful the place really is."
This measured absence makes Cardiff's "Seaside Carnival" a chilling delight. Cardiff has captured this offhanded isolation with his artistry.
Crafting three sets of works in the last four years—"Boardwalk," "Funhouse," and "Ocean City"— from source photos, Cardiff's constructed his own psychological funhouse whose oddities dazzle the imagination.
The photographs alone are likely striking. Yet they only serve as a departure for Cardiff's creativity, because the expressionist vagueness one finds in these works is what really strikes home.
By modulating the stroke of his paintbrush to suit his intuitive sense of the theatric, Cardiff heightens the intensity of his palette. The works therefore evoke a sense of detachment and off-kilter curiosity.
As such, the absence of movement—as well as the absence of others—heightens the sense of macabre. And since Cardiff's themes feature such similar compositions, it's not possible to differentiate specific meanings he attaches to his paintings. Rather, this crisscrossing of visual cues reinforces the exhibit's mystery.
Leave it therefore to the seemingly out-of-the-blue 18x24 inch oil on canvas "Boardwalk No. 9" to break loose of its place in this display of colorful animal carousels and bloody, saw-toothed bats. This painting instead features a long-haired shrieking woman flanked by what seems like a background jester with grisly scepter.
"So that's where the images of these paintings come from," says Cardiff of Ocean City's amusement park. But that's not where "Boardwalk No. 9" seems to have come from.
In this pivotal 2012 painting of his "Seaside Carnival" series, Cardiff scratches beneath the surface of what he sees—and he finds what he's been searching for.
Behind the swirling lights and flashing color—and only to be found in the absence of the crowd—is the estrangement that lies in the shadows awaiting for its chance to step forward. And in the guise of "Boardwalk No. 9," she does just that.
"Seaside Carnival: Paintings by Pat Cardiff" will continue through July 22 at the Ann Arbor District Library, 343 S. Fifth Ave. Exhibit hours are 10 a.m.-9 p.m. Monday; 9 a.m.-9 p.m. Tuesday-Friday; 9 a.m.-6 p.m. Saturday; and noon-6 p.m. Sunday. For information, call 734-327-4200.