Posted on
Thu, Mar 29, 2012 : 5:57 a.m.
Brian Vander Ark at the Ark; Craig Baldwin lecture
By Ann Dwyer
FILM
The "Ann Arbor Film Festival" returns to the Michigan Theater this week. Today, 12:30 p.m. to midnight; Friday, 12:30 p.m. to 2 a.m.; Saturday, 11 a.m.-2 a.m.; Sunday, 11 a.m.-midnight. The Ann Arbor Film Festival is the longest-running independent and experimental film festival in North America. For more information, call 734-995-5356 or go to www.aafilmfest.org for a full schedule. $10 general admission or $7 for students, seniors and AAFF members. Juror presentations are free. Weekend Pass (Friday-Sunday): $45-55. The Michigan is at 603 E. Liberty St., Ann Arbor. 734-668-8397.
ENTERTAINMENT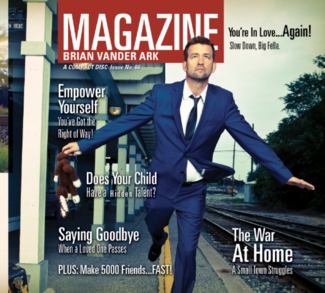 Enjoy "Live Jazz and Soul Food" at the James Crawford Elks Lodge. Thursday and Friday, 5 to 10 p.m. Saturday 4 to 10 p.m. The kitchen offers soul-food main dishes and sides. Fridays feature the Tim Haldeman Trio. Following the live music, most nights feature DJs starting at 10 p.m. No cover, cost of purchases. The lodge is at 220 Sunset Road, Ann Arbor.
LECTURE
The Penny Stamps Lecture Series will presents Craig Baldwin at the Michigan Theater in honor of the 50th Ann Arbor Film Festival. 5:10 p.m. Baldwin is a filmmaker and curator whose interests lie in archival retrieval and recombinatory forms of cinema, performance and installation. Free. The Michigan is at 603 E. Liberty St., Ann Arbor. 734-668-8397.
MUSIC
Former Verve Pipe front man Brian Vander Ark will perform at The Ark tonight. 8 p.m. Vander Ark comes to Ann Arbor with a fine new release, "Magazine." He has taken up personal themes of family, love, and loss. $15. The Ark is at 316 S. Main St., Ann Arbor. 734-761-1800.