Posted on
Tue, Mar 6, 2012 : 10:14 a.m.
Ann Arbor native Graham Meriwether bringing documentary 'American Meat' to the Michigan Theater
By Jenn McKee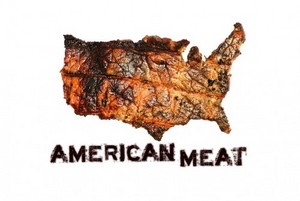 On Saturday, March 10, the
Michigan Theater
will host the Michigan premiere of Greenhills Schools grad ('98)
Graham Meriwether
's first documentary feature.
What's the meat of the matter? Well, meat—specifically, sustainable meat production in the U.S.
The 82-minute film "American Meat" was, in a way, born while Meriwether read Michael Pollan's bestselling book "The Omnivore's Dilemma" in 2006.
"(The book) basically takes four meals and follows them from the plate to the farm, and this fellow named Joel Salatin—who's a farmer featured in the film—he was jumping off the page with charisma, so I sent him an e-mail and said, 'Hey, we would like to come out and film on your farm' in 2007,'" said Meriwether. "He said yes, so we went out there and filmed over the course of a year."
Originally, Meriwether conceived of the project as a verite film, but after spending time talking to Salatin, and deciding that the use of stock footage didn't feel right, Meriwether invested another couple of years visiting conventional chicken farms, hog farms, and cattle feed yards.
"It totally changed my perspective and made me realize that there's not evil agriculture and good agriculture," said Meriwether. "That they're all family farms that are trying to make a living. A lot of times, people have to sign a contract they're not excited about, but they think it's the only way to keep the family farm. So from there, we realized that there was a revolution going on in niche production, small craft farms. So we filmed with young people who were starting to do that, and we filmed with older people that were changing their careers so they could start farming."
PREVIEW
"American Meat"
What: Michigan premiere of a documentary, by Greenhills alumnus Graham Meriwether, that focuses on sustainable meat production. Following the film, a panel discussion will feature Meriwether, local farmers, and Chef Alex Young of Zingerman's Roadhouse Restaurant. (An optional, pre-movie food event involves a four course meal at Zingerman's Roadhouse, 2501 Jackson Rd., at 5 p.m. on Saturday, March 10, followed by a discussion with Meriwether and Young.)
Where: Michigan Theater, 603 E. Liberty St.
When: Saturday, March 10 at 8 p.m.
How much: Advance tickets are available online at http:// www.americanmeatfilm.com/michigan_theater; tickets cost $10 at the door. The "American Meat" pre-screening dinner at the Roadhouse costs $55 per person.
The film took four and a half years to make, and funded by grassroots organizations, individual donations, and credit cards.
"That was definitely one of the hardest things, raising the money," said Meriwether.
But Meriwether, now based in New York, has no plans currently to submit "American Meat" to film festivals.
"The logic is that this is a film about a movement in agriculture, so we want to bring it to agricultural communities first."
Ann Arbor's screening, meanwhile, stems from Meriwether's local ties, including his longtime friendship with RealTimeFarms.com co-founder Carl Rosaen. (Rosaen will be part of the film's post-screening panel discussion.)
And while many of us hear tales of people who turn vegetarian after seeing American meat practices up close, Meriwether managed to reconcile what he saw and learned with his own personal eating choices.
"I only eat meat if I know the farm where it comes from," said Meriwether. "(Spending time on a farm) can be shocking, especially for people like myself who didn't grow up on farms. … When I first started shooting, I was much more shocked. But as I spent more and more time filming, I became more aware of the natural cycles of death and life.
"It definitely changed my perspective on things and made me think that, there's a lot of positives to raising animals outdoors. We're not trying to say that any method of production is evil or bad. We just want people to have a better knowledge of the different options that are out there, and then they can make better, informed decisions."
Here's the film's trailer:
Jenn McKee is the entertainment digital journalist for AnnArbor.com. Reach her at jennmckee@annarbor.com or 734-623-2546, and follow her on Twitter @jennmckee.