Posted on
Tue, Feb 14, 2012 : 8:55 a.m.
Ann Arbor native Pat Stansik's 'Bros vs. Hipsters' comedy short goes viral
By Jenn McKee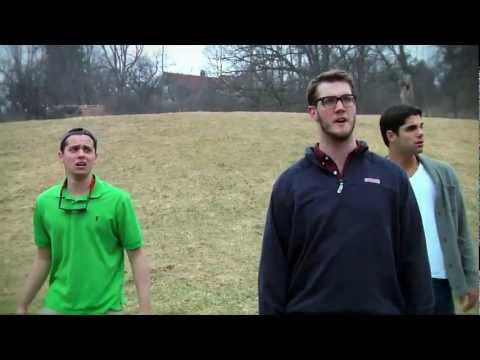 Pioneer High grad ('06), recent University of Michigan grad, and aspiring comedy writer
Pat Stansik
is now getting internet attention for his newest venture —
a football-themed musical Valentine called, "I Love You Denard"
— but in recent weeks, he's been getting more widespread traction online by way of a short, comic film called "Bros vs. Hipsters."
In the four-and-a-half-minute comedy short, two young men try to assess whether their new roommate is, well, a uber-masculine, arrogant bro, or a pretentious, crunchy hipster.
The video has garnered nearly 300,000 views on YouTube, and more than 52,000 views on FunnyOrDie.com.
Before "Bros," Stansik had a video series called, "Pregaming with Pat," and the shorts were comical music videos that chronicled Stansik's conversations and activities with fans on U-M football Saturdays.
But "Bros" (and the Denard song) is where people's attention is now being drawn, and recently, Stansik answered questions from AnnArbor.com, via e-mail, about his comedy short.
Q. You seem to consider yourself primarily a comedy writer. With something like "Bros vs. Hipsters," do you film very closely to a pre-written script? Or are there general scenes you had in mind?
A. Yes (you can read the final script here). When I was writing the script I knew that a lot of the humor was going to come from having very specific references, so I tried to include as many as possible. I was well aware that if even a single reference or item wasn't considered "bro" or "hipster," the entire video could lose legitimacy, so I put a lot of time and effort into creating a realistic (and at the same time exaggerated) version of these two stereotypes.
Q. How did the idea for "Bros" come about?
A. I decided to transfer during my junior year of college and went from being a Division 1 lacrosse player at Bucknell to a film major at the University of Michigan. I suddenly found myself straddling the lines between being a bro and a hipster: I was lifting weights while wearing a lacrosse pinnie in the morning and watching French Avant-garde documentaries while taking notes in my Moleskin notebook at night. The idea for the video came when I realized that the people who saw me in the gym and out at night thought I was a bro and the people in my film classes thought I was more of a hipster.
Q. What were the biggest challenges of making "Bros"?
A. The hardest part about making this video was working around college students' schedules. Trying to coordinate anything with college students is difficult because of how busy they are, but the main actors (Devin Rossinsky, Joey Rotter, and Eli Yudin) were very helpful and made a lot of sacrifices to make this video. I also had three great producers (Annie Harris, Kiel Nowakowski, and Joey Bergren) who did everything from throwing an all-night party so I could film less than thirty seconds of footage, to transporting extras around town, to giving me advice on how to film certain shots. Getting enough people to appear in the video for the party scenes and the final charge scene was also difficult, but both my friends, as well as people I had never met, were kind enough to show up.
Q. How long did the shoot take, and when and where did you shoot it?
A. The video was shot over the course of three different days. I filmed the party scenes first, and then spent an entire Sunday filming everything else, excluding the final scenes in the Arb, which were filmed later that week. All in all, the shoot probably took around 20 hours to complete.
Q. The film's doing pretty well on FunnyOrDie. Tell me about the process of putting it on that site and drawing views.
A. I worked for Mike Farah (president of production at FunnyOrDie) this past fall and helped him promote his brother Chris' movie "Answer This!" that was filmed in Ann Arbor. I email him videos every now and then to get his feedback on them, and shortly after I emailed him "Bros vs. Hipsters," it was on the front page of Funny or Die, so I can't thank Mike enough. Funny or Die is a very popular and well-respected site within the comedy field, and for ("Bros") to do as well as it has (the video currently has a 71% funny rating) was very exciting for me. It's one of the few websites I check everyday, and to see my video on the front page next to videos that Funny or Die employees made was awesome.
Q. Do you think sharing on social networks is primarily how "Bros" got to this point?
A. It was posted on some high traffic websites (BroBible, Barstool Sports, Buzzfeed, etc.) shortly after I posted it, but I also relied heavily on Facebook, Tumblr, and Twitter to spread the word. Every time someone posts the video on their Facebook wall, re-blogs the video on Tumblr, or tweets the link, it gets exposed to an entirely new audience, so I try to focus on creating content that people will want to share with their friends and followers.
Q. Do you find that viewers over a certain age don't quite get what the video is making fun of?
A. I definitely think these two stereotypes resonate more with younger people, but everyone can relate to being categorized and pigeonholed into labels, when in reality, it's possible to be a little bit of everything. There's a line in the video that says, "He's either a bro or a hipster. He can't be both … because that's not how stereotypes work!" and that pretty much sums up the point I was trying to make.
Q. Unless I'm mistaken, you don't appear in the video. Do you simply prefer being behind, rather than in front of, the camera? (If not, could you tell me why you made this choice?)
A. I don't mind performing but I prefer writing and directing. I'd eventually like to get to the point where I can write a script and have other people do all of the filming and editing, but right now I do pretty much everything myself.
Q. How did you fund "Bros"?
A. I no longer have a savings account.
Q. What's your main career ambition?
A. Right now, my biggest goal is to get hired as a writer at FunnyOrDie. It's my dream job and I'm going to keep making videos until I can make it a reality.
Jenn McKee is the entertainment digital journalist for AnnArbor.com. Reach her at jennmckee@annarbor.com or 734-623-2546, and follow her on Twitter @jennmckee.