Posted on
Mon, Mar 14, 2011 : 11:11 a.m.
Ann Arbor resident appearing on 'Who Wants To Be a Millionaire' this week
By Bob Needham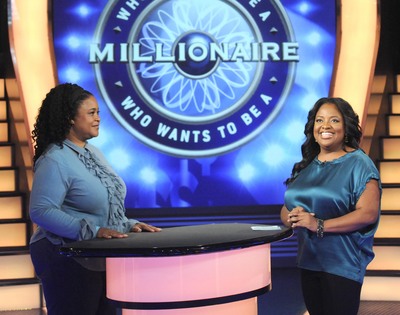 Courtesy of Valleycrest Productions Ltd.
Trilbe Wynne of Ann Arbor, a graduate student at the University of Michigan, is slated to be a guest on the TV game show "Who Wants To Be a Millionaire" this Tuesday and Wednesday.
The show airs locally on WWJ-TV (channel 62 in Detroit) at 9 a.m. weekdays. Although Meredith Vieira is the show's regular host, Sherri Shepherd of ABC's "The View" is guest hosting this week.
Wynne, 43, is studying English literature at U-M. According to an announcement from the show, "After 20 years, Trilbe decided it was time to go back to school and finally study her passion — poetry. She is hoping to someday become a professional poet. She says it's never too late to pursue your dream and that she's 'appreciating school much more this time around.'" Wynne is working on translating a book of poems from Italian to English. She hopes to win enough money on "Millionaire" to be able to travel to Italy to continue her research. She'd also like to take her niece and nephew around the world.
"Millionaire" now consists of two rounds. In the first, 10 questions are asked with a variety of different monetary prizes for correct answers. Contestants accumulate money into their Millionaire Bank with every correct answer. If contestants walk away from the game in round #1, they are able to keep half of their Millionaire Bank.
Once they get into round two (questions 11-14), only four questions remain, and contestants get to keep their entire Millionaire Bank if they decide to walk away. The top prize is $1 million. Contestants have three lifelines - "Ask The Audience" and two "Jump The Question" lifelines. If a contestant jumps over a question, they do not have to answer it, but they are required to forfeit the money attached to the question.
"Who Wants To Be A Millionaire" is currently in its ninth season in syndication. For more information about the show, go to www.millionairetv.com.