Posted on
Mon, Jun 18, 2012 : 11:55 a.m.
Ann Arbor's Patrick Harlin selected as resident composer for University of Missouri New Music Festival
By AnnArbor.com Staff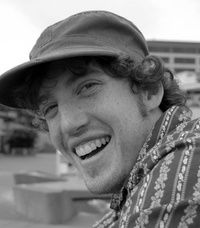 Ann Arbor resident
Patrick Harlin
has been selected as a resident composer for the
University of Missouri New Music Festival
this summer.
Tickets are now on sale for the 2012 Mizzou New Music Summer Festival's concerts on Thursday, July 26; Friday, July 27; and Saturday, July 28.
Now in its third year, the Mizzou New Music Summer Festival will take place starting Monday, July 23 through Saturday, July 28 in Columbia, Missouri. The MNMSF already is established as one of the most noteworthy contemporary music events in the Midwest, attracting attention from composers, musicians, music educators and media around the world.
This year's grand finale will feature the world premieres of 8 new works written by the festival's resident composers and performed by the acclaimed new music ensemble Alarm Will Sound. That concert will take place at 8 p.m., Saturday, July 28 at the Missouri Theatre, 203 S. Ninth St. in downtown Columbia.
The 8 resident composers were selected from across the USA through a portfolio review process to participate in the festival and create a new work for Alarm Will Sound. They are:
• Stephanie Berg - Columbia, Missouri • Brian Ciach - Bloomington, Indiana • David Crowell - New York, New York • Stylianos Dimou - Rochester, New York • Ted Goldman - Rochester, New York • Patrick Harlin - Ann Arbor, Michigan • Charlie Piper - London, England • Asha Srinivasan - Appleton, Wisconsin
Harlin has composed and played piano since age seven. He is classically trained and experienced in jazz and modern improvisation, and draws from those idioms as well as electronic music. His compositions are informed by the intersection of the natural world and contemporary life. As such, he has a keen interest in acoustic ecology and is integrating research from that field into his doctoral studies. Immediately after receiving his Bachelors degree in composition at Western Washington University he was hired on to teach Aural Skills. He then went on to earn a Master of Music composition from the University Of Michigan, where he is currently working towards the Doctor of Musical Arts. He studies with Michael Daugherty, and has studied with Bright Sheng, Roger Briggs, Bruce Hamilton, and Lesley Sommer, as well as Erik Santos in electroacoustic music. He has participated in master classes with Samuel Adler, Michael Gordon, Julia Wolfe, & Frederic Rzewski. Recent awards include fellowships from the University of Michigan, and best original score at the Lightworks film festival. Patrick's compositions have been performed by outstanding artists and ensembles throughout the United States, Europe, and Asia.
During the festival, Harlin and the other resident composers will receive composition lessons from guest composers Steven Stucky, winner of the 2005 Pulitzer Prize for composition and a professor at Cornell University, and Donnacha Dennehy, a native of Ireland and award-winning composer who founded Dublin's critically acclaimed Crash Ensemble. The resident composers also will take part in rehearsals with Alarm Will Sound; give presentations on their music; and receive a premiere performance and professional live recording of their work.
The Mizzou New Music Summer Festival is part of the Mizzou New Music Initiative, a diverse array of programs launched by the University of Missouri's School of Music intended to position the school as a leading center for music composition and new music.