Posted on
Fri, Jan 13, 2012 : 5:58 a.m.
Ann Arbor/Ypsilanti Reads' main event will feature talk by 2 experts
By Jenn McKee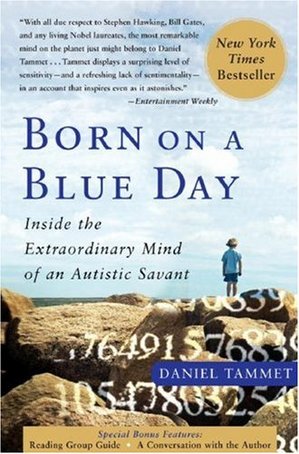 Several events are now happening in conjunction with this year's
Ann Arbor/Ypsilanti Reads
program—which has adopted
Daniel Tammet
's memoir "Born on a Blue Day: Inside the Mind of an Autistic Savant" as part of its larger theme, Language: How We Communicate. But the main event will happen on Thursday, Jan. 19 from 7-9 p.m. at Washtenaw Community College, when
Dr. Darold Treffert
and Dr.
Julie Donnelly
will speak.
Donnelly will talk about her son, who was born with classic autism in a time when the advice of medical professionals was to put the child in an institution. (After years of hard work and family support, he earned two masters degrees, and he's now married with a 2-year-old son.) Treffert, meanwhile, who wrote the forward for the UK edition of "Born," has been engaged in savant syndrome research since 1962, and acted as a technical consultant for the hit feature film "Rain Man." At this Ann Arbor/Ypsi Reads event, Treffert will discuss and show videos of his interactions with Tammet and Kim Peek (the inspiration for "Rain Man"), while also talking about how his research hints at the hidden potential within us all.
In anticipation of his upcoming appearance, Treffert answered a few questions from AnnArbor.com via e-mail. More information may be found at www.savantsyndrome.com, or in Treffert's book, "Islands of Genius: The Bountiful Mind of the Autisitc, Acquired and Sudden Savant."
Q. What drew you to study savant syndrome? A. I met my first savant in 1962 when I began a Children's Unit at Winnebago Mental Health Institute near Oshkosh, Wisconsin. We transferred about 30 youngsters and adolescents from the adult population to a new, separate Children's Unit. Three of those patients particularly caught my eye. One had memorized the bus system of the city of Milwaukee in finest detail; another could take pieces from a 200-piece jigsaw puzzle and put the puzzle together picture side down just from the geometric shapes; another was a walking almanac of what happened on this day in history. I was startled by this juxtaposition of ability and disability in the same individual. I was intrigued with that condition then, and continue to be so to this day because until we can fully understand and explain savant syndrome, we cannot fully understand and explain brain function.
Q. "Rain Man" is pretty much our mainstream cultural touchstone regarding savants. What have been the positive and negative consequences of that film's enduring popularity? A. "Rain Man" put "autistic savant" and autism itself on the national and international radar screen. It was incredibly accurate, and marvelously sensitive. Who really changed in "Rain Man?" The brother Charlie changed, not Raymond, on that 6-day cross-country tour. He began to see his brother as "differently-abled" rather than disabled, and that provides a national model for all of us toward accommodating persons with autism and Asperger's in better and expanded ways. Daniel Tammet says in his book that his mission is to "make the world a more welcome place" for what he calls "differently-abled" persons. "Rain Man" has made the world a more welcome place for them. The only caveat to remember is the not all persons with autism have savant abilities (only about one in ten do), and not all savants are autistic (about 50 percent of savants have autism as the underlying disability, with the other 50 percent having some other CNS injury or disorder).
PREVIEW
Ann Arbor/Ypsilanti Reads Keynote Event
Who: Dr. Darold Treffert and Dr. Julie A. Donnelly.
What: Treffert, a technical consultant for "Rain Man" who's studied savants (including "Born on a Blue Day"'s author, Daniel Tammet) since 1962, will join Donnelly —who raised a son with classic autism at a time when medical professionals recommended institutionalization—for this discussion.
Where: Washtenaw Community College, Morris Lawrence Building, 4800 E. Huron River Dr.
When: Thursday, Jan. 19, from 7-9 p.m. Attendees are invited to come early (doors open at 6 p.m.) to interact with local organizations, many of which focus on autism and related services; copies of "Born on a Blue Day" will also be available for purchase.
How much: Free. For more information, visit www.aaypsireads.org, or call 734-327-4555.
Q. Did you work directly with Dustin Hoffman to help establish his characterization? A.
I was a technical, script consultant to the movie, and did not have contact with Mr. Hoffman directly. To prepare for his role, he spent a great deal of time with a young, adult savant in West Virginia (where the movie opened) and with two brothers, one of whom was autistic and the other not. He also spent time with Kim Peek, who inspired the movie. But the movie is not about Kim Peek. Rather, Raymond Babbitt is a composite savant, but all the incredible savant abilities were based on actual persons with autism and with those skills.
Q. What kinds of key perspectives have you gleaned from Daniel Tammet and his books? That is to say, what do you view as being most important about "Born on a Blue Day"? A. The book gives the most detailed account of what it is like to grow up with Asperger's disorder (that formal diagnosis was not made on Daniel until he was 25 years old). Since so many persons with savant syndrome lack the ability to explain "how they do it," Daniel's tremendous writing abililty gives us insight into both Asperger's and savant syndrome rarely otherwise available. In that sense, it is a treasured glimpse into not only the mind of Daniel Tammet, but a glimpse into his world as well.
Q. How can the study of these few, highly gifted individuals (savants) tell us more about who we all are, and what potentials lie within us? A. Essentially, based on my more recent contact with "acquired savants"—neurotypical (normal) persons who show startling skills, sometimes at a prodigious level, that surface after head injury or disease point toward dormant potential within us all. The big question of course is how to tap that without having a stroke, head injury or dementia. It is the search for the little Rain Man within us all that continues with me, sparked by those three patients with savant syndrome I first met to many years ago.
Jenn McKee is the entertainment digital journalist for AnnArbor.com. Reach her at jennmckee@annarbor.com or 734-623-2546, and follow her on Twitter @jennmckee.