Posted on
Fri, Mar 26, 2010 : 1:09 a.m.
U-M gives "Armide" a modern twist
By Laurel Firant
The University of Michigan Opera Theatre put a contemporary spin on Christoph Willibald Gluck's opera "Armide" Thursday night, staging the rarely heard 18th-century opera at the Lydia Mendelssohn Theatre.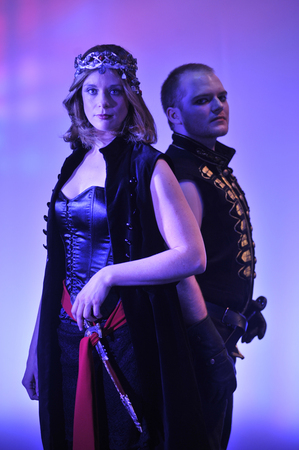 Peter Smith Photography
Premiered in 1777 in Paris, Gluck considered the opera to be his best. Philippe Quinault's libretto, based on Torquato Tasso's "Gerusalemme Liberata," is set during the Crusades. It revolves around Armide, a pagan sorceress and princess of Damascus, who uses her powers against the Christian invaders. The story turns tragic after she falls in love with Renaud, a Christian knight who eventually abandons her. The opera touches on themes of love, loyalty, conflict and heartbreak, and lends itself well to the production's modern style. Presented with 2 casts, the opera is sung in French with projected English translations.
Anne Jennifer Nash was outstanding in the title role of Armide, carrying the production with her strong soprano voice and excellent acting skills.
Everyone in the cast sang well. Of special note: Kyle Matthew Knapp brought sensitive acting and a lovely tenor voice to the role of Renaud. Monica Sciaky powerfully delivered the role of La Haine (Hatred), enhanced by a showstopping entrance from what looked to be the gates of Hell, bathed in red light and smoke. Jesse Enderle, as the Christian soldier Ubalde, and Kyle Tomlin, as the Danish knight, put in very solid performances that were rewarded by spontaneous applause.
Soprano Alexandria Clark showed remarkable presence as Coryphée/Lucinde (a luminary / demon), her poise matched by her elegant voice. Kate Wakefield as Coryphée/Mélisse (another luminary / demon) showed a wide dynamic range in her singing that was remarkably sweet in its upper range.
Mary Martin lent her brilliant soprano voice to the role of Armide's friend, Phénice, contrasting well with Nicole Greenidge's softer soprano as Sidonie, another friend of Armide. Joseph Roberts brought a sense of maturity and a refined baritone voice to the role of Hidraot, the King of Damascus. Nicholas Ward sang the role of Arontes with noteworthy drama. Knapp and José Garcia, as Artémidore, provided an interesting contrast of tenor voices in their scene together. And Catherine Nix and Jennifer McKenzie rounded out the cast with good performances.
The University Philharmonia Orchestra, under the direction of Douglas Kinney Frost, played reasonably well overall, but the performance was occasionally marred by poor intonation.
Director Joshua Major's production featured minimalist sets by Vincent Mountain. Costume designer Rachel Jahn dressed the cast in modern garb with some Middle Eastern touches.
But the evening truly belonged to Nash in her spellbinding role as Armide. She gave a riveting performance, especially in the final scene, which was so compelling it drew gasps from the audience.
"Armide" continues Friday and Saturday at 8 p.m. and Sunday at 2 p.m. at the Lydia Mendelssohn Theatre, located within the Michigan League at 911 North University Avenue in Ann Arbor. Tickets: $24 and $18; $9 for students with I.D. Box office: League Ticket Office, 911 North University Avenue. Phone: 734-764-2538. Hours: Friday 9 a.m. - 5 p.m.; Saturday, 10 a.m. - 1 p.m. Online: www.music.umich.edu.
Laurel Firant is a free-lance writer for AnnArbor.com.