Posted on
Sun, Mar 25, 2012 : 5:50 a.m.
Preview Mark's Carts and get Celtic to fight cancer
By Ann Dwyer
ART
"Make Your Own Luminary for FoolMoon" at Workantile Exchange. 10 a.m. to 5 p.m. Jimmie Thompson, former art director of the Detroit Thanksgiving Day Parade, will be on hand to help you create beautiful shimmering sculptures, with assistance from the famous face of FoolMoon, Meryl Waldo. Event occurs every Sunday in March. $10 suggested donation. Workantile is at 118 S. Main St., Ann Arbor. 734-395-6779.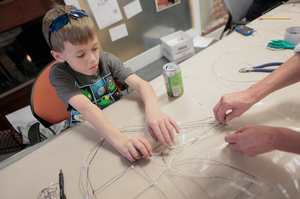 ART
The "30x30 Benefit Art Show" wraps up at the Ann Arbor Art Center today. Noon to 5 p.m. Thirty artists accepted thechallenge to create 30 works of art in 30 days to be sold to benefit the Art for Kids Scholarship Fund. The scholarship provides tuition and art supplies to enable kids to take art classes who otherwise would not be able to do so. All works of art will be sold for $40 each. 117 W. Liberty St., Ann Arbor. 734-994-8004 x101.
FOOD
Mark's Carts will hold a "Preview Party" at Wolverine State Brewing Co. 6 to 8:30 p.m. Five food carts will each serve a special dish to be paired with one of Wolverine Brewing's hand crafted beers. The cost of each item will be set by the individual carts and beer will available for purchase at the bar. No cover. The Brewery is at 2019 W. Stadium Blvd., Ann Arbor. 734-369-2990.
MUSIC
Detroit-based Celtic band Blackthorn will play an "American Cancer Society Cancer Action Network Fundraiser" at The Ark. 7:30 p.m. Traditional songs of emigration, sea shanties, lively jigs and reels and haunting ancient airs combine with some of Ireland's best contemporary songs. ACS CAN asks leaders not only to talk about fighting cancer, but take real steps toward decreasing the number of people suffering and dying from cancer. $20 and $50. The Ark is at 316 S. Main St., Ann Arbor. 734-761-1800.
MUSIC
The Michigan Pops Orchestra will present "Pops in Peril" at Michigan Theater. 7 p.m. The Pops orchestra will be performing pieces that could very well accompany a nightmare or dream. The orchestra will also perform music from the movie "Inception." $8 for adults, $5 for students. Free to K-12 students. Tickets available at all Ticketmaster locations, www.ticketmaster.com or at the Michigan Theater box office one hour before the show. The Theater is at 603 E. Liberty St., Ann Arbor. 734-668-8397.