Posted on
Thu, Mar 29, 2012 : 5:36 p.m.
At Out Night
By Ryan Levin
All this week, Ryan is covering the movies and moments of the 50th Ann Arbor Film Festival in the Michigan Theater, sharing his experiences of the festival. Share your thoughts and stories in the comments and enjoy a great week of experimental film!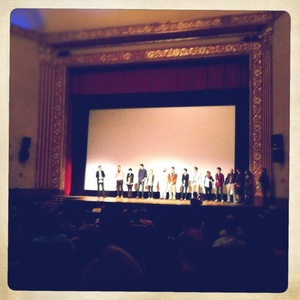 Photo by Ryan Levin
Four hours before the 11th annual Out Night, the Michigan Theater main auditorium stage was lined with directors of the fifteen shorts in the
Student Film Showcase
. A microphone was being handed down the row of assembled filmmakers. Introductions were given and bursts of cheering in the audience identified the pockets of support in the audience for the respective schools, programs, classmates and friends.
The regional collegiate film showcase represented film programs from schools across the state. There was one from Interlochen and five combined from the University of Michigan's art and design and screen arts and cultures programs.
There was a dubstep video project from Eastern Michigan University, four shorts from Washtenaw Community College, a surreal date film reedited from the 1980s from Oakland Community College, and three short movies from the College of Creative Studies in Detroit.
The showcase of talent showed student filmmakers reaching adroitly into all areas of film making and experimental cinema. These weren't amateurs tinkering clumsily with the tools of moviemaking.
Among the works shown were a visual documentary on the abandoned Belle Isle Zoo in Detroit ("Belle Isle Zoo"), a collaborative audio/visual project turning the sounds of modern life in Ann Arbor into an electronic soundtrack ("Listen"), an interpretive dance film-poem on love and urbanity in abandoned industrial spaces ("Instructions for Urban Exploration"), and an absurdist animation of a headless suit of armor where the soundtrack was composed entirely of descriptions of the sounds you were supposed to hear ("Dullahan").
In the darkness after a screening of Screen Arts and Cultures film "A Piece of Life" someone shouted 'long live 16mm.' "A Piece of Life" was the only short shot on film to be shown at the screening. That person was later confirmed to be U of M professor Terri Sarris, present in support of her students. She asked me to take their picture in front of the open film shutter on the Michigan Theater staircase.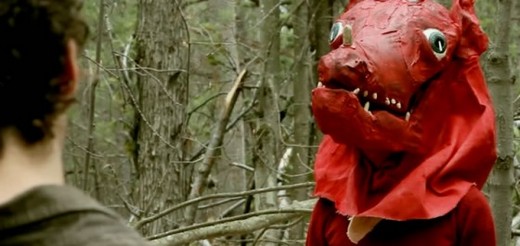 Two hours before Out Night, outside of the screening room, Michigan Theater staffers were checking tickets and festival passes. A woman in a white dress shirt and black bow tie thumbed a button on a metallic counter as each person went inside.
Betzy Bromberg's "Voluptuous Sleep," a feature-length study of light, optics and reflection was being shown. Hopping back and forth between the screening room and main theater, one quickly gets an idea of the space has an effect on the spectator and on what you are watching.
In the main room, the screen stands tall at the back of a stage. The auditorium is mammoth, cavernous and grand. By contrast, the screening is a compact viewing environment. Sound bangs off the walls into your ears and pretty much wherever you're sitting the screen fills your vision.
Filmed mostly in the artist's backyard, "Voluptuous Sleep" is light in concert. Reflected and refracted on metal and water and glass, Bromberg turns light into plasma, electricity and flame. Membranous light, sparking light, burning light: Bromberg's film looks sometimes like peering at life under a microscope, other times like a journey into space, other times like nothing categorizable that you have ever seen.
It's a personal challenge, especially on an Internet-age tuned attention span. How long can you coax a brain used to varied and exciting stimulation on demand into watching an hour and a half movie that plays variations on the fundamental element of filmmaking (light) dancing in vivid patterns across the screen? What if it's like nothing you've ever seen? Could I have left halfway through and "gotten the idea?" Probably.
But I stayed for the whole thing. Maybe I opened my mind, saw new things and expanded my mental conception of light to include the images of rays and reflections dancing across Betzy Bromberg's 16mm film reels. I'm still digesting.
At Out Night, a showcase of historical and current films made by LGBTQ about issues of gender, identity, representation and sexuality, a 72 year-old Barbara Hammer bounded energetically up onto the stage from her auditorium seat to join director Donald Harrison in introducing her archival films to be shown at the event.
Hammer is widely considered a pioneer of queer cinema, responsible for producing a prolific 80 films in 30 years. One, "Multiple Orgasms," a series of close-ups superimposed over footage of rocky, orange cliff faces of faces and vaginas at the moment of orgasm was supposedly responsible for a near riot when it was first screened - and almost got the then director, Manupelli, fired.
Another of Hammer's works, "Our Trip," was a mixed media animated slide show of a hiking trip in the woods with Hammer and her partner. The drawings on the images allowed Hammer's personal feelings to leak onto the screen.
The only film in competition that night, "Looking for Jiro" was a piece of performance art, a mash-up of dancing and music videos and old Edison film reels and pictures of one of the only confirmed out gay men who suffered incarceration as a Japanese American during World War II.
While not the only screening to include films highlighting LGBTQ issues, the Out Night showcase is a special event to represent and honor the filmmakers of queer cinema. It's sponsored and supported in part by the owners of the /aut/ bar, where the after party was hosted once the screening was over.