Posted on
Tue, Jan 31, 2012 : 5:29 a.m.
Excellent prepared foods help make babo an immediate hit
By Julie Halpert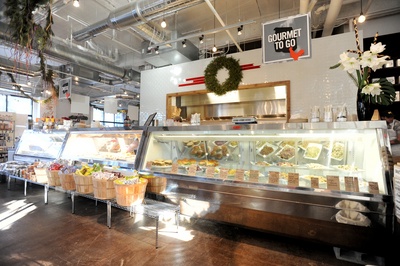 Angela J. Cesere | AnnArbor.com file photo
Walking into
babo
, the latest venture by
Sava Lelcaj
, offers the culinary enthusiast a feast for the eyes — with the feel of an urban market. Think New York city's Dean & Deluca, minus the exorbitant prices.
A rugged, stark concrete floor provides the foundation, and floor-to-ceiling windows bring in natural light that magnifies the vast assortment of all types of food. Wine bottles are lined up end to end on the walls, providing appropriate, decorative bookends. The word "babo," loosely translated, means "father" in Lelcaj's native Albanian, and the store is an homage to her father, who passed away last June.
General Manager Paul Hannah says the eatery is intended to satisfy the void that Lelcaj, also owner of Sava's, saw in this part of town. "There was no place to shop that we liked that had everything in once place," he said.
Babo clearly addresses that issue, providing a range of upscale takeout as well as a grocery-store items. The deli counter showcases premier meats, along with the entrees that are offered for the day. One long community table stretches through the front of the restaurant, along with a table against the wall, with chairs, where you can sit counter style.
This is the type of place where you can stop by and grab some high-quality take-out to go, or linger among the colorful display of fruits, vegetables and gourmet grocery items. Though it only opened in December, it seems like there are already regulars who linger to chat with the welcoming employees, creating a neighborhood feel.
Each day, the prepared-food offerings change, and there are plenty to please both carnivores and vegetarians alike.
Among the vegetarian offerings we sampled, cabbage spring rolls were a standout, lightly crispy but not greasy, full of cabbage shavings and wonderful Asian seasonings. The broccoli salad wasn't entirely vegetarian, infused with fresh pieces of bacon, a nice complement. The roasted vegetables — yellow squash, zucchini, onions, red bell and green peppers, tossed in a simple extra virgin olive oil dressing — were nicely prepared. They made for a great side dish to my husband's tofu sandwich. Served on ciabatta bread along with red pepper and a pesto sauce, it was a great offering.
Other standouts included the macaroni, served with a rich assortment of cheese — parmigiano-reggiano, one-year-aged cheddar, gruyere and pecorino — that made it appealing for kids and adults. Eggplant parmesan was outstanding. The lightly crunchy panko crust providing a great topping, and there was just enough cheese, along with a wonderful tomato sauce.
RESTAURANT REVIEW
babo
403 E. Washington St., Ann Arbor
734-997-8495
baboannarbor.com/
Hours: 8 a.m.-10 p.m. every day.


Plastic: American Express, Visa, Mastercard, Discover.


Liquor: Not yet, but a license for beer and wine is expected. At that point, a wine bar is planned on the premises. .


Prices: Moderate.


Value: Very good.


Noise level: Quiet.


Wheelchair access: Yes.
On the down side, I could barely taste the leeks in the leek and salmon strudel. While I enjoyed the crumbly phyllo dough crust, the salmon tasted far too fishy. The sage buttered chicken was bland and fatty. Tuna salad had a moist consistency, but you need to really appreciate onions to enjoy it; there were far too many for my liking.
Potato salad was a far better offering, creamy and well seasoned with big chunks of potatoes.
My daughter compiled her own sandwich from the meats offered, and it was among my favorite dishes. She paired the extremely fresh smoked turkey breast with provolone cheese, mayonnaise, lettuce and tomato. Served on a fresh-baked brioche roll, it was a fantastic choice, reminding me of the sandwiches you can sample at urban French bakeries.
The harvest stuffing chicken casserole was comfort food for a cold winter's day. An ambitious mix of ingredients: stuffing, chicken, sausage and pecorino and gruyere cheese made it incredibly rich, but delicious.
Babo has a full array of coffee drinks and uses the more time-consuming "pour over" brewing method, preparing each cup individually. It pays off in taste. Just inhaling the aroma was a treat, and this method provided a full-bodied taste to my cafe au lait. If you're a big coffee lover, don't order the small, as it was extremely petite.
There are several dessert offerings each day, specialty muffins as well as Carol's pre-packaged cookies. Both the cakes we sampled, flourless chocolateand caramel, were extremely dry and disappointing.
Prices here are reasonable, especially since you can order the entrees by the pound, opting for a smaller size that's less expensive. This is ideal for me, since I longed to sample so many of the unique offerings.
Lelcaj has clearly hit the mark with this new, super-cool-looking eating establishment. Though not every entree is a hit, there are certainly enough of a variety of high-quality offerings to satisfy any customer.
Julie Halpert reviews restaurants for AnnArbor.com.