Posted on
Thu, Feb 18, 2010 : 12:45 a.m.
Béla Fleck's Africa Project celebrates the banjo's eclectic musical path
By Will Stewart
From bluegrass to jazz to classical chamber music and more, Béla Fleck has done virtually everything there is to do with the banjo.
On Wednesday, backed by a pan-African collection of musicians at Hill Auditorium, Fleck brought the instrument back to the cradle of its birth during a concert that still managed to offer a glimpse into the banjo's possibilities.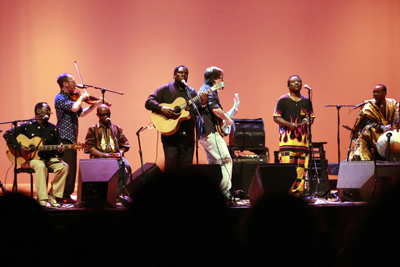 Photo by Flickr user Bruce Tuten.
Several years ago, Fleck traveled to Africa to trace the banjo's roots. The resulting album, "The Africa Project," and its followup, "Throw Down Your Heart," was the result of his travels and collaborations with master musicians from Tanzania and Mali — and on Wednesday, several of those musicians brought the music to full, vibrant life.
Despite his role as de facto curator of the project, Fleck opened the show solo, performing a self-penned piece that drew clear influences from what he heard during his travels, while hinting at some of the sounds that were to come. Always a master of subtlety, he coaxed gentle, melodic runs from his instrument, interrupting the flow occasionally to add staccato, harmonic flourishes from across the strings.
Thumb pianist Anania Ngoliga and guitarist John Kitime were next, performing traditional songs from their Tanzania homeland before being joined by Fleck for a couple more tunes. Anchored by Ngoliga's almost calypso-esque rhythms, the music took a light, airy tone that was bolstered by Ngoliga's playful vocals.
One needn't understand a word to know that the 3 were having a blast playing together.
Around the corner at the Michigan Theater, Dr. John and the Neville Brothers were laying down the New Orleans funk. But they would be hard pressed to play any funkier than Ngoni maestro Bassekou Kouyate and his band, Ngoni Ba.
The Ngoni is the banjo's ancestor and Kouyate played the gourd-constructed instrument like Jimi Hendrix, while his 7-piece band grooved and danced like the Famous Flames. Clearly kindred spirits, Kouyate and Fleck traded licks in what amounted to a bizarre — yet highly effective — international version of "Dueling Banjos," each coaxing the other further out onto musical limbs, before declaring an unspoken draw and bumping fists.
The second half of the show found the musicians playing together in various combinations, the most satisfying of which was when Kouyate, Ngoliga, Kitime and Fleck vamped on a swampy, 2-chord blues pattern, while Ngoliga improvised a vocal. Slowly, other members of Ngoni Ba reentered the stage until the music swelled beyond the sum of its parts.
Fleck is remarkable in his ability to find common ground with even the most disparate accompanists. His playing was tasteful and complimentary, but even more importantly, he found ways to blend the very different styles of the 2 groups into a comprehensive whole.
On the other hand, it shouldn't come as a surprise. He's made a career out of doing the exact same thing.
Will Stewart is a free-lance writer for AnnArbor.com.