Posted on
Thu, Mar 15, 2012 : 3:04 p.m.
It's nearly St. Patty's Day, but here's other things to do besides drink
By Ann Dwyer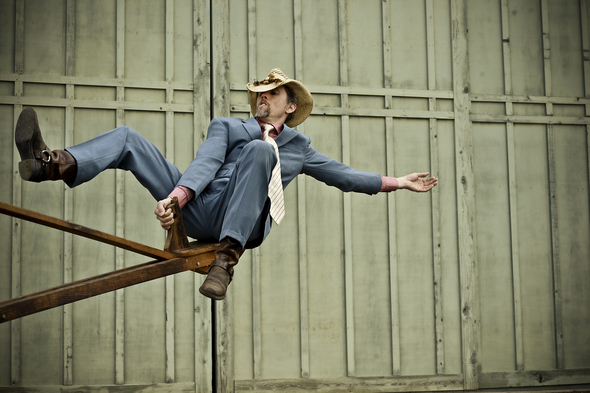 FILM
As part of Women's History Month, see the documentary, "Crime After Crime" on Friday in the Towsley Auditorium on the Washtenaw Community College campus. 6 p.m. This film tells the dramatic story of the legal battle to free Debbie Peagler, a domestic violence survivor who was imprisoned and became a mentor and church leader from behind bars. Free. In the Morris Lawrence building at 4800 E. Huron River Dr., Ann Arbor. 734-677-5033.
MUSIC
Texas-influenced musician Jonathan Byrd will perform at the Green Wood Coffee House on Friday. Doors open at 7:30 p.m. He describes his newest album as "what might have happened if Townes Van Zandt had made a record with Doc Watson." $15. Green Wood is at 1001 Green Road, Ann Arbor. 734-665-8558.
THEATER
Robert Lepage and Ex Machina will present "The Andersen Project" at the Power Center on Friday and Saturday. 8 p.m. More than a one-man show, this piece tests the bounds of traditional theater. Ex Machina's creative team believes that the performing arts should be mixed with recorded arts. It is sure to be a thrill. Tickets start at $24. For tickets or information, call 734-764-2538 or go online at www.ums.org. Tickets may also be purchased in person at the League Ticket Office, 911 N. University Ave. The Power Center is at 121 Fletcher St., Ann Arbor. 734-763-3333.
HEALTH
Many more Americans are finding themselves taking care care of parents and older relatives. The "First annual Caregiver Fair" at the Kensington Court Hotel on Saturday. can help those who need it. 9 a.m. to 2 p.m. There will be expert presentations, more than 50 exhibitors, great giveaways, and you can enjoy a complimentary massage. Free admission. The KCH is at 610 Hilton Blvd., Ann Arbor. 800-844-3324.
CRAFTS
The "39th Annual Dexter Pioneer Arts Fair" returns to Creekside Intermediate School on Saturday. 10 a.m. to 4 p.m. This juried show features over 50 artisans who will demonstrate their traditional folk crafts and offer them for sale. Included are jewelry, stained glass, weaving, quilting, water colors, wood carving and more. There will also be a craft table for children and a bake sale. $3/ adults and $.50/ students K-12. The CIS is at 2615 Baker Road, Dexter. 734-424-4160.
ANTIQUES
The Chelsea Antiques Mall will have an "Appraisal Day" on Saturday. 1 to 5 p.m.The two appraisers are Joesph Merkel, licensed appraiser with Merkel's Auctioneers & Appraisers since 1986, and Larry Guenther, owner and operator of the Stockbridge Antique Mall. Appointments can be made ahead of time by calling 734-428-9581. $10 for 10 minutes and you may bring up to 3 items. The CAM is at 1178 S. Main St., Chelsea.
MUSIC
The Ann Arbor Symphony Orchestra will perform "Masterworks" at the Michigan Theater on Saturday. 8 p.m. From the hometown talent of Michael Daugherty and "Oh Lois!" to the classic sounds of Saint-Saëns Violin concerto No. 3 in B minor, Op. 61 and Tchaikovsky's Symphony No. 5 in E minor, Op. 64 the evening is sure to be a treat for all. $10 to $55. Purchase tickets by calling 734-994-4801, emailing a2so@a2so.com or online at www.a2so.com. The Michigan is at 603 E. Liberty St., Ann Arbor. 734-668-8397.