Posted on
Sat, Jan 23, 2010 : 1:33 a.m.
"Fondly Do We Hope…Fervently Do We Pray" explores Lincoln's legacy with tension, stillness
By Susan Isaacs Nisbett
His shadow looms large, Abe Lincoln's does, over America, and in Bill T. Jones' new "Fondly Do We Hope…Fervently Do We Pray," too.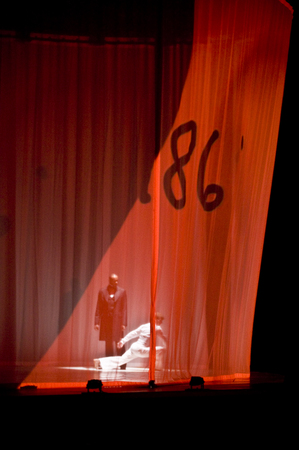 Russell Jenkins
Jones' exploration of Lincoln's legacy, which his Bill T. Jones/Arnie Zane Dance company brought to Power Center on Friday night under University Musical Society auspices, opens with just that giant stovepipe-hatted shadow strolling across a tall, circular white curtain (by Bjorn Amelan) while below a flesh-and-blood woman strolls, head tilted back in the same attitude, hands linked behind her back in the same pensive stride.
It's a theatrically telling opening for "Fondly Do We Hope," which premiered at the Ravinia Festival last fall, but few moments live up to it in the 90-minute work.
Like other Jones' dances that have been seen here — "Last Supper at Uncle Tom's Cabin/The Promised Land" and "Still/Here" — "Fondly Do We Hope" is as much about words as movement. To make it, Jones did lots of research and wrote a script with company Associate Artistic Director Janet Wong (who also contributed video design). They drew on Lincoln's own words, on the poems of Whitman and on the Bible; they created bios for characters — Everymen and -women (including Jones, it would seem) from the 1800s through a time beyond our own — who dance their stories as a narrator, actor Jamyl Dobson, outlines who they are. What do they make of Lincoln? Who is he to them? Who is he to us? These are questions the multi-media piece, with an original score by Jerome Begin, Christopher Antonio William Lancaster and George Lewis, Jr., asks, among others, as it also tours Lincoln's life. The guides are not only the dancers and Dobson, but the musicians (Lancaster, Wynne Bennett, and vocalists George Lewis and Clarissa Sinceno), live in the pit to add their words (from folk and original songs) and sounds to the story Jones wants to tell.
But words, spoken though they may be, do not always make for good theater. That is largely the case here, where they become foreground to the dance and form a somewhat unfocused collage, a collection of segments that could benefit from better framing and, in a scene where members of the cast dancers parry pro- and anti-abolitionist arguments, more polished, committed-sounding delivery.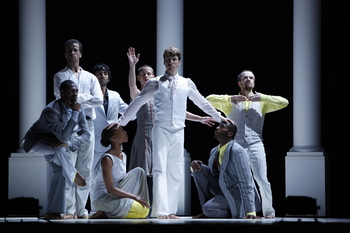 Paul Goode
Jones' dances often build their tension through accumulation and linking, and where "Fondly Do We Hope" works well, it is on those grounds. A repeated fragment of Whitman's "Poem of the Body," a litany of the body's features, head to toe, first underscores our wondrous and fragile humanity, as the majestic Shayla-Vie Jenkins caressingly shows the body's glory. Later, identically rendered, the litany calls up a buyer's attention to the details of human merchandise, as a slave mounts the auction block. Jones' asks us to hold onto details like this, to see how they metamorphose across the dance's trajectory.
But trajectory is not the strong suit of "Fondly Do We Hope." And too often, the script dominates the dancing as company members are deployed in similar seeming processions or tableaux. Jones has an uncanny way with stillness and slowness here, though. He uses it to denote just the opposite emotionally, a calm eye of the storm that is a storm nonetheless.
The company's dancers are excellent, and they give their all to Jones' choreography, which speaks movingly in sections like a Civil War scene in which the dancers lift and tenderly lay to earth the dying to the sounds of gunfire, or a scene in which Mary Todd Lincoln (Asli Bulbul) sinks slowly to the ground in widow's weeds.
Would that "Fondly Do We Hope" had been as viscerally powerful throughout.
Susan Isaacs Nisbett is a free-lance writer who covers classical music and dance for AnnArbor.com.
"Fondly Do We Hope…Fervently Do We Pray" continues on Saturday at the Power Center. Tickets $18-$44, online at the UMS web site, 734-764-2538, and at the Power Center box office, 121 Fletcher Street.