Posted on
Mon, May 21, 2012 : 5:54 a.m.
Bonnie Raitt back in the spotlight, coming to Hill Auditorium for Ann Arbor Summer Festival
By Kevin Ransom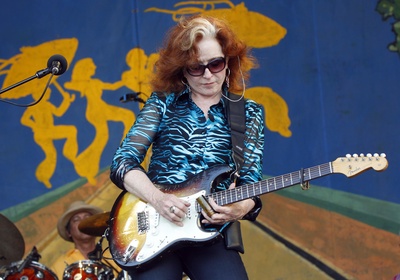 AP
Bonnie's back—refreshed and revitalized.
In April, when Bonnie Raitt released her new "Slipstream" album, it had been seven years since her last studio record. After enduring many personal losses, starting in 2004, she decided she needed the break—to grieve, adjust, and just take some time for herself, after being one of the most itinerant road dogs in the business for more than 35 years.
Raitt's mother died in 2004, and her father, the renowned Broadway singer John Raitt, passed the next year. Then, 2009 saw the deaths of both her older brother Steve and her close friend / fellow musician / sometime collaborator Stephen Bruton.
The down time not only allowed her to fully absorb and work through those losses, but it also helped her gain a new perspective on her music.
"Slipstream" is her first album in a 40-plus-year career that was not released on a major label. (She released it on her own, new label, Redwing.) Raitt spent her first 15 years or so making records for Warner Bros. Those bluesy—and much-loved—Warner albums won her many fans and supporters among the roots-music cognoscenti, due to now-classic tracks like her sultry or poignant re-workings of Chris Smither's "Love Me Like a Man," Randy Newman's "Guilty," Mose Allison's "Everybody's Cryin' Mercy," and many others.
PREVIEW
Bonnie Raitt
Who: Venerated singer / slide guitarist / pop-rock star. Marc Cohn of "Walking in Memphis" fame opens.
What: A mix of blues, pop, funk, rockabilly, ballads, reggae and folk.
Where: Hill Auditorium, 825 N. University Ave.
When: Friday, 8 p.m.
How much: $35.50 - $65.50. Tickets available by phone at 734-764-2538 or 800-221-1229; in person at the Michigan League Ticket Office, 911 N. University Ave; or online at tickets.a2sf.org/.
On the strength of those discs, Raitt—who
comes to Hill Auditorium on Friday
in a special pre-season concert presented by the
Ann Arbor Summer Festival
—won a reputation as an inspired interpreter, but also dabbled in songwriting, producing some gems of her own, like "Give It Up Or Let Me Go" and "Nothing Seems to Matter." She also became known as one of the most bad-ass slide guitarists on the scene.
Then, after a fallow period in the mid-'80s, she came to realize she was an alcoholic, got sober, and started anew in 1989 with Capitol, where she spent the next 16 years. Her first effort for Capitol, "Nick of Time," was also the disc that won her an armload of Grammys and expanded her audience way beyond the roots-rock / blues-rock faithful and turned her into a mainstream pop star. Her commercial success continued with "Luck of the Draw" and "Longing in Their Hearts," but some longtime Bonnie-maniacs weren't so thrilled, as they yearned for her to return to the bluesier sound of her early years.
"Slipstream" offers something for both of those audiences. Raitt always has her radar up, looking for great songs to interpret, and among the covers here are beckoning renditions of two songs from Bob Dylan's stellar, "Grammy-winning 1997 album, "Time Out of Mind." Those songs, "Million Miles" and "Standing in the Doorway" are among "Slipstream"'s highlights.
She also used her song-catching talents to corral taut and / or tasteful tunes by other fine writers like Al Anderson (formerly of NRBQ), the venerated Irish singer-songwriter Paul Brady, and Randall Bramblett. She also dials the controls of the wayback machine, retrieving Gerry Rafferty's smooth-rock hit "Right Down the Line."
Raitt produced eight of the tracks herself, but four of the songs were helmed by Joe Henry, who's made a career out of creating vital new sonic backdrops for veteran artists like Bettye LaVette, Solomon Burke, and Mose Allison, among many others.
The album actually started with sessions at Henry's home studio. After seven years off, Raitt felt like she needed a catalyst. She initially called Henry because she wanted to record some of his songs, but before she knew it, he'd invited her to come to his studio, where he would produce, and use his regular session musicians, plus a special guest—the innovative guitarist Bill Frisell.
Raitt initially tried to keep the Henry sessions a secret, because "I felt like I was cheating on my band," she told the New York Times. But her initial two-hour-long conversation with Henry "got me fired up," she added. "What was thrilling was for me not to produce, for me not to think about when I'm going to put this out. I could pay for it myself. It was the perfect way to get back in."
She and Henry recorded a full album's worth of songs, but only four of them ended up on "Slipstream"—the Dylan songs and "God Only Knows," written by Henry, and "You Can't Fail Me Now," co-written by Henry and Wainwright for the "Knocked Up" soundtrack, but which here takes on a gospelized feel.
The songs from the Henry sessions are bluesy, slow-to-mid-tempo and hushed, languid or mysterious. And Raitt and Frisell engage in an intuitive guitar interplay that expands the vocabulary of the blues. But Raitt said she also kept her mainstream live audience and her own band in mind, so she also wanted different, more uptempo material.
"All the women and men in the audience — you're singing for their sexuality, their longing, their heartbreak, their anger, their loneliness," Raitt told the Times. "In an evening you're getting around to all those. That's why it's so cathartic to do it together."
Those "non-Henry" tracks will sound familiar, in terms of production and tone, to those who have followed Raitt since she broke through to the mainstream. She used her road band, and cooked up a mix of blues, ballads, pop-funk, even some rockabilly and reggae. But this time out, she and her band gleefully extend the guitar jams, and her signature slide is alternately snarling, lascivious and scorching.
Raitt has said that the losses she experienced in the 2000s didn't color the mood of the album. However, taking a break from recording and touring did replenish her, on various levels.
"I'm 62, and this is the time of life when your parents are quite elderly and a lot of them are passing," she told Salon.com. "I'm not alone in having suffered a great deal of loss…..By the time I got into the studio, that loss wasn't something I was using as an inspiration for the record. It was more about the benefit of taking time off, which helps you re-energize when you go back in. When you have the luxury of waiting until you really want to go in, then you really are more refreshed and inspired."
You have until midnight Monday, May 21, to enter the AnnArbor.com / Ann Arbor Summer Festival giveaway of free tickets to the Bonnie Raitt concert. Find out more here.