Posted on
Wed, Mar 2, 2011 : 5:55 a.m.
Teacher and poet Jeff Kass' new book reaches out to 'Knuckleheads'
By Leah DuMouchel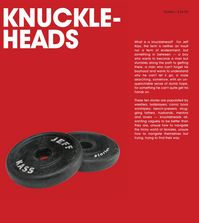 "I wish more boys read more books."
Ever issued that lament? Help is on the way.
I'm running out of ways to describe Jeff Kass' career in a succinct fashion, so I'll use list format this time: English and creative writing teacher at Pioneer High School, creative writing teacher at Eastern Michigan University, literary arts director at the Neutral Zone, former Ann Arbor Public Schools poet-in-residence and founder of the VOLUME youth poetry group. I say all this to highlight the curiosity-piquing feeling that when he aims his pen at teenage boys, it's gonna be good — and it is.
"Knuckleheads," due from Dzanc Books at the end of March, is a collection of short stories wandering through the lives of boys and men in varying states of cluelessness. There's plenty of sex and violence, both real and imagined and wise-cracking descriptions of the sort that can yank a guffaw out of anyone are a mainstay of every piece.
I will tell you straight-up that I'm a girl raised in a family of girls who lives alone with her daughter, so reading this book felt a little like a high-speed careen through the Land of Chromosome Y.
I landed breathless and a bit disoriented at the end, pretty sure I'd seen some familiar scenery illuminated by unfamiliar wavelengths — and that some of the terrain was going to remain alien no matter how many times I traversed it. (Considering the vast chasm between my demographic and that of the intended audience, this is probably an excellent sign.)
Kass took a few minutes recently to chat with AnnArbor.com about boys, books and names that end in -head.
How did this book come about?
I think that I just have so many students, male students especially, that when I ask what books they like, they say, "I don't read at all." That really discouraged me, because I feel like reading is so important. So I kind of thought of myself as a high school kid and what kind of stories would I like, and a little bit of my experiences and what spoke to me, and that's where most of the stories came from.
I also think it's true that for young people in general, they don't read short stories. That's a genre they're not exposed to much, and if they do it's Chekhov or something — which is fine, but I don't think they get contemporary stories that speak to their experience. And I think, 'Why wouldn't they like that, especially if they don't spend much time reading?'
I'm just trying to get young males to read more than they do. It's not a great financial gamble as a writer because that's not the book-buying demographic (laughs), but I don't think you can give up on it yet. They have bookstores for women, and then we think, 'Oh, boys don't read, so let's not give them any (books).' But I think reading is too important for that.
I'm interested in the title. I notice you have a poem of the same name — is this a theme?
I love the word "knucklehead." I think it's funny to call someone that — I like all the nicknames that end in -head. If you say it, it's an insult, but it's also a kind of something that says, 'All right, this person is doing stupid things and making bad choices but isn't necessarily an awful person and might figure something out.' I call my son a knucklehead. I'm not saying he's a jerk or anything, I'm just saying, 'Wow. What are we doing right now?'
Was this book fun to write?
It was, yeah. For me, all writing is fun. I really enjoy the physical act of writing, and I love being in my imagination. Even nonfiction can be fun. For this book... there are so many voices in it that I'm imagining are going to say goofy things, and I can go over the top a little bit. They say things that make me go, 'Whoa — I get to say that?'
Did you feel like you got to 'be' a bunch of different boys for a while? What was that like?
I think it was fun to see that. I wish that some of the stories were a little more hopeful than they are, actually. There's a couple stories that I think, 'Why didn't I have things work out?' But it's fun to imagine knuckleheads at different ages, from fifth grade to high school kids to the (character who is a) teacher to the one who's trying to be a lawyer. It's fun to imagine knuckleheads at different stages in life — kind of this game, like 'Where's the knucklehead now?'
I'm trying to get a grip on just what you mean when you say 'knucklehead.' Does everyone have a knucklehead streak, and it's just a matter of how big it is? Or is it a certain kind of person? Can girls be knuckleheads?
If you're lucky, you have a knucklehead streak. There are some who don't, that are male, and I think their lives are kind of empty. You can have too much too, of course.
Can a female be a knucklehead? That's a good question. I had a couple stories that didn't make it to the book with female knuckleheads... I hope to someday write a good story about a female knucklehead, but I haven't done it yet. I don't think that they adopt a degree of maleness, though. They have their own degree of knuckleheadness.
I felt like these stories combined presented a really thorough exploration of strength and power — many sides of it. Is that something you wanted to do?
I think that's also really interesting — what makes a person powerful? Is it physical power, is it a clever mind, a position of wealth or authority? What is it that gives people power? That's interesting to think about.
There's a lot of weightlifting. I've done a fair amount of it, and there's something really satisfying about going to the gym and lifting weights. It's almost like needing that, needing some kind of physical push, especially as a teacher. I mean, what do people expect teachers to be like? I'm probably my most...I don't know, thuggish when I'm around other teachers or in other intellectual situations. Maybe I think it's almost too soft.
Another thing I thought was interesting, particularly in the threads that talk about wrestling, was this portrait of male body image that you don't often see — we hear about it in girls, but less so with boys. Could you talk a little more about that?
I wrestled for seven or eight years of my life, and there's no doubt that as a wrestler, you're worrying about your weight and fat, and it gives me some sympathy as a person to think about that. I think it messed up my eating habits for life. .... I don't want to say it's a kind of bingeing thing; it's a sense of, 'Wow, I can really eat this food.'
I've also gone thought a period of the last couple of years, I've had to lose a fair amount of weight to do (the one-man performance poetry show "Wrestle the Great Fear"). And I think males do think about it, even more now than they used to. The males that I have now are concerned about body image in a way they weren't 25 years ago.
I know this book was written for boys, but there's no law that says girls can't read it too — what do you think they will think when they do?
There's sort of been this strange dynamic in Ann Arbor: I write all these poems, and I try to reach these males, and then we get all these girls on the poetry team. (Laughs). It's my hope that the book will gather a general readership beyond males and even beyond high school, but that there's also an opportunity to gain some insight into some of the psychological struggles that sometimes males have.
Sometimes that gets short shrift in our schools. We know there are lots of pressures in females in body images and such, and we don't think so much about the pressures on males. But I think that this is real. I'm hoping that when females read this that females will help them find their own voices.
I was struck by the many ways in which girls were objects — things to (sleep with), measures of comparison between boys, an excuse to rage around. I came away, frankly, a little shaken, but I can't tell if there's truly something heartbreaking here, or if 15 years of feminism is making it hard for me to read this correctly, or if this is simply a named truth that I don't see as a girl. Could you talk more about that?
I think on some level, that's one of the more negative aspects of the knuckleheadedness, and I wanted to create some characters who weren't enlightened, sensitive males. You know, some of the younger characters don't have any sense of females at all, and you look at some of the older characters who haven't changed at all.
There are a couple of passages where I'm hoping that changes a little bit, especially toward the end. Most of these males, at the point that these stories take place, haven't quite figured it out. They might be trying — and some are trying harder than others — but they haven't figured it out.
What's next for you?
I am really excited to be working with Dzanc. I like the fact that they're a Michigan press who makes national inroads, and they also have this real philosophical attitude toward literary culture. They have writers in schools and lots of support systems for emerging writers, and I'm excited to be part of what they're doing. I'm going to try and take this book about and do some readings in Chicago and on the west coast.
The next thing I'm working on is a new poetry manuscript, and I've been working on a novel for about 10 years about being a teacher called "Those Who Can't." And I'm working with (the Neutral Zone's student-run publishing company) Red Beard Press on a 'how to teach creative writing' manual with Scott Beal, so we'll be doing a workshop for them this summer.
I'm much happier when I have things like that working. It helps me keep my mind fresh and sharp and going.
Note: This article has been updated to reflect the correct date for the event below.
The Neutral Zone hosts a release party for "Knuckleheads" at 7 p.m. on Thursday, March 31. Admission is free.
Leah DuMouchel is a freelance writer who covers books for AnnArbor.com.